A TOP-5 AND A TOP-10 FINISH IN RACE 3 AT THE NÜRBURGRING RELAUNCH TEAM WRT'S HOPES IN THE FIA WTCR
A TOP-5 AND A TOP-10 FINISH IN RACE 3 AT THE NÜRBURGRING RELAUNCH TEAM WRT'S HOPES IN THE FIA WTCR
22/06/2019
A handful of good points and stronger pace: the harvest at the always challenging Nürburgring's Nordschleife was not bad for the Leopard Racing Team Audi Sport, especially in Race 3 where Jean-Karl Vernay took fourth missing narrowly the podium and Gordon Shedden signed his best finish of the season so far with a 9th. But like often this season, the Belgian squad could have some regrets as two sporting sanctions (for Vernay after Qualifying 1 and for Shedden after Race 1) and electronical issues hindered their overall performance. The hope, now, is that what shown in Race 3 will mark the start of a fresh new trend for WRT in the FIA-WTCR.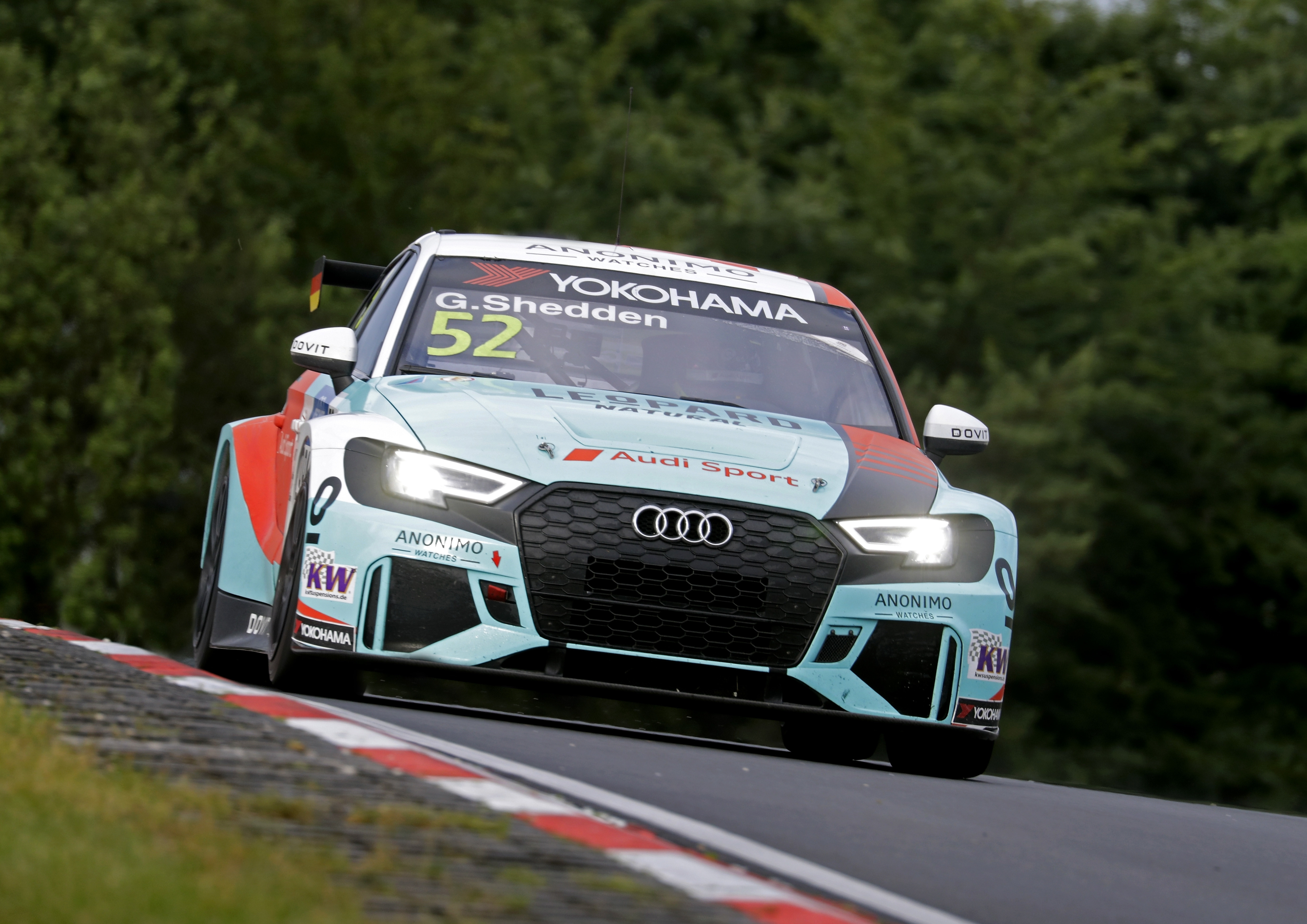 On Thursday, the Audi cars of the Belgian team proved competitive in free practice, with Vernay making the top-5 and Shedden the top-10 once each in the two sessions. Qualifying for Race 1, with rainy conditions, saw an encouraging P7 for the Frenchman, while the Scot qualified 22nd, after suffering electronic interferences that among other, left him with no windscreen wipers. Unfortunately, after the session, Vernay's and others' times were disallowed for what at the 'Ring is called a "Code 60" infringement, i.e. excessive speed in one of the sections while under yellow. That put the Frenchman in P16, dashing virtually all his chances.
Still, Vernay fought hard in Race 1 on Friday to climb back positions, taking a notable 12nd place after a convincing performance. Gordon Shedden was also on his way to a good result when he was involved in an incident with Monteiro and Haglöf, which resulted in retirement for the Scot and the Swede. Shedden was later inflicted a 5-place sanction on the grid of Race 2, for which he had qualified 16th right behind Vernay. Again, Qualifying 2 was held with changing weather conditions and both cars suffering electronic interferences.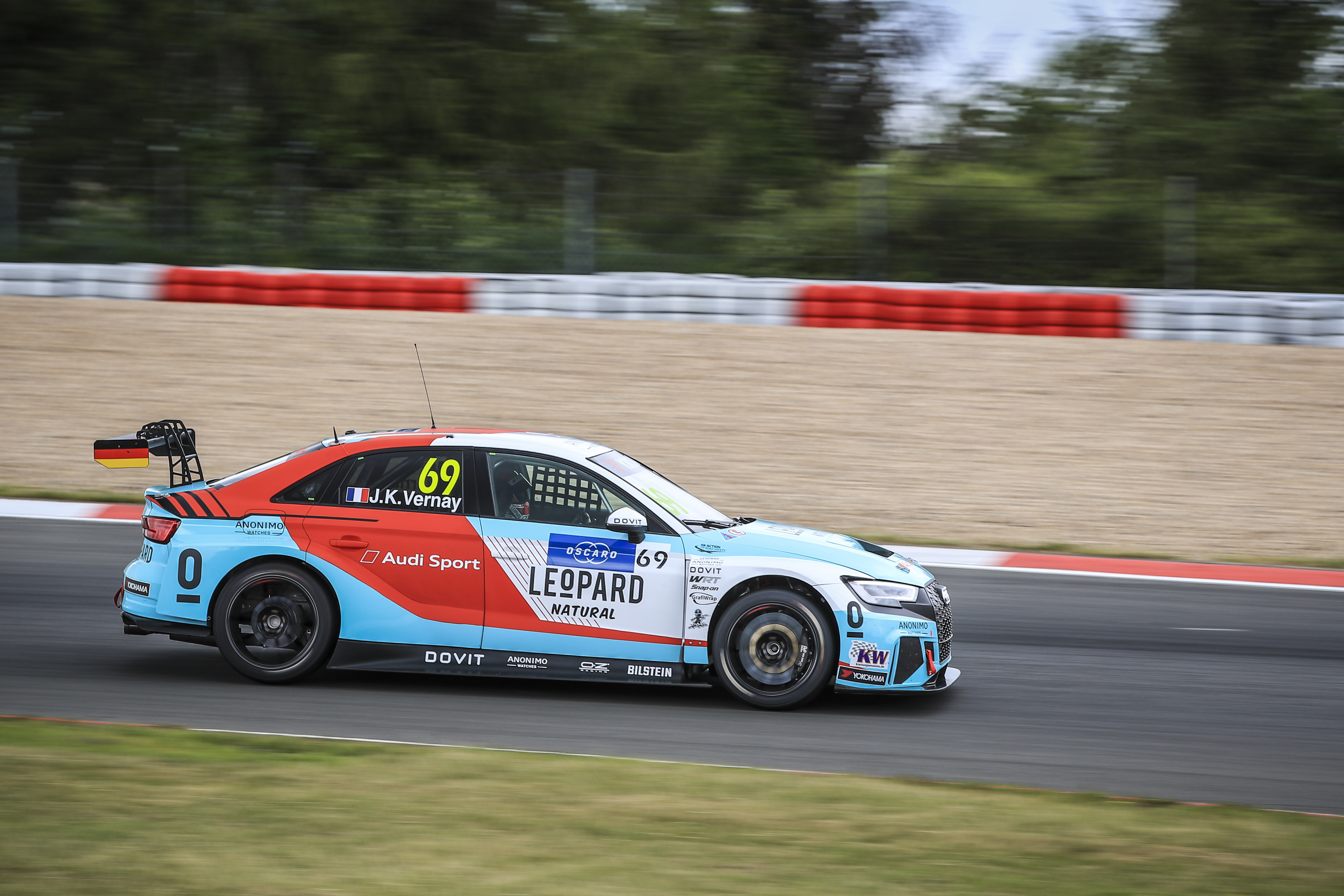 On Saturday, Race 2 saw another good race of Vernay, who made it to the top-10, finishing 10th, while Shedden could not emerge from the back, crossing the line in P23. Penalties inflicted after the race to other competitors brought Vernay up to 9th and Shedden up to 21st.
Things worked out much better for the two Leopard Racing Team Audi Sport drivers in Race 3, where Vernay, after an excellent start, was sixth at the end of lap 1 and then gained two more positions to finish 4th, only 2.5 from the winner, having closed significantly the gap with the podium positions in the final lap and achieving the best lap of the race doing so. Gordon Shedden also put a remarkable performance, eventually finishing an excellent 9th despite a difficult start.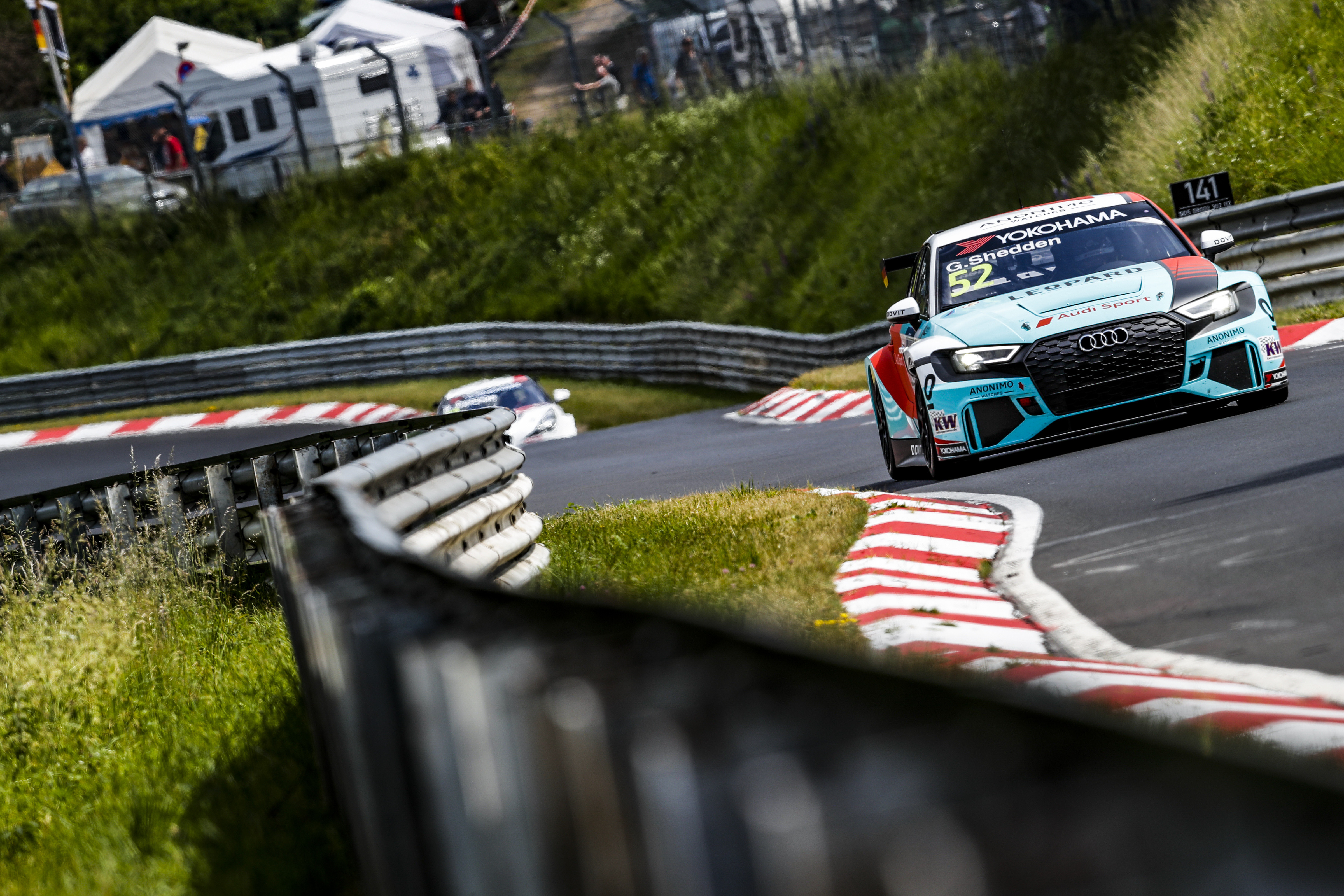 Jean-Karl Vernay: "I am both happy and disappointed. Happy because we had very fast cars, the team did a fantastic job throughout the weekend, and we had good races, scoring points in all of them. We were competitive in practice and in Q1, reaching P7, despite that being my first time on the wet in the Nordschleife. Then came the disqualification. I can accept that, I probably reaccelerated too early once I passed the spot where the incident had occurred, but many other drivers did it too and sanctions were not applied the same way. This is more difficult to accept and disappointing as it really impacted part of the weekend. Race 3 was very good, so let's start from there and look ahead."
Gordon Shedden: "It was the Nordschleife at its best, you can never predict the unpredictable and that has been the case this weekend. We had all sorts of weather, up and downs, good and back luck, but we finished on a high, with P9 in Race 3. It was a great race, I really enjoyed the driving, that's the positive to take away, and we'll go for it again in Vila Real in two weeks."
FIA WTCR - Round 5
Nürburgring Nordschleife, Germany, 20-22 June 2019
Race 1 Result
1. Norbert Michelisz (Hyundai i30N) 3 laps
2. Esteban Guerrieri (Honda Civic) +1s762
3. Néstor Girolami (Honda Civic) +3s741
4. Rob Huff (VW Golf GTi) +4s041
5. Fred Vervisch (Audi RS 3 LMS) +7s036
12. Jean-Karl Vernay (Audi RS 3 LMS) +9s480
DNF Gordon Shedden (Audi RS 3 LMS) 1 lap (contact)
Race 2 Result
1. Johan Kristoffersson (VW Golf GTi) 3 laps
2. Fred Vervisch (Audi RS 3 LMS) +5s108
3. Augusto Farfus (Hyundai i30N) +10s891
4. Gabriele Tarquini (Hyundai i30N) +11s180
5. Attila Tassi (Honda Civic) +11s827
9. Jean-Karl Vernay (Audi RS 3 LMS) +23s653
21. Gordon Shedden (Audi RS 3 LMS) +31s839
Race 3 Result
1. Benjamin Leuchter (VW Golf Gti) 3 laps
2. Fred Vervisch (Audi RS 3 LMS) +0s495
3. Esteban Guerrieri (Honda Civic) +1s885
4. Jean-Karl Vernay (Audi RS 3 LMS) +2s505
5. Gabriele Tarquini (Hyundai i30N) +7s179
9. Gordon Shedden (Audi RS 3 LMS) +14s191
Photo: Audi Sport

5 months ago
@Fhabsburg62 @GTWorldChEu @ValeYellow46 @augustofarfus @weerts_charles @SheldonvdLinde @vanthoordries1… https://t.co/Alo6nzivvx