PODIUM FINISHES IN SPA IN THE TCR EUROPE
PODIUM FINISHES IN SPA IN THE TCR EUROPE
09/06/2019
Back at home, at Spa-Francorchamps the squad was competing in the third round of the TCR Europe, where Team WRT drivers shone in a highly competitive environment. Santiago Urrutia and Maxime Potty took second and third in Race 1, while guest star Ashley Sutton, joining from the BTCC, took 4th in Race 2, narrowly missing the podium.

With 34 cars entered and such a close level of competition, the TCR Europe round at Spa-Francorchamps was anything but boring. In its home race, Team WRT shone, harvesting two podium finishes and many points but, most of all, demonstrating excellent pace throughout the weekend. The three cars qualified very well, with Santiago Urrutia making it to first row with his Audi RS 3 LMS, only 0s065 away from the pole, and the two VW Golf GTi cars of the squad taking second row with Max Potty and Ashley Sutton.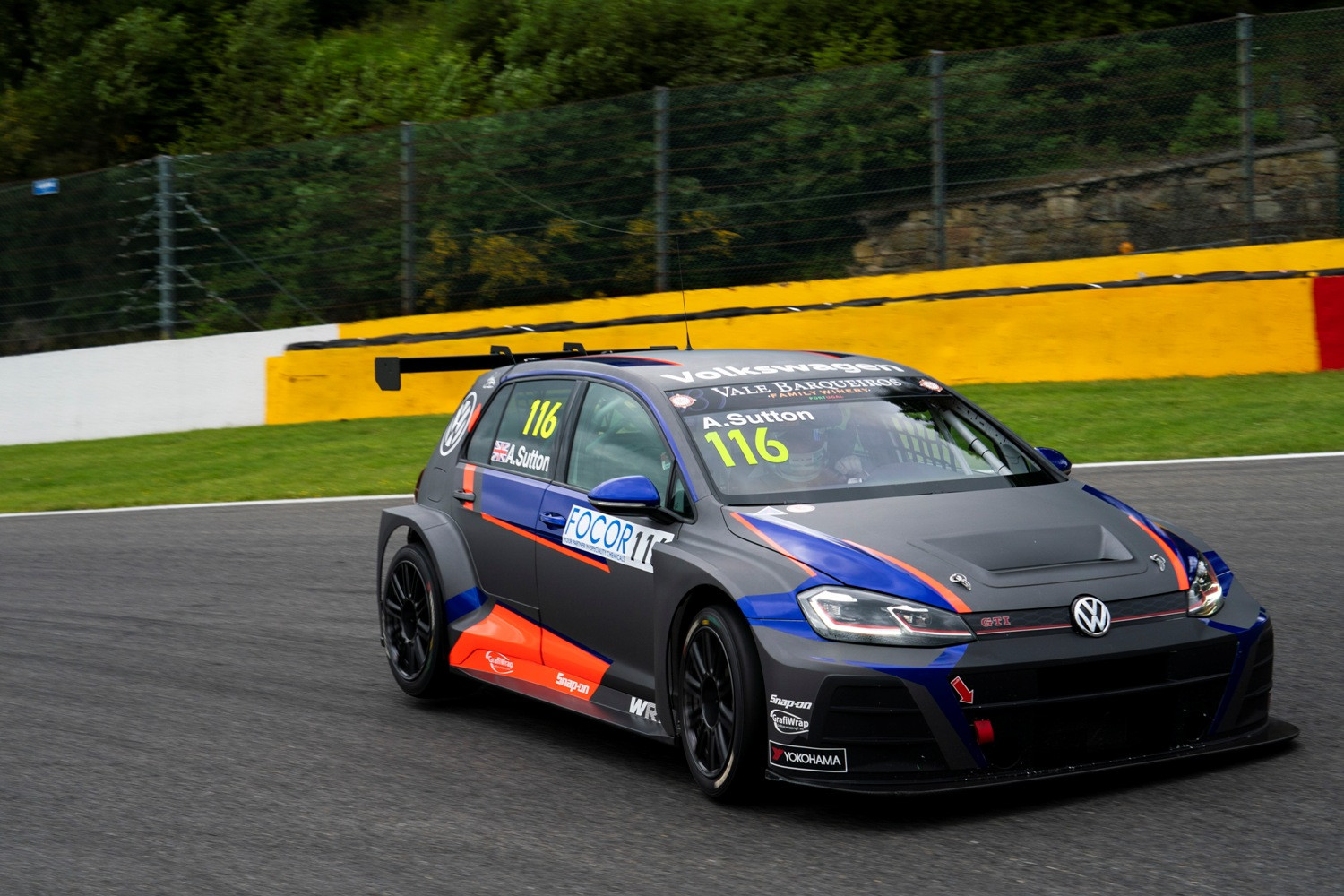 The Brit was hit by bad luck shortly before the start of Race 1 as an electronic glitch in the steering wheel forced him to start from the pits, losing any chance of a good result. Still, he climbed through the field to finish in P19. Urrutia and Potty on their side had an excellent afternoon, always at the forefront. At the start, Urrutia has to fight hard to keep the second place, but then stabilizes in the position and starts reducing the gap with the leader. He will catch him and even attempt to outbrake him at the Source, but unsuccessfully. The Uruguayan then focused on ensuring second place. Maxime Potty, on his side, had a poor start, dropping to 6th, but then started a superb charge, gaining positions with some great moves. The last one, which gave him a podium finish in the last lap, was particularly spectacular, as he passed Comte in the outside in the Stavelot corner.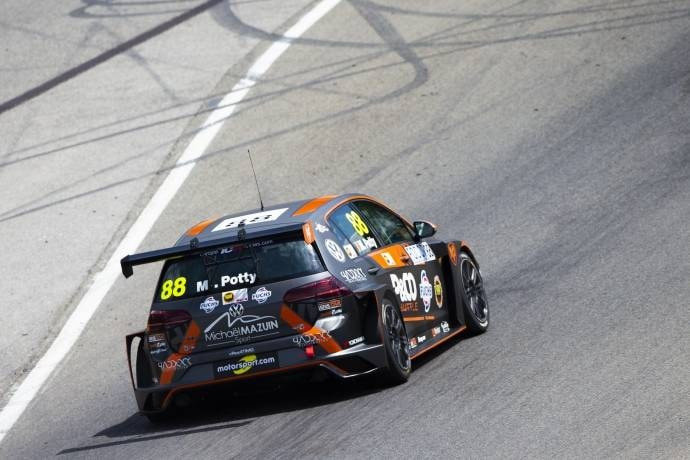 Race 2 saw Sutton, Potty and Urrutia be placed on the reversed grid in that order, from 7th to 9th. They all gained one position in the initial phases, to later stabilize in the second part of the top-10. Benefitting also from some race incidents, Sutton managed to grab 4thand defended it fiercely against a group of chasers. The last laps were very animated for Potty, who got sandwiched by two other contenders while 7thand lost further ground because severe degradation of his front tires, even spinning at the Bus stop in the last lap. He finished 23rd. Urrutia was involved in some rubbing with Coronel and Paulsen, crossing the line in 7th but being later demoted by a 30-second penalty.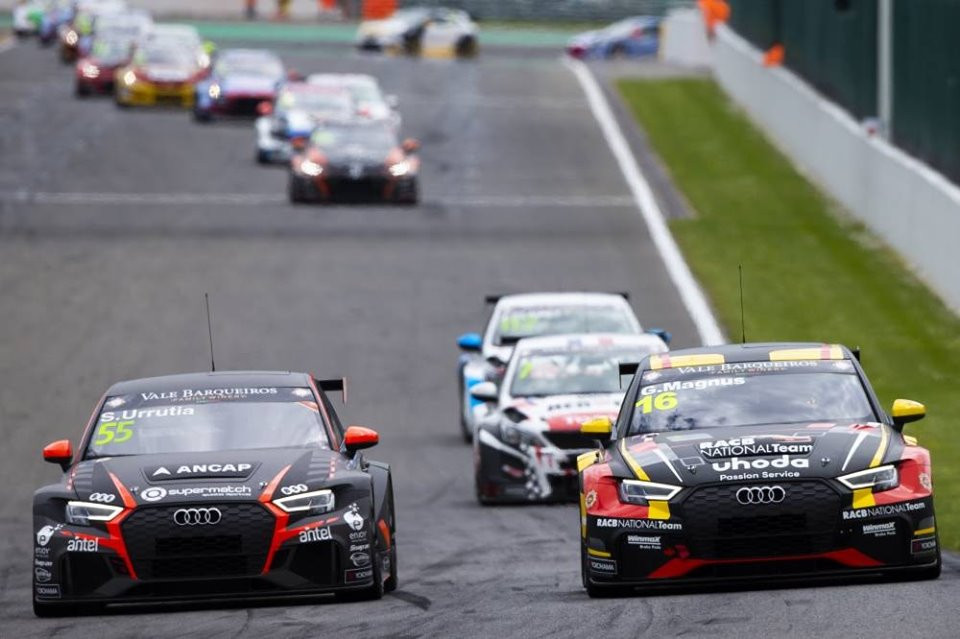 Santiago Urrutia: "It's a good weekend, and I am happy that after my very bad starts at Hockenheim, and training a lot, it worked much better here. In Race 1, I really had to defend my second position in the first laps but then I could focus on reducing the gap to the leader and catch him. I tried to pass him, but braked too much and anyway, he had a little bit more speed than me, I couldn't do much more. Race 2, starting only a couple of rows aback, proved how difficult is to have the good pace when you are not in front. I was also involved in an incident with Coronel and Paulsen, which later cost me a penalty and the points."
Max Potty: "It's been an exciting weekend. Race 1 ended better than it started. The poor start was entirely my fault, I remained in neutral… I was lucky I could get back to the top without big trouble. The pace was very good and it's a pity that mistake at the beginning. In the last lap, I managed a daring overtake on the outside at Stavelot, I admit I took a risk, you don't often try things there! But it went well, also because Comte was very fair-play. In Race 2, there was again good fighting, but after getting sandwiched between two rivals, my tires got destroyed in a very unusual way and the car was shaking and undriveable, losing many positions and even spinning at the chicane."
TCR Europe - Round 3
Spa-Francorchamps, Belgium, 8-9 June 2019
Race 1 Result
1. Gilles Magnus (Audi RS 3 LMS) 9 laps
2. Santiago Urrutia (Audi RS 3 LMS) + 1s551
3. Maxime Potty (VW Golf GTi) + 6s708
4. Aurélien Comte (Peugeot 308) + 6s757
5. Jimmy Clairet (Peugeot 308) +7s350
19. Ashley Sutton (VW Golf GTi) +29s344
Race 2 Result
1. Julien Briché (Peugeot 308) 9 laps
2. Mat'o Homola (Hyundai i30N) + 3s051
3. Andreas Bäckmann (Hyundai i30N) + 3s349
4. Ashley Sutton (VW Golf GTi) + 3s706
23. Maxime Potty (VW Golg GTi) +33s195
24. Santiago Urrutia (Audi RS 3 LMS) +42s115
Photo: TCR Europe
5 months ago
@Fhabsburg62 @GTWorldChEu @ValeYellow46 @augustofarfus @weerts_charles @SheldonvdLinde @vanthoordries1… https://t.co/Alo6nzivvx