TEAM WRT CONCLUDES A FANTASTIC 2021 SEASON WITH RACB'S 'TEAM OF THE YEAR' AWARD
TEAM WRT CONCLUDES A FANTASTIC 2021 SEASON WITH RACB'S 'TEAM OF THE YEAR' AWARD
31/12/2021
The squad claims top Belgian award for the seventh time
It adds to the five GTWCE titles and to the triple LMP2 success in FIA WEC, ELMS and at the Le Mans 24 Hours
The traditional yearly Awards of the RACB (Royal Automobile Club de Belgique), which are regarded as the national motorsports titles in Belgium, were announced yesterday in Brussels, and Team WRT is proud to have been elected by the special jury 'Team of the year 2021'. It's the seventh time in 12 season of activity that Team WRT is honoured with this recognition, won also in 2020, 2018, 2017, 2014, 2013 and 2011.
The RACB Award comes as the cherry on the cake of a fantastic season, by far the most successful for the Belgian-based squad.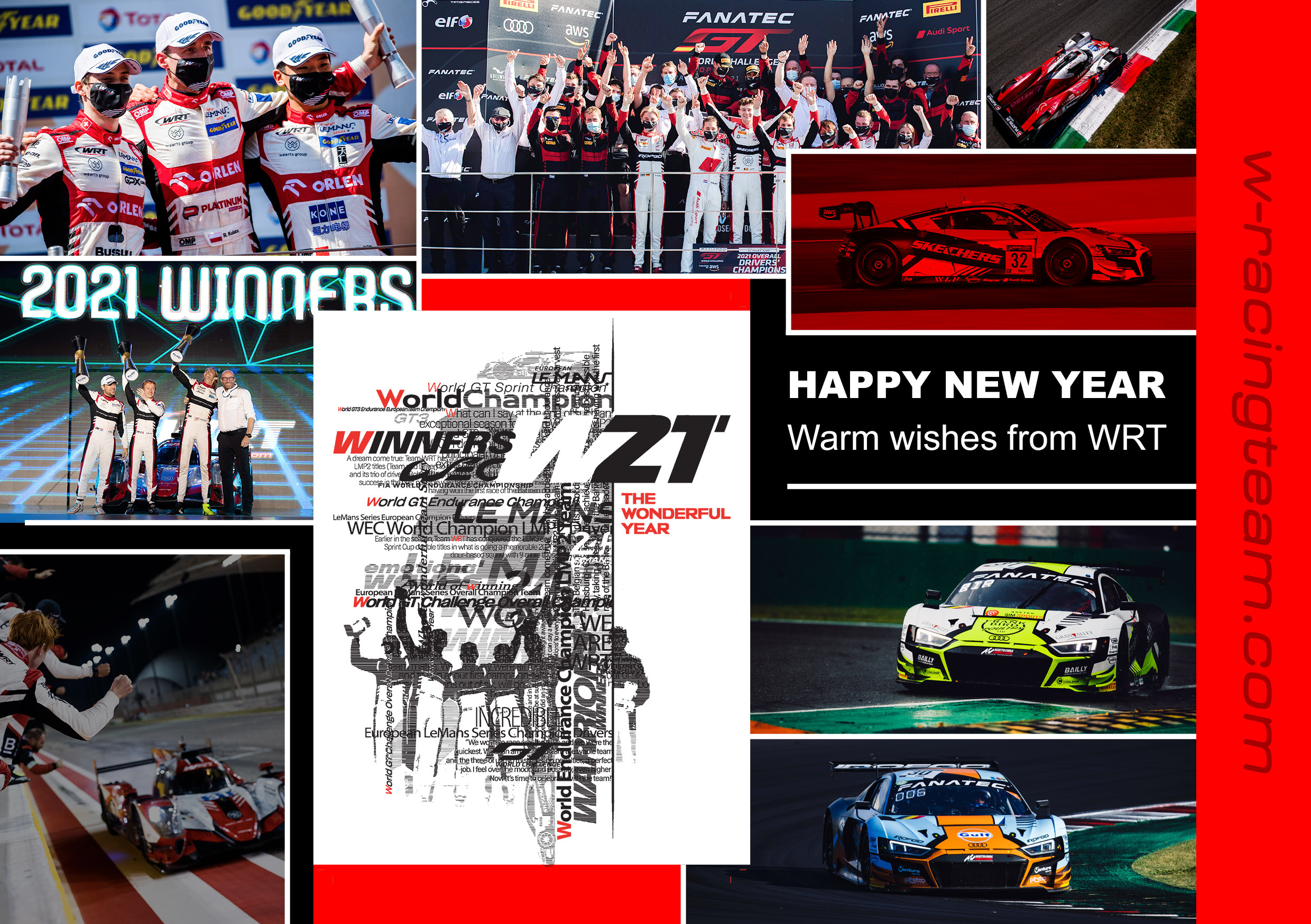 Racing activity
Embarking in its first full campaign in LMP2 racing, Team WRT achieved conquering double titles (Teams and Drivers) in the two programmes undertaken with its Oreca 07 Gibson cars, the FIA WEC and the ELMS. In the World Endurance Championship, Robin Frijns, Ferdinand Habsburg and Charles Milesi formed the crowned trio, which won 3 races out of 6, including the prestigious Le Mans 24 Hours, in what was the first participation of the team. In the European Le Mans Series, it was up to Louis Delétraz, Robert Kubica and Yifei Ye to take the Drivers' title and 3 race wins out of 6 events.
GT3 racing continued to be the core of Team WRT's racing activities and the Audi R8 LMS of the Belgian squad took five of the six Pro titles within the GT World Challenge Europe competition: both the overall and the Sprint Cup crowns (Teams' and Drivers', with Dries Vanthoor and Charles Weerts) and the Teams' title in the Endurance Cup, where Weerts-Vanthoor finished third in the Drivers' rankings. Runner-up honours were secured in the top race of the year, the TotalEnergies 24 Hours of Spa (Weerts-Vanthoor-van der Linde), and in the Silver Cup of the Sprint Cup, with Frank Bird and Ryuichiro Tomita. Last but certainly not least, Team WRT crews won the GTWCE Pit Stop Challenge. Team WRT was also present in the Dubai 24 Hours, where it conquered another podium with Frank Bird, Benjamin Goethe, Louis Machiels, Dries Vanthoor and Kelvin van der Linde.

Car manufacturing activity
As well known, racing is not the only activity of Team WRT, which is also involved in chassis building, through its subsidiary AMP, now fully integrated into Team WRT. This specialized company continued to be the technical partner of the VW Fun Cup, providing maintenance
and assistance services on top of building those cars. AMP also serves other external clients, which include three of the four world's top automotive makers, by building race car chassis for their TCR, GT4 and Rally programmes. For one manufacturer the full GT4 race car is assembled in the workshop in Stavelot at the rhythm of 2 cars per month. In total, AMP builds over 100 chassis each year, with already 130 orders received so far for 2022.

Corporate activities
Team WRT was also a proud winner of the ACO Sustainable Award presented by DHL, which underlines the squad's commitment to sustainable racing. As part of this commitment, Team WRT has adhered to the SRO Sustainability Programme, aimed at offsetting the carbon footprint of SRO-organized competitions, and to the 'Drive fast, Act faster' reforestation initiative supported by Ferdinand Habsburg.
In a different area, Team WRT has been a key contributor to the efforts of its parent company, Weerts Group, to provide personal computers to Belgian children living in challenging social conditions. This year, the Weerts PC Program has allowed to collect, re-prepare and distribute no less than 800 personal computers. In partnership with Proximus, a leading Belgian Internet provider, all computers were equipped with an internet connection.

Vincent Vosse, Team Principal and Co-CEO Team WRT: "As we reach the end of 2021, which has been by far the most successful season in Team WRT's history, it is difficult to find words that can express what I feel. There is, of course, a sense of pride when I look at what we have achieved with our GT3 and LMP2 programmes. We are not new to success in GT, but given the level of competition, our results were outstanding, and it is impressive to see the consistency we have been able to show throughout the years. What done in LMP2 is incredible, given that we were debuting in the category and had everything to learn. If in January, when we hastily pushed the 'go' button not even sure of having a car for the season, nobody could have believed that a few months later, we would be where we are.
All this wouldn't have been possible without the competence, hard work and commitment of Team WRT's people, and I mean every single person involved in any capacity. They all gave their best and strived to improve and innovate. I also want to thank all our partners, suppliers and sponsors, who share the same mindset. And, clearly, Weerts Group, of which we are an integral part, has always supported our dreams and our growth.
This season provided us a great deal of emotions, of all kinds and intensity. The thrilling final laps of the Spa and Le Mans 24 Hours are there to remind us how thin is the border between joy and disappointment and that both things can actually come together at the same moment. In 2021 we have left the ladder quite high, to repeat such a season in 2022 will not be easy, and this commands to remain humble, focused and motivated. We are ready to take up the challenge, but for now, it's time to relax a bit, celebrate and enjoy together with family and friends. Let me wish a wonderful end of year and a safe and happy 2022 to everybody."

Kathleen Schurmans, Co-CEO Team WRT: "It has been an exceptional racing season for Team WRT, and we all feel very proud of those achievements, which come after having had to deal, also as a company, with the unprecedented challenge of the pandemic. Being part of the Weerts Group helps us tremendously and opens many new perspectives. Team WRT is more than racing and we are very happy of how things are developing with our manufacturing activity, now fully integrated into Team WRT. It is a key development, which brings diversification, allows to spread risks and offers many interesting career opportunities
to our staff. We are also more and more committed to take up our social corporate responsibility while becoming more environmental-friendly in the way we operate and race and in supporting social programmes in our communities. Those too are achievements we are proud of, and it is with this spirit we want to continue growing, winning and improving in 2022 and the years beyond."

You can live again Team WRT's 2021 season through our 2021 video, "The winners take it all", available at https://www.youtube.com/watch?v=hLXJlANKMVc&t=5s
8 hours ago
Dries Vanthoor replaces René Rast in Fuji (FIA WEC) René will compete in the clashing DTM event at Spa-Francorcha… https://t.co/UlO0kF4yWz