TEAM WRT TO BARCELONA TO SEEK MORE GTWCE GLORY
TEAM WRT TO BARCELONA TO SEEK MORE GTWCE GLORY
07/10/2021
The Fanatec GT World Challenge Europe powered by AWS is coming to an end this weekend with the final round of the Endurance Cup at Barcelona, but before the curtain on the 2021 season comes down, there are still some titles to be awarded.
After taking the double crown (Teams and Drivers) in both the Sprint Cup and the GTWCE overall competitions, Team WRT is in contention for the two titles in the Endurance Cup.
Eight and thirteen points are the gaps that separate Team WRT and Dries Vanthoor-Charles Weerts, respectively, from the current leaders in the respective standings, Teams' and Drivers'. With 29 (teams) and 26 (drivers) points still to be awarded in the final race, the games are still open but the challenge is certainly not easy.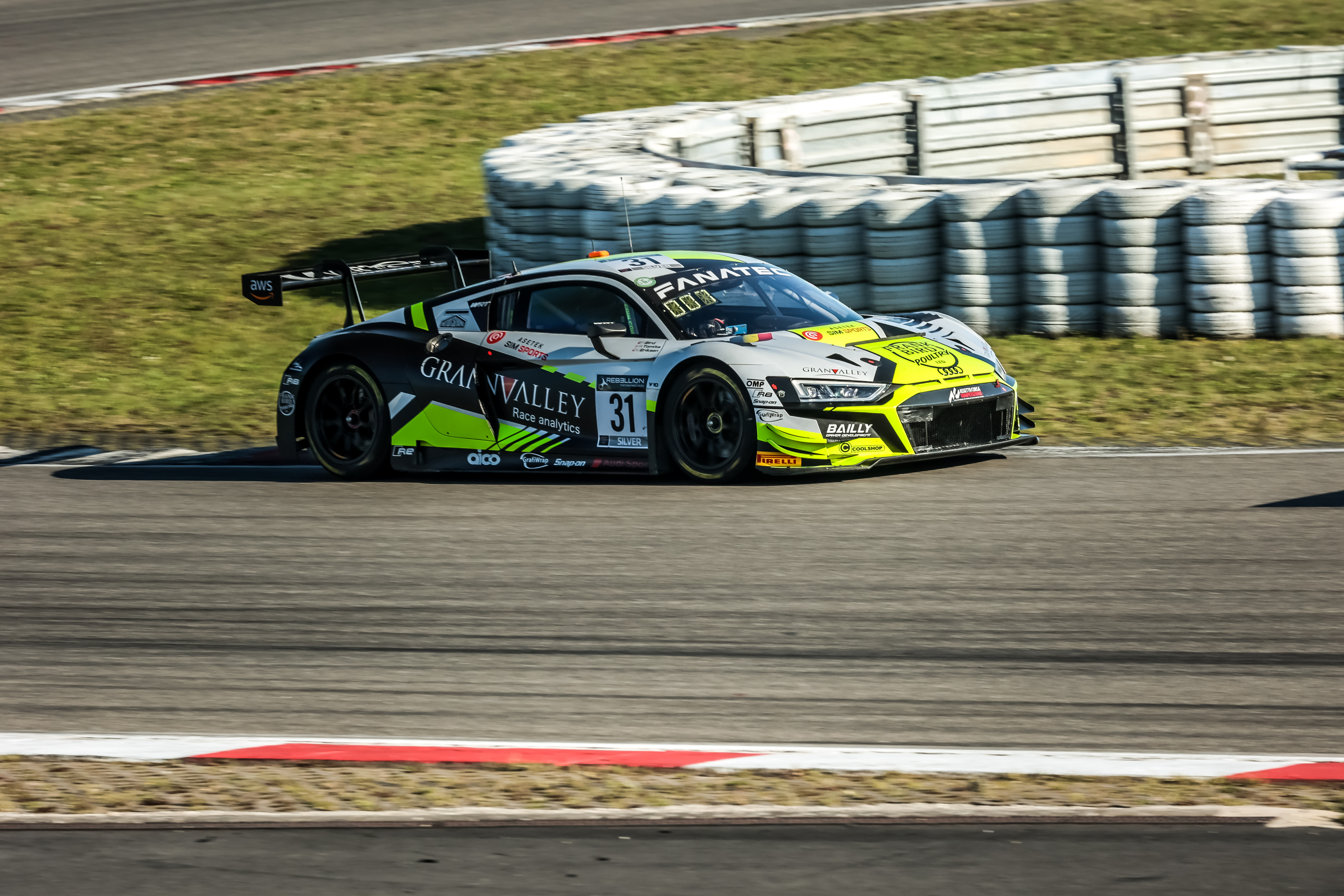 The Belgian squad is determined to fight until the end and conquering a triple crown in the GTWCE would certainly be an impressive achievement. The Baudour-based squad will enter its usual three Audi R8 LMS, with Robin Frijns again joining Dries Vanthoor and Charles Weerts at the wheel of car #32, as Kelvin van der Linde will be fighting for the DTM title at the Norisring finale.
The GTWCE final round will be hosted at the Circuit de Barcelona-Catalunya in the framework of the 'Festival de Velocidad', a weekend with a rich programme of races and events, mixing modern and classic racing, open to the public and having for objective to raise funds for the Legado María de Villota, the foundation bearing the name of the late Spanish driver. It will be a perfect setting for a final, decisive Endurance Cup battle on the 4.675 km track that is among the most technical and challenging ones in Europe.
Team Principal Vincent Vosse is conscious on the difficult task awaiting his troops: "We are fighting for two more titles, but given our position in the standings, our strategy is going to be very simple: we have to go for the victory and be sufficiently ahead of our direct rivals to hope to win the Endurance Cups. It is not going to be easy on a track such as Barcelona, but we have a very good package and we can make it. We haven't been as competitive as we wished in the most recent rounds, often coming out at the very end, after solid recoveries. Here, we hope to have better speed and to qualify well, which will be crucial. We have had a very successful season in the GTWCE this year and it would be great to finish it with some more successes! In the meantime, we wish our team regular Kelvin van der Linde all the best in his DTM title bid at the Norisring!"
Dries Vanthoor: "I am very motivated going to Barcelona for the last Endurance Cup round. We are still in contention for the titles, although it's not a very relaxing situation. We have to go for a win, this would make life easier for us, and then see what the others do. Robin will be again with Charles and me, he is very well prepared after Valencia, so I am sure we can do a good race. Let's give our everything for this last round!"
Charles Weerts: "We have an important weekend ahead of us. We are quite close in the championship, but in reality the only way to win the championship is to win the race. We'll do our best, we have a great car, a great team and a great line-up and I believe we can do something good there, let's pinch this title too, it would be mega and would really mean a lot."
Robin Frijns: "It's been a while I haven't raced with GT3 at Barcelona, but I have good memories there, including a pole position some years ago. Dries and Charles are still fighting for the title, it's not going to be easy but it is still possible, so the target is clear. I hope we will have good speed in the car and we can stay out of trouble. The only thing we can do is try to win the race, the rest is not in our hands."
Benjamin Goethe: "I am very excited ahead of the final round of the season. We are aiming to finish on a high and Barcelona is a track I enjoy a lot and where I think we can do very well."
James Pull: "I have got to be honest, I am a little bit sad that we came so fast at the end of the season. It has been such a pleasure to drive for Team WRT and a joy working with everybody. I look forward to end the season on a high, we still have a chance to finish third in the Silver Cup and we'll try to do our best for that. I hope we can show everybody our pace potential and we'll try to put everything together and benefit from all the things we have learned during the year to get a good result for the team."
Valdemar Eriksen: "After a good weekend for me personally at the Nürburgring, I'm really looking forward to the last race of the season, and hope to top it off with a good result for our last race together this year."
Frank Bird: "Final round of the season already! The last round we had in Valencia for the Sprint Cup proved to be a tough one for the whole team, so we are looking to bounce right back in Barcelona. I have never been there in a GT car, it will be a bit new but I'm looking forward to the challenge and finish the season on a good note."
Stuart Hall: "One last dance for us in 2021, it's been great being part of Team WRT again this year, Benji and James have been cracking teammates. I'm looking forward to being back at one of my favourite tracks and ready for a great scrap end of the season!"
Ryuichiro Tomita: "This weekend is our last race of the season. We didn't show a good result in the Endurance Cup since the season opener, so I hope in Barcelona we will have no regrets and we can all do our best together with the whole team to finish on a high."

Fanatec GT World Challenge Europe powered by AWS - Endurance Cup Round 5
Barcelona, Spain – 8-10 October 2021
Timetable (CET)

Friday 8 October 2021
09:00-10:00 Paid test session 1
13:10-14:10 Paid test session 2
17:00-18:00 Bronze test (bronze drivers only)

Saturday 9 October 2021
09:00-10:30 Free Practice
13:40-15:10 Pre-qualifying
18:20-19:20 Fanatec Esports GT Pro-Series Race

Sunday 10 October 2021
09:00-09:15 Qualifying 1
09:22-09:37 Qualifying 2
09:45-10:00 Qualifying 3
15:00-18:00 Race (3 Hours)


Team WRT entries (Audi R8 LMS)
#30 Benjamin Goethe (DE) - Stuart Hall (GB) - James Pull (GB) Silver
#31 Frank Bird (GB) - Valdemar Eriksen (DK) - Ryuichiro Tomita (JP) Silver
#32 Robin Frijns (NL) - Dries Vanthoor (BE) - Charles Weerts (BE) Pro



5 months ago
@Fhabsburg62 @GTWorldChEu @ValeYellow46 @augustofarfus @weerts_charles @SheldonvdLinde @vanthoordries1… https://t.co/Alo6nzivvx