UNLUCKY WEEKEND FOR TEAM WRT IN THE ADAC GT MASTERS
UNLUCKY WEEKEND FOR TEAM WRT IN THE ADAC GT MASTERS
03/10/2021
The fifth round of the ADAC GT Masters ended with sour taste for Team WRT. On the hilly and narrow Sachsenring, near Chemnitz, the Belgian squad had a positive start of the weekend, with Dries Vanthoor and Charles Weerts finishing 6th in Race 1 on Saturday, after an entertaining and closely-fought race.
On Sunday, though, when more heavy points could have been expected, the Audi R8 LMS of Team WRT was an innocent victim of first corner drama, sustaining damage beyond repair.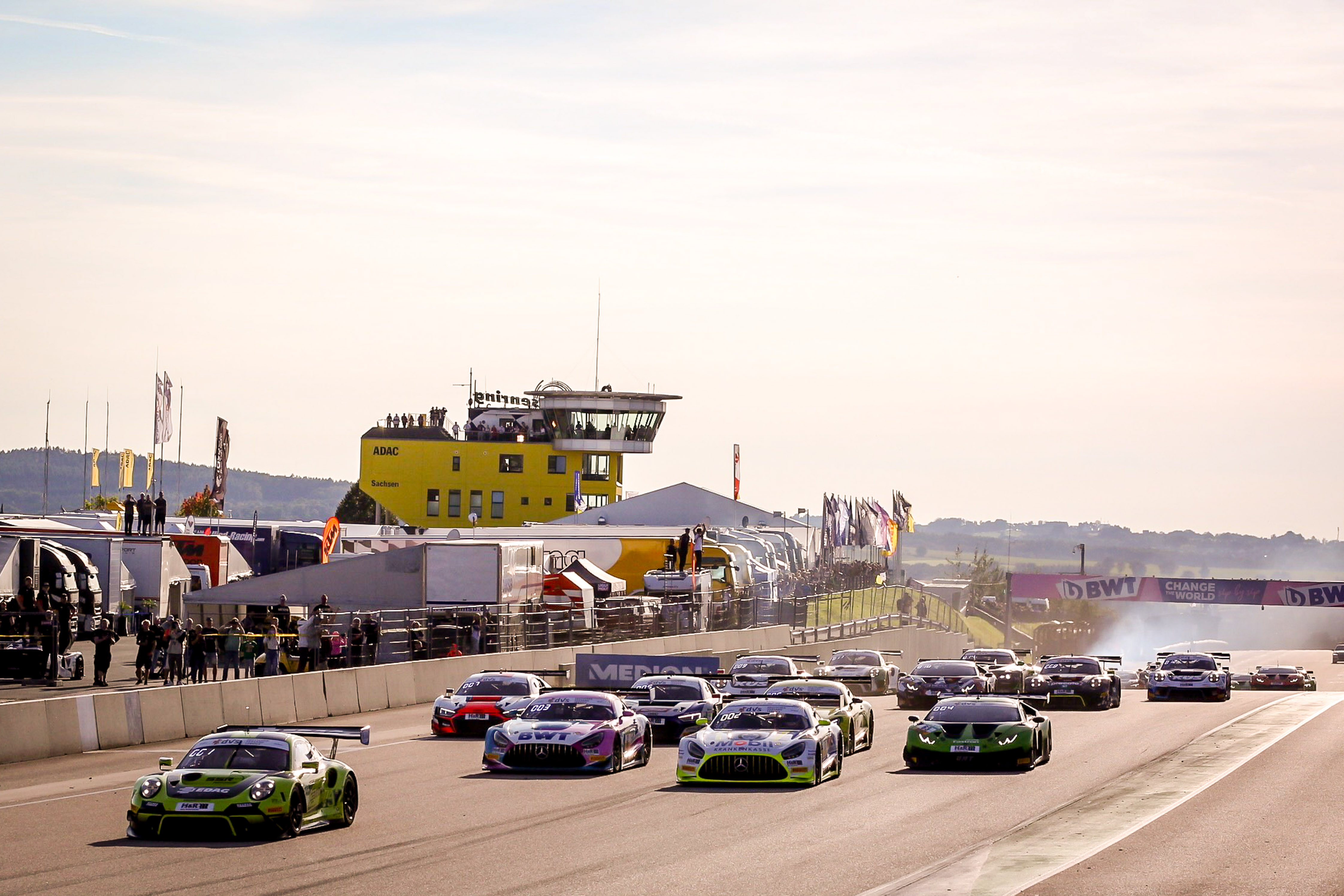 Team Principal Vincent Vosse commented: "There is little to say. We could have scored interesting points in Race 2, as Race 1 proved that our race pace was good, but the incident involving several cars in turn 1 at the start ruined all our efforts, which now leaves us with very little chances towards the championship in the last two rounds."
While not among the absolute top performers, the Audi R8 LMS cars proved competitive since free practice, with car #32 taking P12 and P14 respectively in the two sessions, and improved their pace through the sessions. Charles Weerts qualified 7th for Race 1, which took place on a bright Saturday afternoon.
The start was chaotic, with a couple first-lap incidents in both the two starts given in succession because of first-lap incidents twice. In both accounts, Weerts managed to avoid trouble, keeping his 7th position, and so he did when the race got on for good at the third attempt. He could gain a position before lap 10, but no other major changes occurred during first stint on the narrow and hilly Saxon track. He stopped in lap 18 for the pit stop and after all driver changes, Vanthoor found himself in 7th, in the middle of a compact group fighting for third. He managed to climb one position to take a final P6.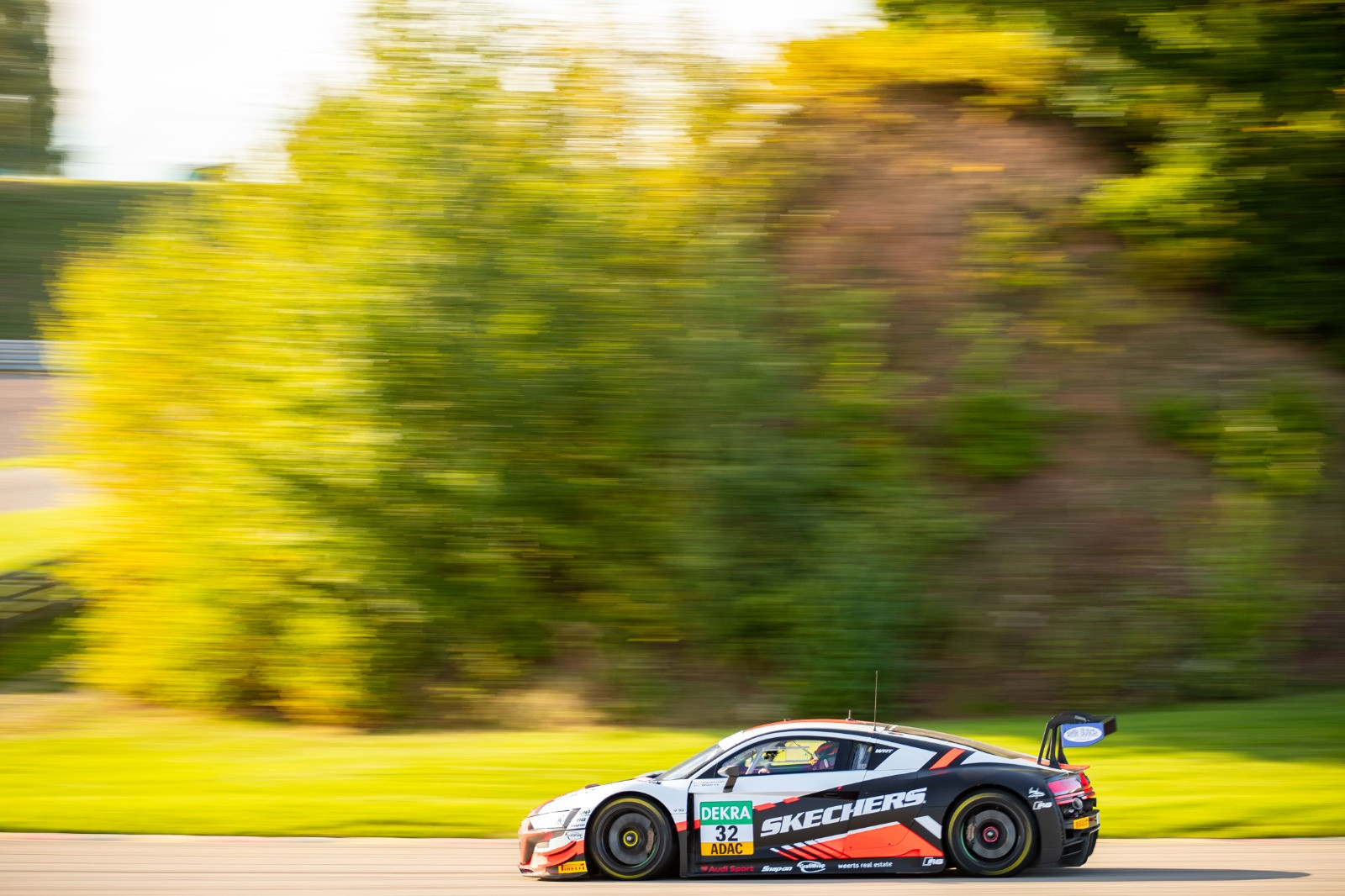 On Sunday, qualifying for Race 2 saw Dries Vanthoor take P9 in the grid, but his race was going to be very short. Drama struck at first corner braking, with many contacts in the front-running group and one of the top Mercedes spinning in the middle of it. Vanthoor was unfortunately hit on the left front, after being pushed and sandwiched, and could only go back to the pits where he retired because of a broken suspension link.
Dries Vanthoor: "Quite an unfortunate day to finish the weekend. We already were unlucky in qualifying, because of the red flag, and it got quite messy in turn 1 at the start of the race; Someone hit me from behind, then couldn't avoid the spinning Mercedes as I was stuck right and left…''

ADAC GT Masters - Round 5
Sachsenring, Germany – 1st-3rd October 2021
Race 1 Result
1. Jaminet-Ammermülller (Posche 911 R) 41 laps
2. Stolz-Engel (Mercedes AMG) + 2s102
3. Feller-Mies (Audi R8 LMS) + 5s043
4. Marciello-Buhk (Mercedes AMG) + 5s702
5. Engelhart-Preining (Porsche 911 R) + 5s985
6. Vanthoor-Weerts (Audi R8 LMS) + 6s576


Race 2 Result
1. Walilko-Gounon (Mercedes AMG) 42 laps
2. Stolz-Engel (Mercedes AMG) +15s842
3. Engelhart-Preining (Porsche 911 R) +16s086
4. Ineichen-Perera (Lamborghini Huracan) +16s218
5. Feller-Mies (Audi R8 LMS) +16s490
DNF Vanthoor-Weerts (Audi R8 LMS) 1 lap (damage)
5 months ago
@Fhabsburg62 @GTWorldChEu @ValeYellow46 @augustofarfus @weerts_charles @SheldonvdLinde @vanthoordries1… https://t.co/Alo6nzivvx