FRUSTRATION DESPITE ANOTHER WIN FOR THE BELGIAN AUDI CLUB TEAM WRT IN THE SPRINT CUP AT ZANDVOORT
FRUSTRATION DESPITE ANOTHER WIN FOR THE BELGIAN AUDI CLUB TEAM WRT IN THE SPRINT CUP AT ZANDVOORT
26/09/2020
The Audi R8 LMS of the Belgian Audi Club Team WRT completed a challenging weekend at Zandvoort, in the penultimate round of the GT World Challenge Sprint Cup, taking another win, this time with Ryuichiro Tomita and Kelvin van der Linde in Race 1. There were regrets too, as car #32 was leading in the final part of Race 2 when a technical issue during the pit stop resulted in a drive-through that broke the dreams of Dries Vanthoor and Charles Weerts. Despite a frustrating weekend, the Belgian duo is still leading in the Drivers standings of the Sprint Cup while in the teams rankings, the Belgian squad is maintaining its leadership. Van der Linde - Tomita, who finished in P3 on track, got a post-race drive-through, following first-corner drama, while Rik Breukers-Rolf Ineichen and the Owega brothers lived a more difficult weekend despite showing strong pace on track.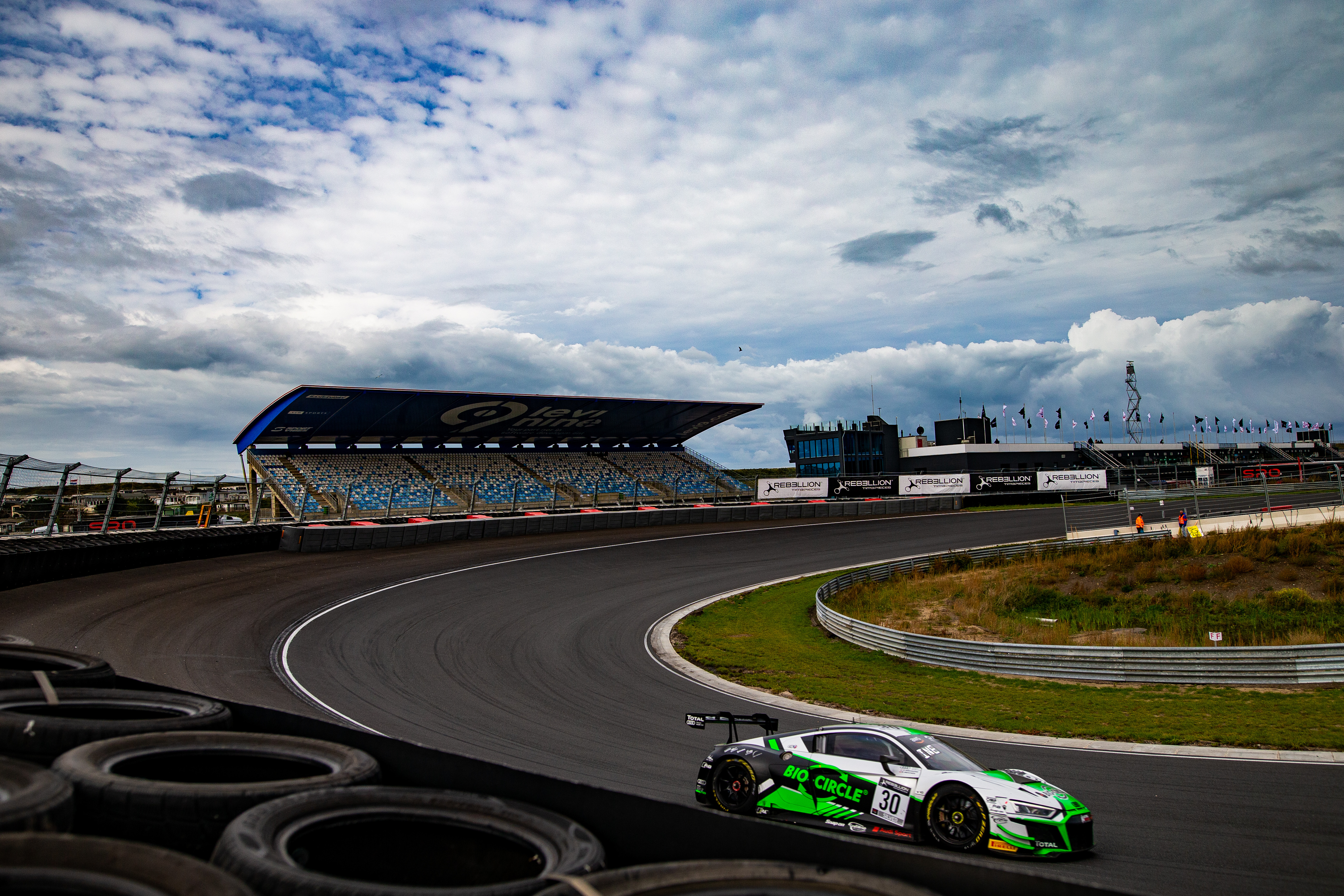 Team Principal Vincent Vosse commented: "We came to collect as many points of possible and we leave with much less than what we could have harvested, because of the penalties in Race 2. A technical issue during pit stop led to drive-through inflicted to the car of Vanthoor-Weerts that was leading the race, while Tomita-van der Linde lost the third position gained on the track because of a sanction that I think is excessive, after winning Race 1. We are still leading in the standings, but everything will have to be decided at Barcelona and we can't avoid feeling some frustration at the end of this weekend…"
The weekend started positively for the Belgian Audi Club Team WRT cars, with #32 being fastest in free practice and #31 third-fastest in pre-qualifying.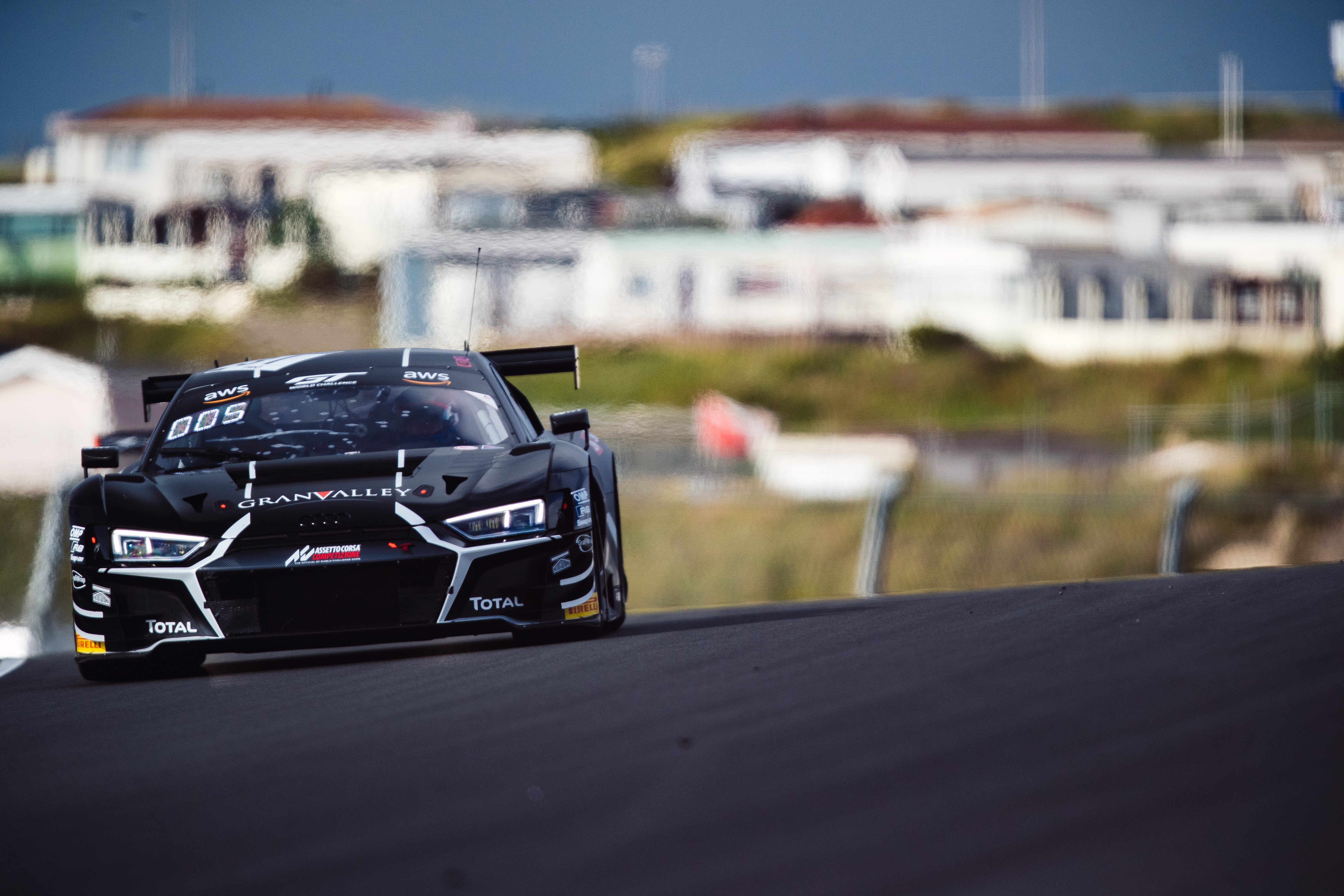 In Qualifying ahead of Race 1, all four cars were in the top-12: Ryuichiro Tomita signed an excellent third-fastest time, with Charles Weerts in P9, and Rolf Ineichen and Jusuf Owega sharing sixth row. With a very kick-off time, at 9:00, Race 1 was influenced by the damp track; on top, light rain started to fall right before the start, making tyre choice almost a gamble. For the Belgian squad, cars #31 and #33 were on wets, which proved to the right choice. Tomita took a perfect start, passing direct rivals in the first lap, which he concluded leading the race, a position he wouldn't leave until the pit stop. Weerts was 12nd, with Ineichen 15th (both stopped to put on wet tyres), and Jusuf Owega 19th. In slippery conditions and with many unplanned pit stops, the first part of the race was quite confused. Things would only stabilize in the second part, although nothing changed in the lead. The charge of Vanthoor and Hamza Owega brought them to final P12 and P15 (6th in the Silver Cup) while the fourth Audi R8 LMS of the Belgian squad finished 21st.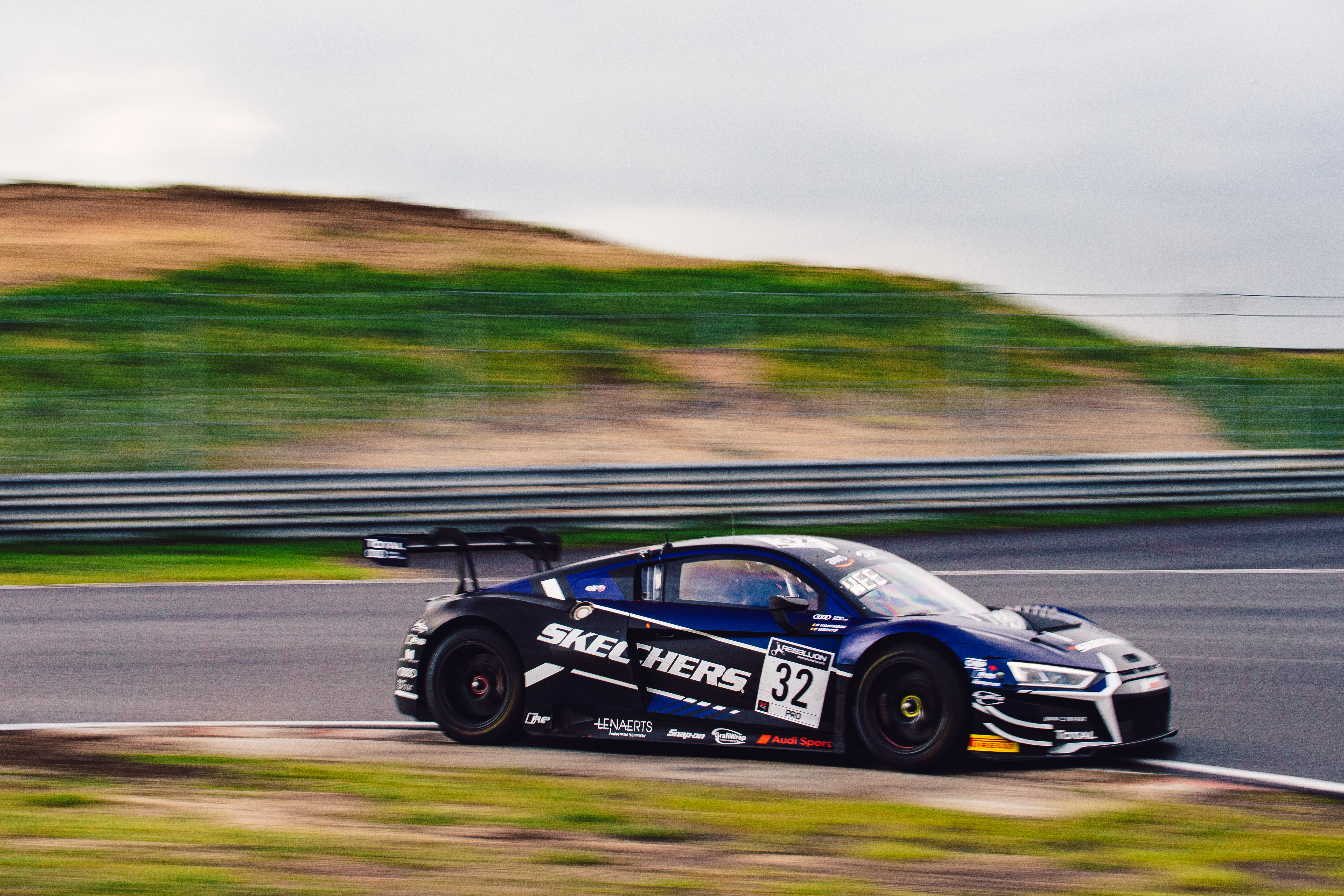 In Q2, car #31, with van der Linde, was again third, with Breukers 7th (and in pole for the Silver Cup), Weerts 8th and Hamza Owega 20th. The track was dry for Race 2, with van der Linde gaining immediately one position, Vanthoor sixth, and Breukers 10th, with Hamza Owega 20th. It was Vanthoor putting the show and climbing up positions to take 3rd, with van der Linde 7th, ahead of Breukers (who leads in the Silver Cup), while Owega finished his race in the gravel in lap 11, after an off-track. After a late pit stop, Weerts led and although under pressure seemed bound to victory. Unfortunately, car #32 received a drive-through resulting from a technical issue encountered during the pit stop. Eventually, it finished 10th. Tomita
completed an excellent weekend for car #31 by taking another podium finish (3rd), but more disappointment for the team came after the race when van der Linde received a drive-through for the fight with a rival at first corner, which dropped the car to P11. Ineichen finished 8th in the Silver Cup.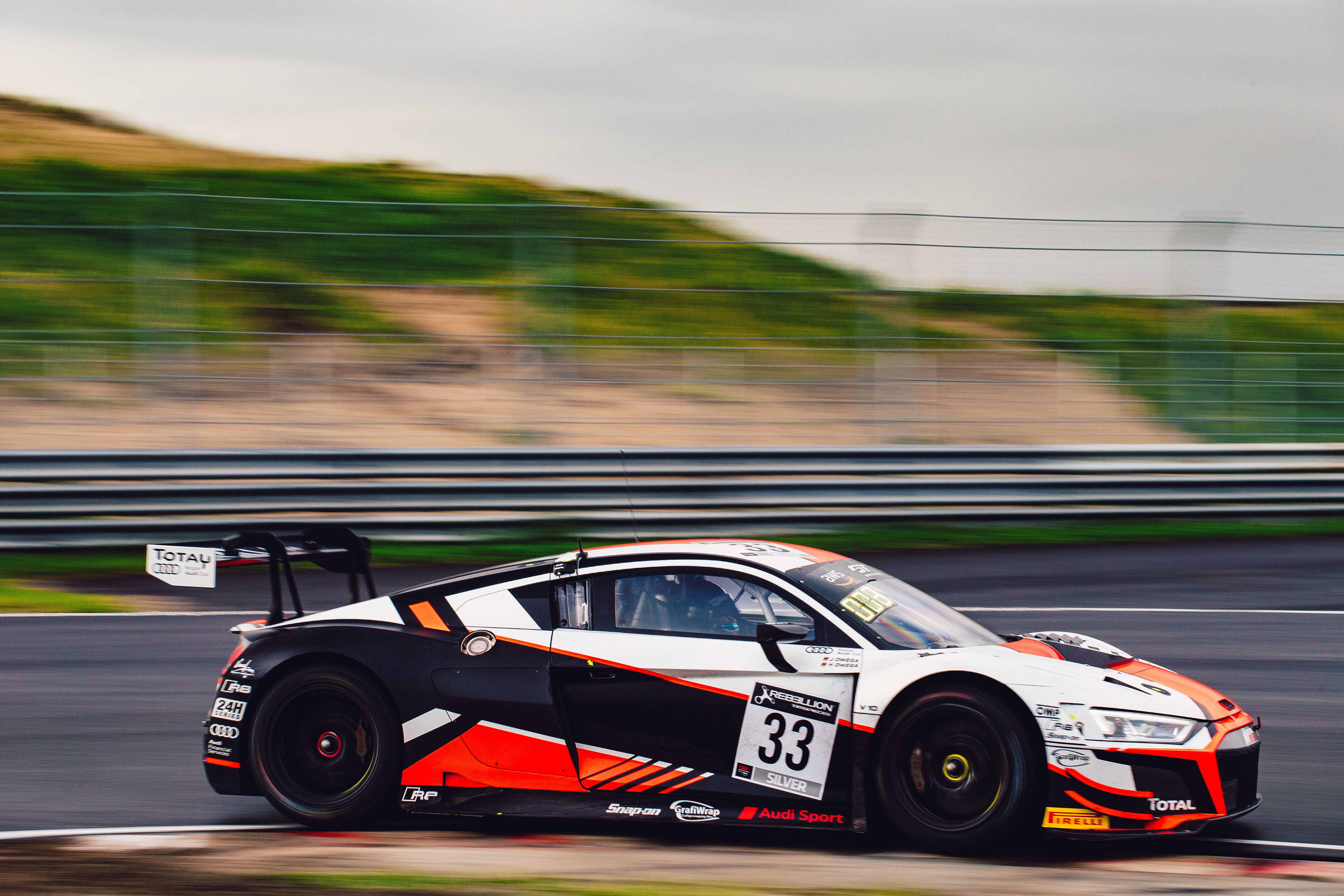 Dries Vanthoor: "What can I say? It was not a good weekend, although we had good pace. I really had a good first stint today in Race 2, a lot of fights, I never believed I could go from P8 at the start to P1. The car had a little bit of understeering, but the pace was good. I don't know what was the problem during the pit stop, but the result is we lost a lot of points and the championship will be decided at Barcelona."
Charles Weerts: "Again a difficult weekend, although we had the potential to do very well. I had some trouble in my qualifying, because of the red flag and because we haven't raced much on wet this year, but then tyre choice in Race 1 was a gamble anyway… Race 2, we had basically won it and then we got the penalty…"
Ryuichiro Tomita: "A very happy weekend for me and I hope for the team too! I can't believe I won a race in my first season in Europe! The team and Kelvin did a great job, we had two good races and now we have to focus on Barcelona and the championship."
Kelvin van der Linde: "What an amazing weekend for us, it's nice to be back strong in the Sprint Cup. I thank the team for all their excellent work, especially Ryuichiro, who really deserves this first win. Now we are back in contention for the title fight."
Rik Breukers: "We really hadn't a lot of luck. In Race 1, it was a little bit of a gamble for the tyres and we made the wrong choice. In Race 2 we had really good pace, and I was leading, but then we had a puncture during Rolf's stint, and that was it…"
Jusuf Owega: "A tough weekend for us. We could have had the pace, but we were unlucky in qualifying and it was even worse in the races. Just a bad weekend. Let's move on to the next one."

GT World Challenge Europe Sprint Cup – Round 3
Zandvoort, Netherlands, 25-26 September 2020
Race 1 results:
Tomita-van der Linde (Audi R8 LMS) 34 laps
Chevalier-Jean (Bentley Continental) +30s091
Palette-Gachet (Audi R8 LMS) +35s951
Altoè-Costa (Lamborghini Huracán) +37s147
Panciatici-Gounon (Bentley Continental) +46s589
12. Vanthoor-Weerts (Audi R8 LMS) +1m17s055
15. H.Owega-J.Owega (Audi R8 LMS) +1m34s767 (6th in Silver)
21. Breukers-Ineichen (Audi R8 LMS) + 2 laps
Provisional Race 2 results:
1. Altoè-Costa (Lamborghini Huracán) 37 laps
2. Grenier-Siedler (Lamborghini Huracán) +13s040
3. Rougier-Haase (Audi R8 LMS) +17s168
4. Boguslavskiy-Fraga (Mercedes-AMG) +24s896
5. Tunjo-Puhakka (Mercedes-AMG) +26s385
10. Vanthoor-Weerts (Audi R8 LMS) +29s630
11. Tomita – van der Linde (Audi R8 LMS) +45s523
17. Breukers-Ineichen (Audi R8 LMS) +1m18s364 (8th in Silver)
DNF H.Owega-J.Owega (Audi R8 LMS) 10 laps (off-track)

PHOTO: MICHELE SCUDIERO

14 hours ago
Final preps | @GTWorldChEu https://t.co/xYpJ5rwUAr