PODIUM FINISH IN THE ADAC GT MASTERS FOR TEAM WRT
PODIUM FINISH IN THE ADAC GT MASTERS FOR TEAM WRT
16/08/2020
At the Nürburgring, in the second round of the ADAC GT Masters, Audi Sport driver Dries Vanthoor and Charles Weerts took a podium finish (2nd) in Race 2, which maintains them in full contention for the title battle (the duo of the Skechers-backed Audi R8 LMS is fifth in the standings) in the very competitive German series. Audi Sport driver Mirko Bortolotti and Rolf Ineichen, sharing the Bio-Circle-livered car, ensured more valuable points for the team with a P4, while Benjamin Goethe-Stuart Hall had a consistent first appearance in the series.
Team Principal Vincent Vosse was satisfied of the overall performance: "It has been a good weekend. In GT3, we haven't yet got down from the podium since the Dubai 24 Hours in January, which is very positive and proves that we do a good job, although there is always work to keep the level of performance and you can never rest. In the DTM, we have quickly corrected the situation with respect to the first round at Spa. It was our first objective. The results of Ferdinand, scoring points in both races, and the good performances in Qualifying 2, are very encouraging. It is just a pity that there was a small issue with the pitstop rig of Ferdinand in Race 2, as he could have finished higher in the ranks."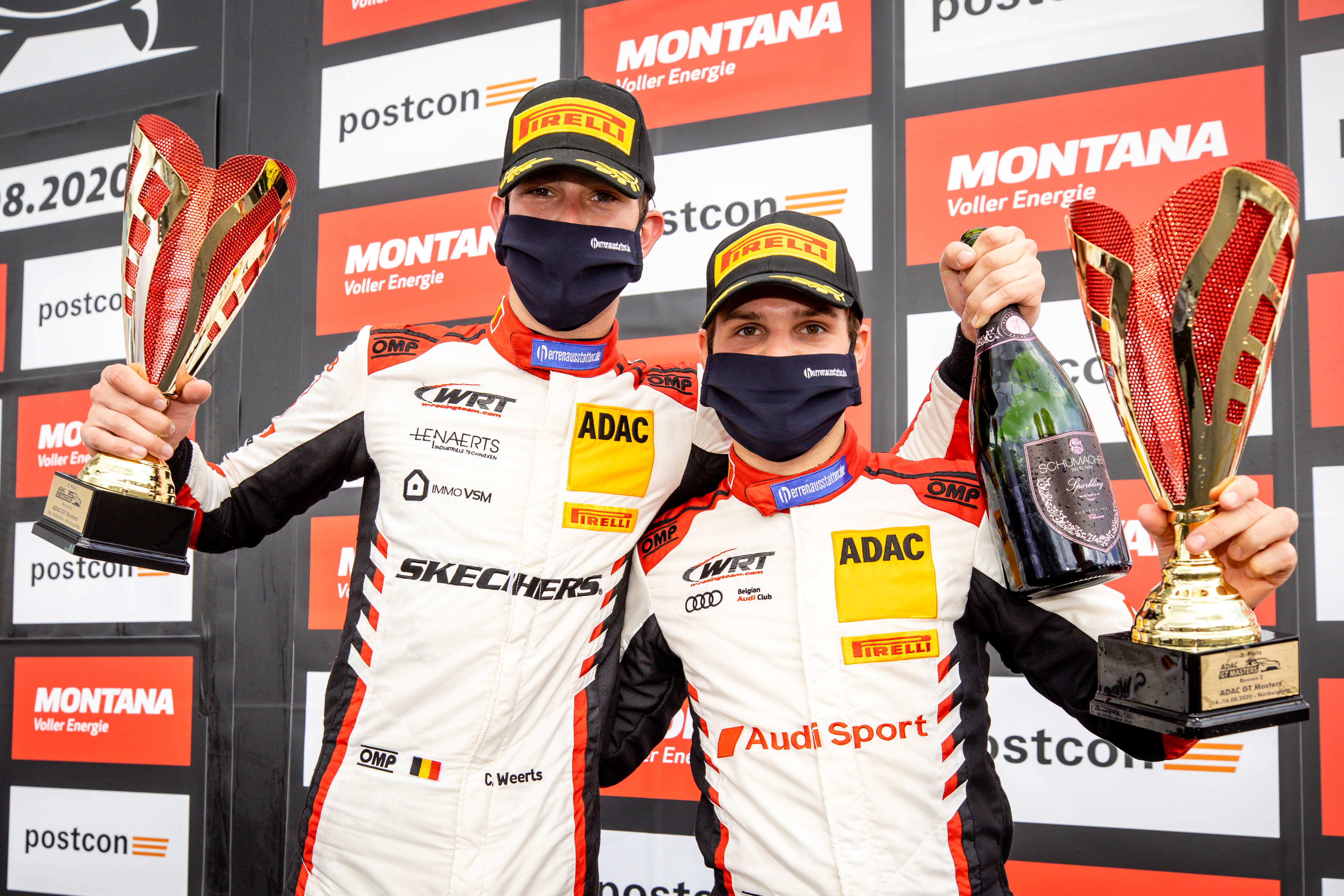 The weekend was challenging since the beginning, especially for car #32 of Dries Vanthoor-Charles Weerts, which had to carry the additional 30 kgs resulting from the success in Round 1. Only car #30 of Mirko Bortolotti-Rolf Ineichen made the top-10 in the two free practice sessions, while Benjamin Goethe-Stuart Hall, on car #34, focused on optimizing track learning work. Best qualifier for Race 1 was Ineichen (P16), ahead of Weerts (P22) and Goethe (P35). Race 1 would immediately yield bad news as Charles Weerts got tangled in start and first lap drama, dropping to last position and having to retire end of lap 2 with suspension damage after contacts. Ineichen also was sandwiched between two rivals in lap 8, when running 16th, losing a few positions. He was among early pitters and Bortolotti tried to climb positions in his stint but was stuck in traffic for a long time. When he got a clearer track in front of him, he raised up to 12th, but a 5-second penalty for a contact brought the car to a final P18 overall but yet on a podium with P2 in the Pirelli Trophy class. In car #34, Goethe had a faultless stint, running as high as 10th as he pitted among the last ones. Hall gained a couple of positions up to P26, but lost three to serve a drive-through in the closing laps following a race incident.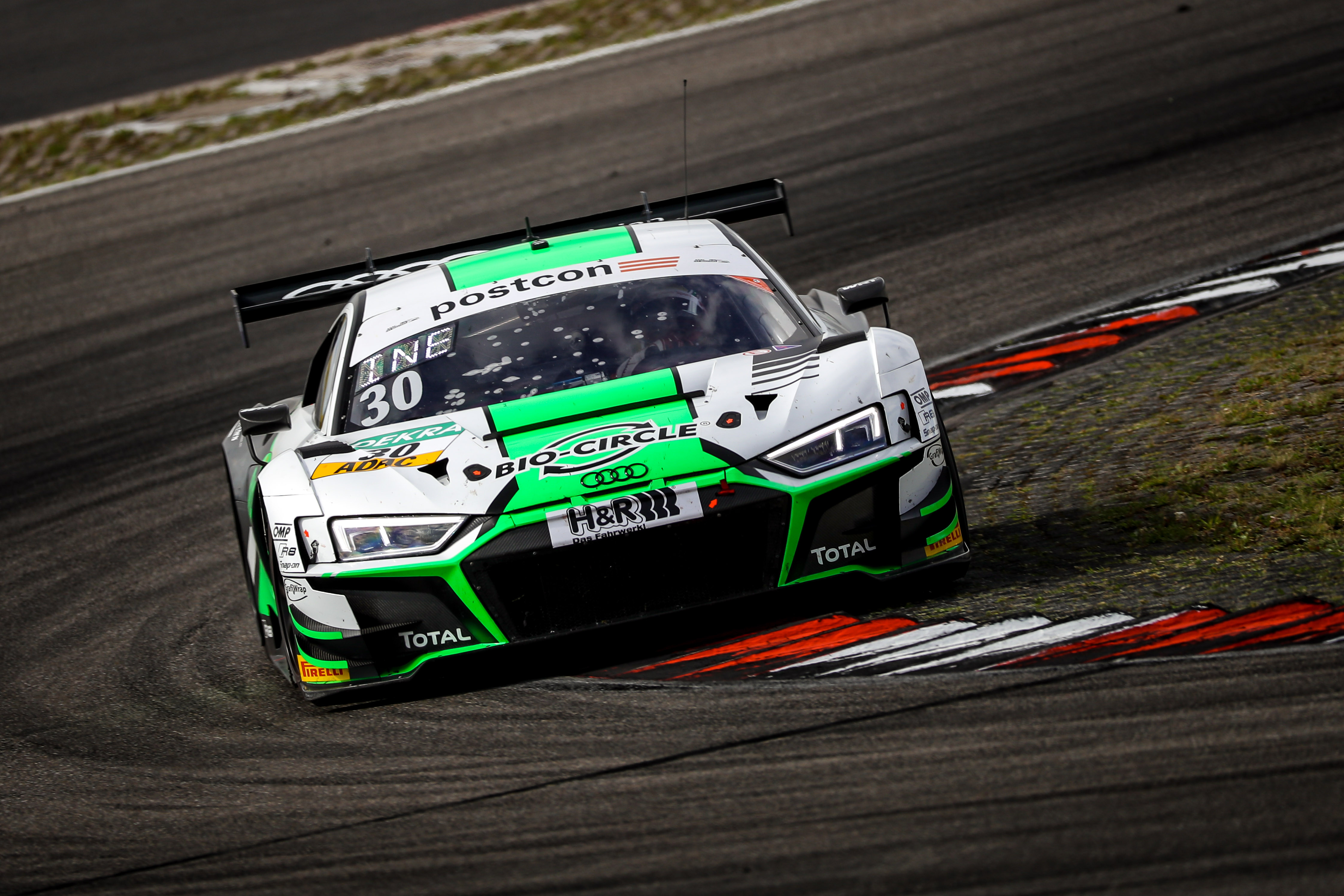 Qualifying for Race 2 saw a great team performance, as car #32 and #30 put themselves in the two first rows, with Vanthoor (rid of the 30 kgs of success ballast he had to carry in Race 1) qualifying second and Bortolotti fourth. In car #34, Hall qualified in P29.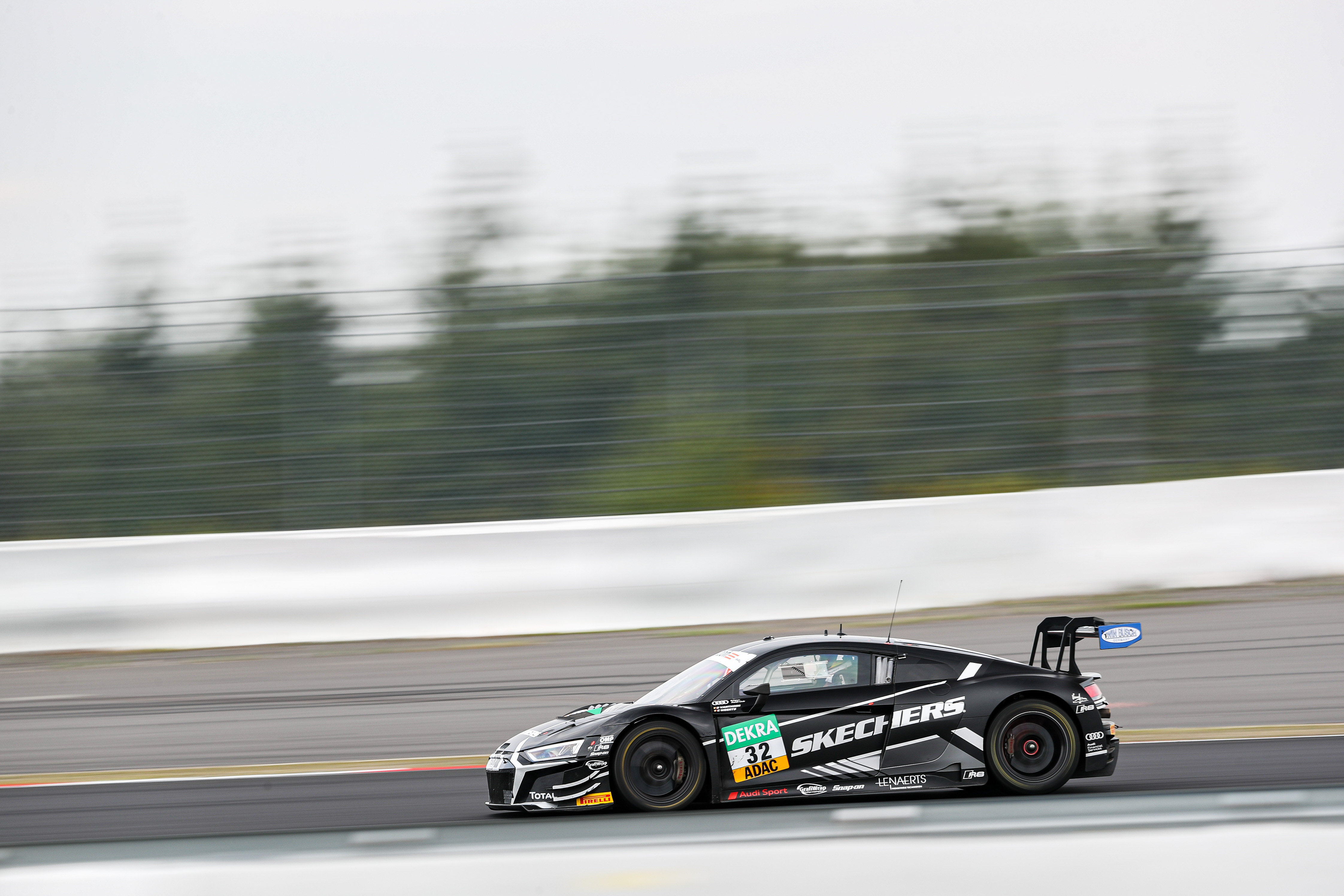 The start of Race 2, though, was disappointing for the team, with both Vanthoor and Bortolotti engulfed in the leading group. Vanthoor emerged 5th in first lap and Bortolotti 9th. They kept those positions during the initial phases, which saw a safety-car period and great fighting, while Hall climbed to P27. Vanthoor and Bortolotti climbed up to 4th and 6th respectively before late pit stops, which allowed Weerts and Ineichen to stabilize in 3rd and 4th, respectively, for most of their stints, with the Belgian eventually making it to the podium and the Swiss having to concede one position in the fierce final battle. Both gained one position (up to 2nd and 4th respectively, after the race, when the second classified received a penalty). Vanthoor and Weerts also took their victory in the Pirelli Junior class with Bortolotti-Ineichen taking P1 in the Pirelli Trophy class. Goethe finished in P29.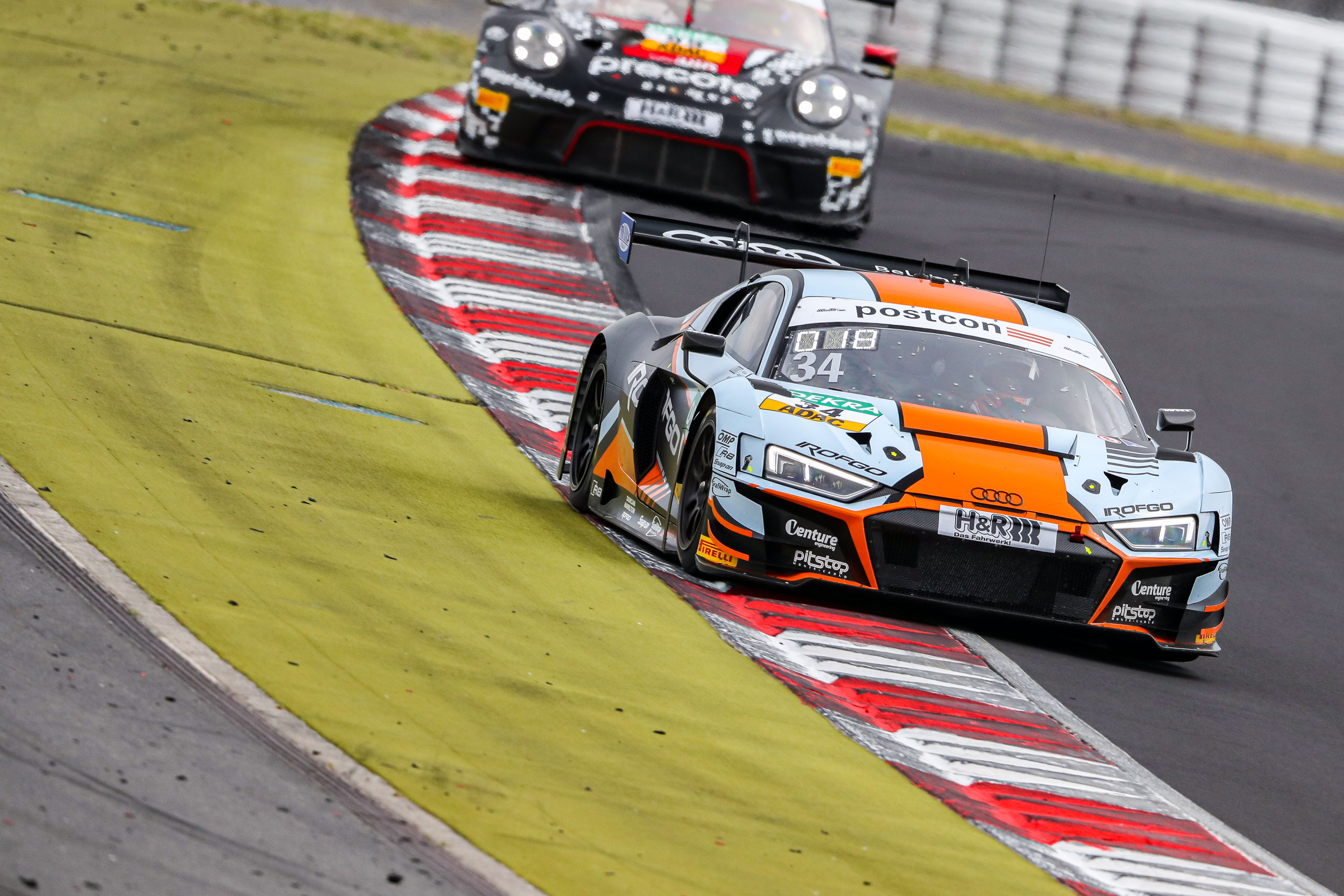 Dries Vanthoor: "Honestly, it was a difficult weekend for us, we didn't get what we expected out of it. We struggled throughout the weekend with the set-up of the car, which means we still have a lot of work to do. Saturday was a bad day: Charles did not have the best of qualifying, then he had to retire from the race almost immediately, after jumping hard on a kerb. Today, I had an almost decent qualifying and the race was ok, also thanks to a perfect pit stop. Given the pace we had, we can be happy that we finished on the podium."

Mirko Bortolotti: "P4 in Race 2 is a great reward for our hard work during this weekend. I had a good lap in qualifying and managed to squeeze it in the race. Rolf was able to defend well and maintain the result. Thanks to the team for the good job."
Stuart Hall: "It was a really good learning weekend, it feels great to join such a tough field. Both Benjie and myself made a lot of progress in the Audi R8 LMS, so we now can't wait to be back at the 'Ring in 3 weeks for the endurance race of the GTWCE."

ADAC GT Masters – Round 2
Nürburgring, 14-16 August 2020
Race 1 Results:
Ammermüller-Engelhart (Porsche 911 R) 39 laps
Stolz-Engel (Mercedes AMG) + 0s717
Niederhauser-K. Van der Linde (Audi R8 LMS) + 5s299
Bachler-De Silvestro (Porsche 911 R) + 6s111
Wishofer-Boccolacci (Mercedes AMG) + 7s048
Bortolotti-Ineichen (Audi R8 LMS) +19s915
29. Goethe-Hall (Audi R8 LMS) +37s700
DNF Weerts- Vanthoor (Audi R8 LMS) 2 laps (contact)

Race 2 Results:
Renauer-Müller (Porsche 911 R) 40 laps
Vanthoor-Weerts (Audi R8 LMS) + 7s948
Perera-Costa (Lamborghini Huracan) + 9s557
Bortolotti-Ineichen (Audi R8 LMS) +10s350
5. Pommer-Schmidt (Corvette C7) +10s666
29. Goethe-Hall (Audi R8 LMS) +46s970

PHOTO: ADAC GT Masters




5 months ago
@Fhabsburg62 @GTWorldChEu @ValeYellow46 @augustofarfus @weerts_charles @SheldonvdLinde @vanthoordries1… https://t.co/Alo6nzivvx