WRT'S JOURNEY IN THE FIA WTCR WITH VERNAY SECURING FINAL P10 IN THE STANDINGS AS BEST AUDI DRIVER
WRT'S JOURNEY IN THE FIA WTCR WITH VERNAY SECURING FINAL P10 IN THE STANDINGS AS BEST AUDI DRIVER
15/12/2019
The curtain has fallen on the 2019 FIA WTCR and on the tenure of Leopard Racing Team Audi Sport and Team WRT in the series. Unfortunately, the last round of the season, at Sepang in Malaysia proved challenging not only for the daring weather conditions in Sunday's three races for the squad. Still, Jean-Karl Vernay and Gordon Shedden managed to collect a handful of points, with the Frenchman scoring in all three races and taking a final P10 in the standings and first among Audi drivers.
In free practice 1, Jean-Karl Vernay was a promising 4th-fastest, with Gordon Shedden 24th, but the Frenchman slid to P13 in free practice 2, with the Scot climbing to 17th. Qualifying for Race 1 did not improve the situation, with Vernay not able to do better than 18th, also because some brake and gearbox problems, with Shedden qualifying 22nd.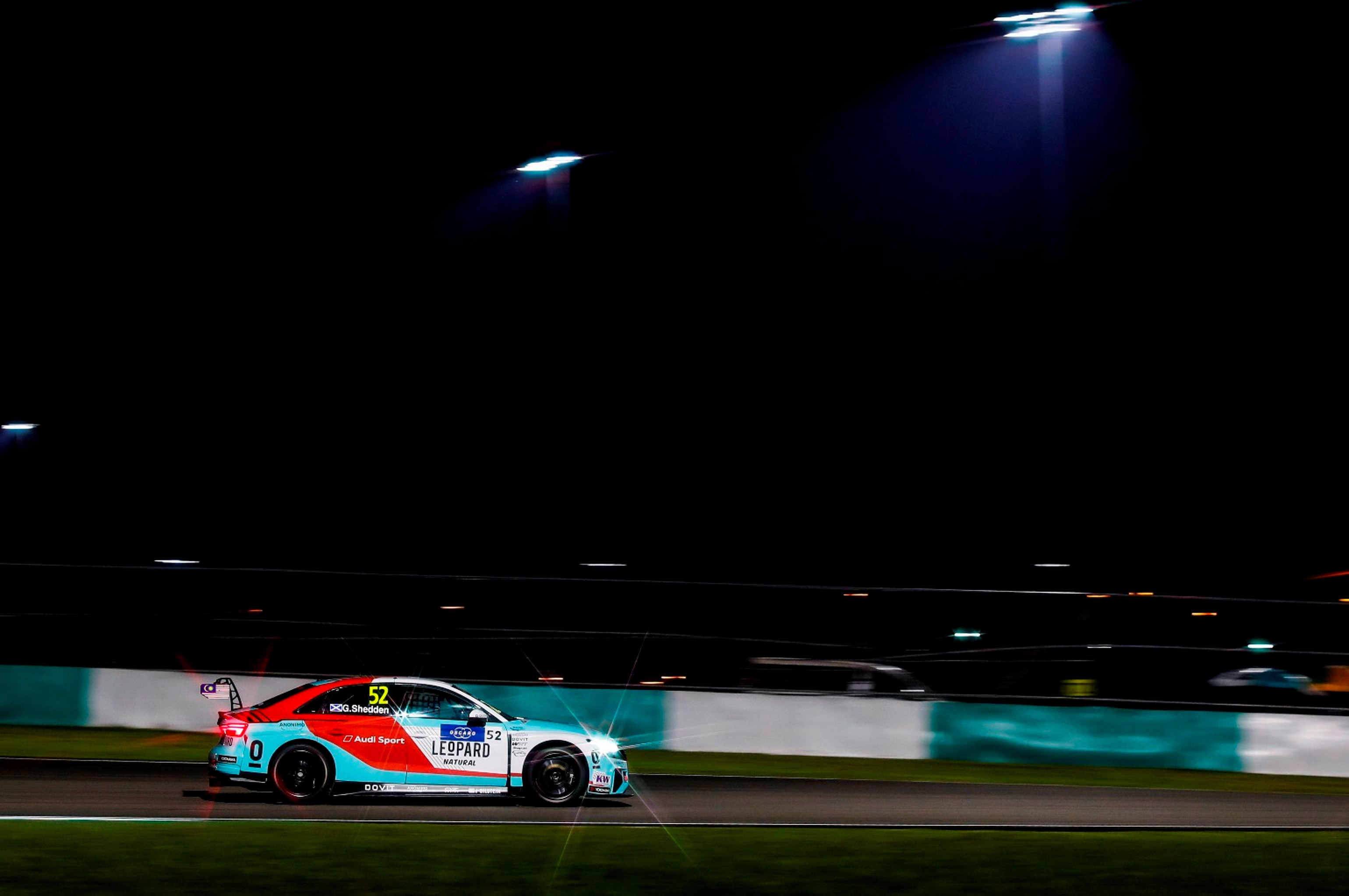 Qualifying for Races 2 and 3, on a dump track brought comfort to Gordon, as he managed a smooth run up to 15th, while Jean-Karl got his efforts ruined by some suspension issues and also a slight contact after a misunderstanding on racing lines with a rival, taking P20 on the grid.
On Sunday, on a wet track but with no rain falling at that moment, Race 1 started under safety-car, and was relatively uneventful. Both Leopard Racing Team Audi Sport had a faultless and solid race climbing positions back up to the points zone, with Vernay finishing 10th and Shedden taking P15. Both had opted for mixed tyres (slick in front, wet on rear), which proved to be the right combination.
Race 2 had a troubled first lap, with a collective accident in the middle of the group and the race red-flagged after Catsburg's car caught fire. After a very long interruption, the restart was given behind the safety-car, on a soaked track, based on the positions acquired at the end of sector 2 in first lap, with Vernay 18th and Shedden 19th. They both climbed up positions in the initial laps, with Vernay 15th and Shedden 17th by lap 6, but then the Scot and Coronel made contact forcing the Audi driver to retire two laps from the end, while Vernay crossed the line in P14.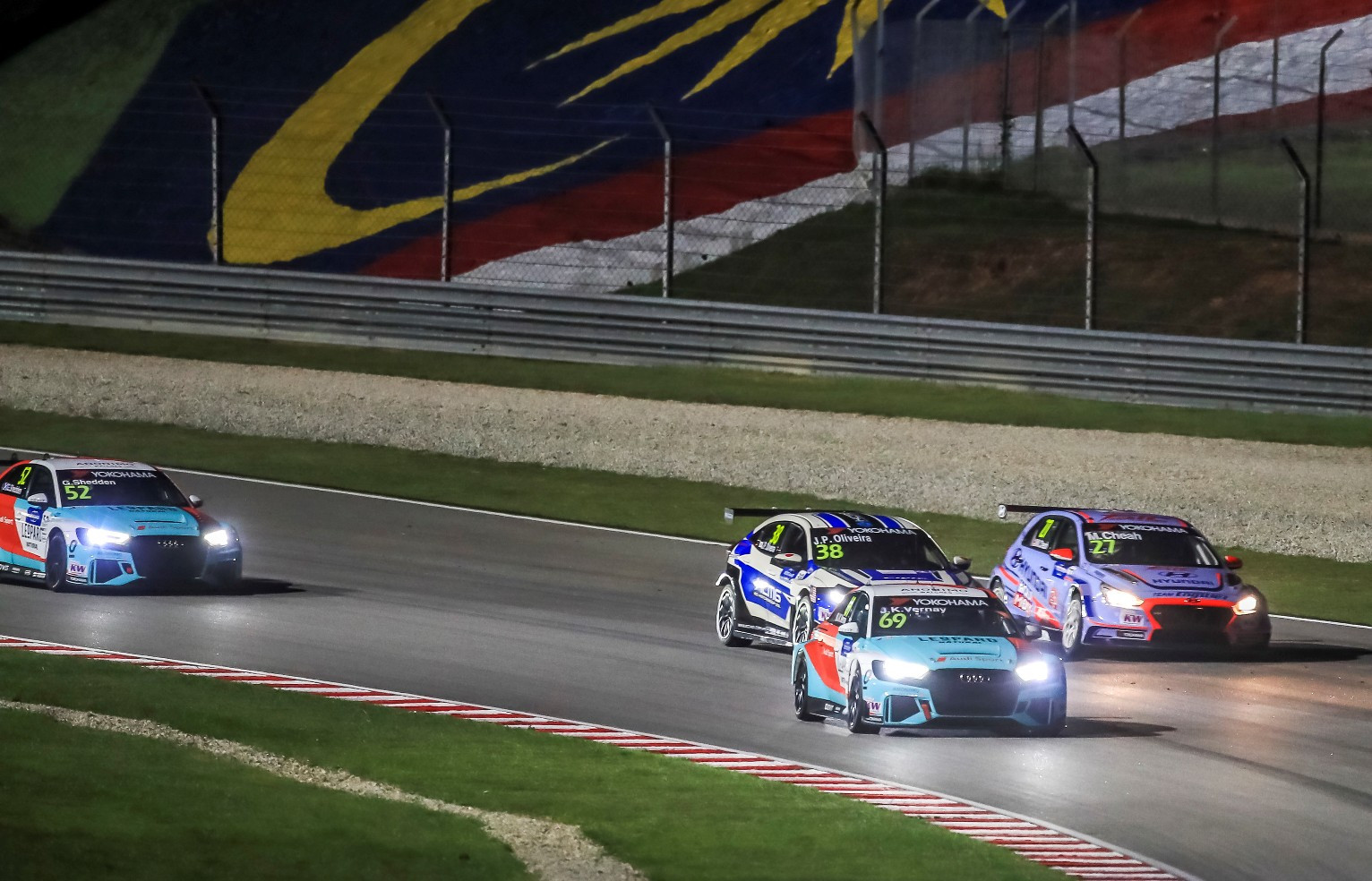 Rain stopped for Race 3, although the track remained very wet. Mixed tyres were again chosen by the drivers. Vernay started well, climbing up to 14th in the first couple of laps, before the safety-car had to intervene, with Shedden then running in P19. Vernay continued to gain positions, reaching P14, before a second safety-car period occurred, prompted by Shedden getting stuck in the gravel. In a couple of very lively final laps, Vernay gained two more positions to finish 12th.
Vincent Vosse: "It has been an exciting finale to the FIA WTCR season and a thrilling last race, which provided the kind of show that only touring car racing can offer. We extend our warmest congratulations to the new champion, Norbert Michelisz, for a well-deserved first crown. For us, it has been an uphill weekend, given the trouble hit in qualifying, but once again, in the races, we were able to extract the best out of the circumstances, and Jean-Karl again scored in all three races. I thank the whole team for staying focused and fully determined until the very end of the season."
Jean-Karl Vernay: "It was not the results we expected, but you cannot really ask for more when things go wrong in qualifying and you start at the back. Unfortunately, there was a rear dumper broken and we found out when it was too late. Otherwise, we had three quite good races, doing well and staying out of trouble. To finish 10th, 14th and 12th is not bad under the circumstances. I am sad it is my last race with WRT, it has been four great years, with many successes and I am proud of what we achieved together and of having worked with such great people. We say goodbye today but let's see what the future brings, I am sure this is not the end of the JKV-WRT story!"

FIA WTCR - Round 10
Sepang, Malaysia, 12-15 December 2019
Race 1 Result
1. Norbert Michelisz (Hyundai i30N) 10 laps
2. Aurélien Panis (Cupra) + 2s446
3. Gabriele Tarquini (Hyundai i30N) +10s009
4. Esteban Guerrieri (Honda Civic) +10s878
5. João Paulo de Oliveira (Honda Civic) +11s287
10. Jean-Karl Vernay (Audi RS 3 LMS) +31s772
15. Gordon Shedden (Audi RS 3 LMS) +43s183

Race 2 Result
1. Esteban Guerrieri (Honda Civic) 11 laps
2. Mikel Azcona (Cupra) + 1s023
3. Johan Kristoffersson (VW Golf GTI) + 1s308
4. Néstor Girolami (Honda Civic) + 2s198
5. Kevin Ceccon (Alfa Romeo Giulietta) + 2s313
14. Jean-Karl Vernay (Audi RS 3 LMS) +10s095
DNF Gordon Shedden (Audi RS 3 LMS) + 2 laps
Race 3 Result
1. Johan Kristoffersson (VW Golf GTI) 14 laps
2. Mikel Azcona (Cupra) + 2s036
3. Kevin Ceccon (Alfa Romeo Giulietta) +2s162
4. Fred Vervisch (Audi RS 3 LMS) +4s296
5. Norbert Michelisz (Hyundai i30N) + 9s905
12. Jean-Karl Vernay (Audi RS 3 LMS) +21s373
DNF Gordon Shedden (Audi RS 3 LMS) + 7 laps (off-t
40 minutes ago
Tension 👀 ⠀ #WRT #AudiSport #GTWorldChEu #IntGTC #Spa24h https://t.co/5H5OmcoPvq