THE SOUR IN THE FIA WTCR FOR TEAM WRT
THE SOUR IN THE FIA WTCR FOR TEAM WRT
15/09/2019
At Ningbo in China, the Leopard Racing Team Audi Sport went through more frustration in the FIA WTCR. Once again, the pace of the Audi RS 3 LMS was not in line with the competition, and Jean-Karl Vernay and Gordon Shedden could only gather a few points.
Team Principal Vincent Vosse commented: "In the FIA WTCR, the team did a great job, but the results weren't the same. It is not the first time I am saying this, but there is an issue there that casts a shadow on the series..."

Leopard Racing Team Audi Sport lived another frustrating weekend at Ningbo, in China, for the 7th round of the FIA WTCR, with all RS 3 LMS and Golf GTI simply not being in a condition to compete with other rivals. Under the circumstances, Jean-Karl Vernay and Gordon Shedden were only able to collect some small points in three races marred with incidents.
Since the beginning, the weekend presented itself difficult, as a P15 (Vernay in FP1) was the highest rank reached during free practice. Qualifying for Race 1 proved it, with Vernay taking P22 and Shedden P26 in the grid.
Starting from the back rows, there was little to expect from Race 1, although both Vernay and Shedden fought hard and climbed some positions to finish 16th and 22nd, respectively.
Qualifying for Races 2 and 3, on Sunday, went slightly better, for Vernay (14th - fastest) but not for Shedden (25th) on whose car an electronic glitch had to be solved. The Sunday races were very rich in race incidents and left some doubts about the driving standards of some contenders.
In Race 2, the Leopard Racing Team Audi Sport drivers were able to avoid big trouble and benefit from others' misfortunes, finishing both in the points, with Vernay 10th and Shedden 13rd. Race 3 lasted only a few hundred meters for Vernay, sent into the gravel by rivals, while Shedden performed a great first part of the race, climbing up to 11st, before having to concede positions to more performing cars after the second restart. He eventually crossed the line in P15, taking another point.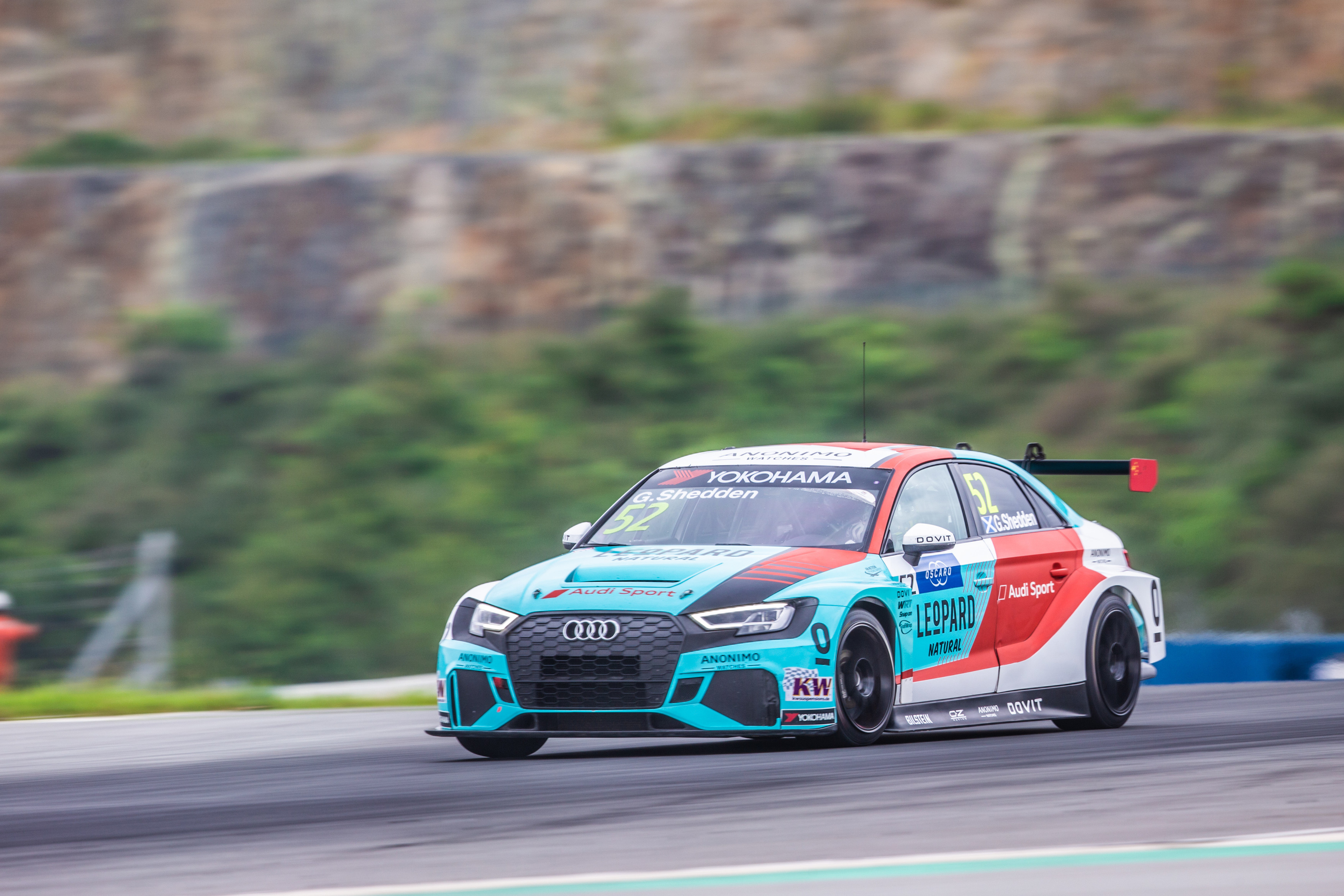 Jean-Karl Vernay: "Again, we did not have enough performance, like all other Audi or VW cars. On Sunday's qualifying, we managed to have a perfectly balanced car thanks to great work from the team, but it wasn't enough, we didn't have the pace of some others. The races were total madness, as everybody could see. We managed to survive in the first two, but Race 3 was very short…"
Gordon Shedden: "This has been another weekend to forget for us, with a lot of chaos on track that needs to be addressed. Let's move on to Japan."

FIA WTCR - Round 6
Vila Real, Portugal, 5-7 July 2019
Race 1 Result
1. Yvan Muller (Lynk&Co 03) 13 laps
2. Ma Qinghua (Alfa Romeo Giulietta) + 0s263
3. Mikel Azcona (Cupra) + 2s444
4. Norbert Michelisz (Hyundai i30N) + 2s843
5. Nicky Catsburg (Hyundai I30N) + 3s092
16. Jean-Karl Vernay (Audi RS 3 LMS) +20s631
22. Gordon Shedden (Audi RS 3 LMS) +28s614
Race 2 Result
1. Norbert Michelisz (Hyundai i30N) 15 laps
2. Gabriele Tarquini (Hyundai i30N) + 0s766
3. Yvan Muller (Lynk&Co 03) + 1s537
4. Thed Björk (Lynk&Co 03) + 1s906
5. Daniel Haglöf (Cupra) + 2s360
10. Jean-Karl Vernay (Audi RS 3 LMS) +12s565
13. Gordon Shedden (Audi RS 3 LMS) +13s676
Race 3 Result
1.Yvan Muller (Lynk&Co 03) 18 laps
2. Yann Ehrlacher (Lynk&Co 03) + 0s431
3. Gabriele Tarquini (Hyundai i30N) + 1s234
4. Augusto Farfus (Hyundai i30N) + 3s830
5. Thed Björk (Lynk&Co 03) + 4s248
15. Gordon Shedden (Audi RS 3 LMS) +37s248
DNF Jean-Karl Vernay (Audi RS 3 LMS) 0 laps (incident)
5 months ago
@Fhabsburg62 @GTWorldChEu @ValeYellow46 @augustofarfus @weerts_charles @SheldonvdLinde @vanthoordries1… https://t.co/Alo6nzivvx