THE SWEET IN THE DTM
15/09/2019
It was a contrasted weekend for Team WRT. Great satisfaction came from the DTM at the Nürburgring, where WRT Team Audi Sport, Jonathan Aberdein and Pietro Fittipaldi confirmed its constant growth, with great performances in both qualifying and races that peaked with the P4 and P5 conquered by the South African.

Team Principal Vincent Vosse commented: "We had a very good weekend in the DTM, taking many points and showing very good things. Both the team and the drivers made an excellent job, and our pit stops in Race 1, which were the fastest and third-fastest, were perfect. In Qualifying 2, we were not far from taking our first pole. Jonathan had a very solid weekend, while we need to understand why, this time, Pietro's car wasn't as quick as Jonathan's."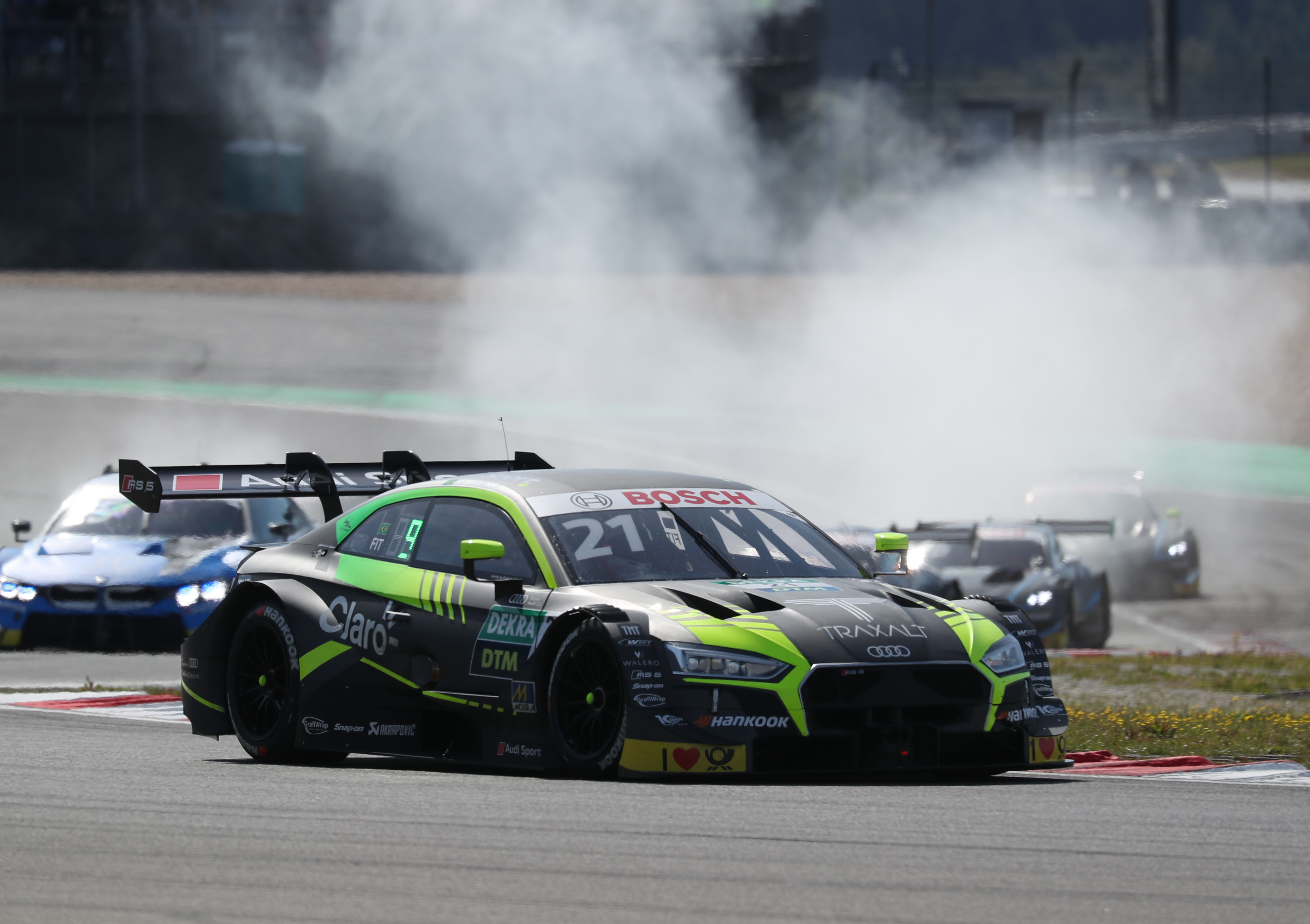 DTM
WRT Team Audi Sport continued its trend of progress at the Nürburgring with a solid and consistent show, culminated by the 4th and 5th positions conquered in the races by Jonathan Aberdein.
The two Audi RS 5 DTM of the Belgian squad proved competitive since free practice, both making it to the top-9 in both sessions, with Aberdein posting the 2nd - fastest time in the second session. In Qualifying 1, the South African confirmed the team's form by taking P5, while Fittipaldi qualified 12nd. Unfortunately, the Brazilian, was dropped five positions in the grid after receiving a third warning for track limits.
The start of Race 1, held in glorious weather, saw Aberdein having to fight fiercely to retain his P5, while Fittipaldi climbed back to P14 before dropping again to his initial P17. This motivated a very early pit stop (lap 7) for the Brazilian, but that did not improve much his position, and he eventually finished 15th.
On his side, Aberdein lived a very lively race, in which he showed all his fighting spirit. In lap 10, after a slight contact with Spengler, he was involved in a superb fight with Van der Linde and Duval, before pitting in lap 12. He found himself in another epic battle with country-fellow Van der Linde and Green in lap 20, and after all pit stops, he was 6th, gaining one position as he passed Green. Eventually, he crossed the line fourth.
On Sunday, Qualifying 2 yielded exactly the same result as on Saturday, with Aberdein in P5 and Fittipaldi in P12, although both were disturbed in their second fast lap attempt and could have been much higher in the ranking. At the start and in first lap, the South African had to concede two spots while the Brazilian gained four, then they stabilized in P6 and P9, respectively. Pietro's early pit stop (lap 11) wasn't perfect, as one front wheel's nut got locked, while Jonathan pitted in lap 20. After all stops, Aberdein was running 7th and Fittipaldi 10th. With an aggressive finale and two great overtaking moves on Rockenfeller and Müller, Jonathan seized P5, while, unfortunately, Pietro lost the point of 10thas he struggled with his tyres in the final lap.
Jonathan Aberdein: "A very positive weekend overall, as we proved that we definitely have the pace to fight for the podium. Not everything came together, but I am very happy with the results. It's a massive step forward and now we should go forward and go to Hockenheim in a full-attack mode to be on the podium."
Pietro Fittipaldi: "It was a tough weekend. We improved the car a lot from Saturday to Sunday, changing a few things. Unfortunately, we were blocked in qualifying. I had a very good start of Race 2, going from 12th to 8th, but then we lost precious seconds in the pit stop. It's a shame, but let's look forward to Hockenheim."

DTM – Round 8
Nürburgring, Germany, 13-15 September 2019
Race 1 Result
1. René Rast (Audi) 37 laps
2. Bruno Spengler (BMW) +10s787
3. Marco Wittmann (BMW) +17s299
4. Jonathan Aberdein (Audi) +24s537
5. Loïc Duval (Audi) +27s158
15. Pietro Fittipaldi (Audi) +16s859
Race 2 Result
1. Jamie Green (Audi) 41laps
2. Robin Frijns (Audi) + 0s442
3. René Rast (Audi) + 5s827
4. Loïc Duval (Audi) +10s813
5.Jonathan Aberdein (Audi) +11s121
13. Pietro Fittipaldi (Audi) +31s625
PHOTO: Audi Sport

22 hours ago
Check it out: @Fhabsburg62 Wins Asian Le Mans and joins WEC https://t.co/2TtbkD3QBr https://t.co/zbdotds0kw