MANY GOOD POINTS IN THE FIA WTCR IN SLOVAKIA
MANY GOOD POINTS IN THE FIA WTCR IN SLOVAKIA
12/05/2019
In the FIA WTCR Cup, the Slovakiaring confirmed its reputation of a tough track, but the Leopard Racing Team Audi Sport took the best possible out of it, with Jean-Karl Vernay finishing fourth in Race 1 as his best result and Gordon Shedden scoring in the three races.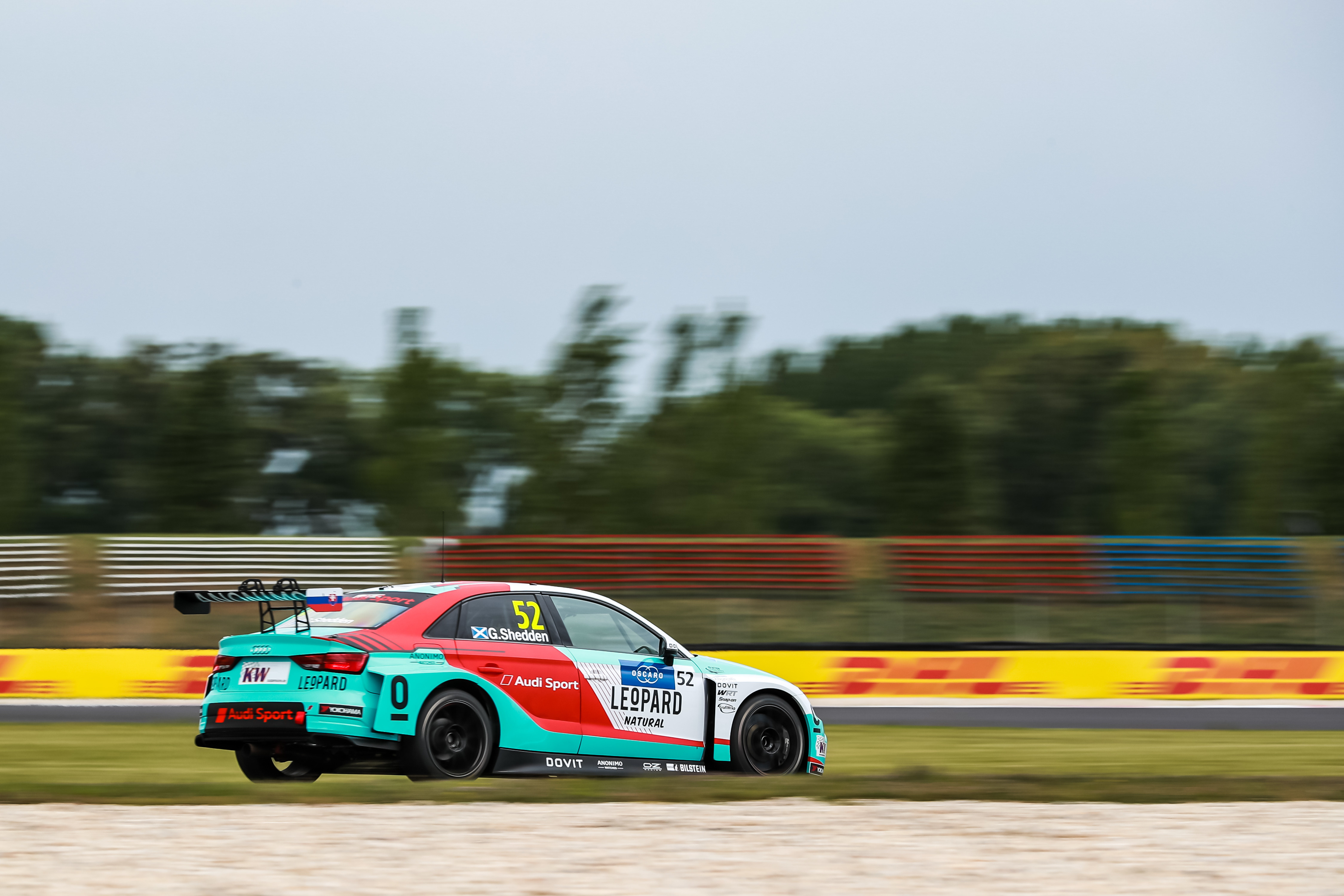 The Slovakiaring, as in the past, proved challenging for the Audi RS 3 LMS cars, and the peculiar schedule of the event, with all free practice and qualifying action in succession on Friday and the three races one after the other on Sunday. Still, the Leopard Racing Team Audi Sport was able to collect valuable points, with Gordon Shedden scoring in all races and Jean-Karl Vernay twice.
The cars showed good pace in free practice and in Qualifying for Race 1, with Vernay in 7th and Shedden in P17, but Qualifying for Races 2 and 3, was disappointing. On a drying track, it was all about finding the correct balance between safety (high risk of yellow flags) and staying on track as late as possible. Still in the top 5 in the penultimate lap of the Q1, J-K Vernay finished the session in… 19th, while Shedden was disturbed by another car in his fast lap attempt and took P22.
Race 1 yielded good results, as Vernay took 4th in the initial phases and managed to keep the position until the flag, despite a damaged car after a contact suffered in the always eventful 1st lap. Shedden did exactly the same, climbing 10 positions in the early stages and finishing in P12.
In Race 2, both cars climbed positions consistently: Vernay, who started from P19 found himself 24th at the end of the first lap following some contacts but managed to storm upwards to finish 12th, right in front of Shedden, who climbed up from P22 in the grid.
Race 3 would see Shedden again in the points, finishing 15thafter another solid race, while Vernay had to pit early in the race because of a puncture resulting from a contact. Unfortunately, there were extra hidden damages on the car and the Frenchman had to retire.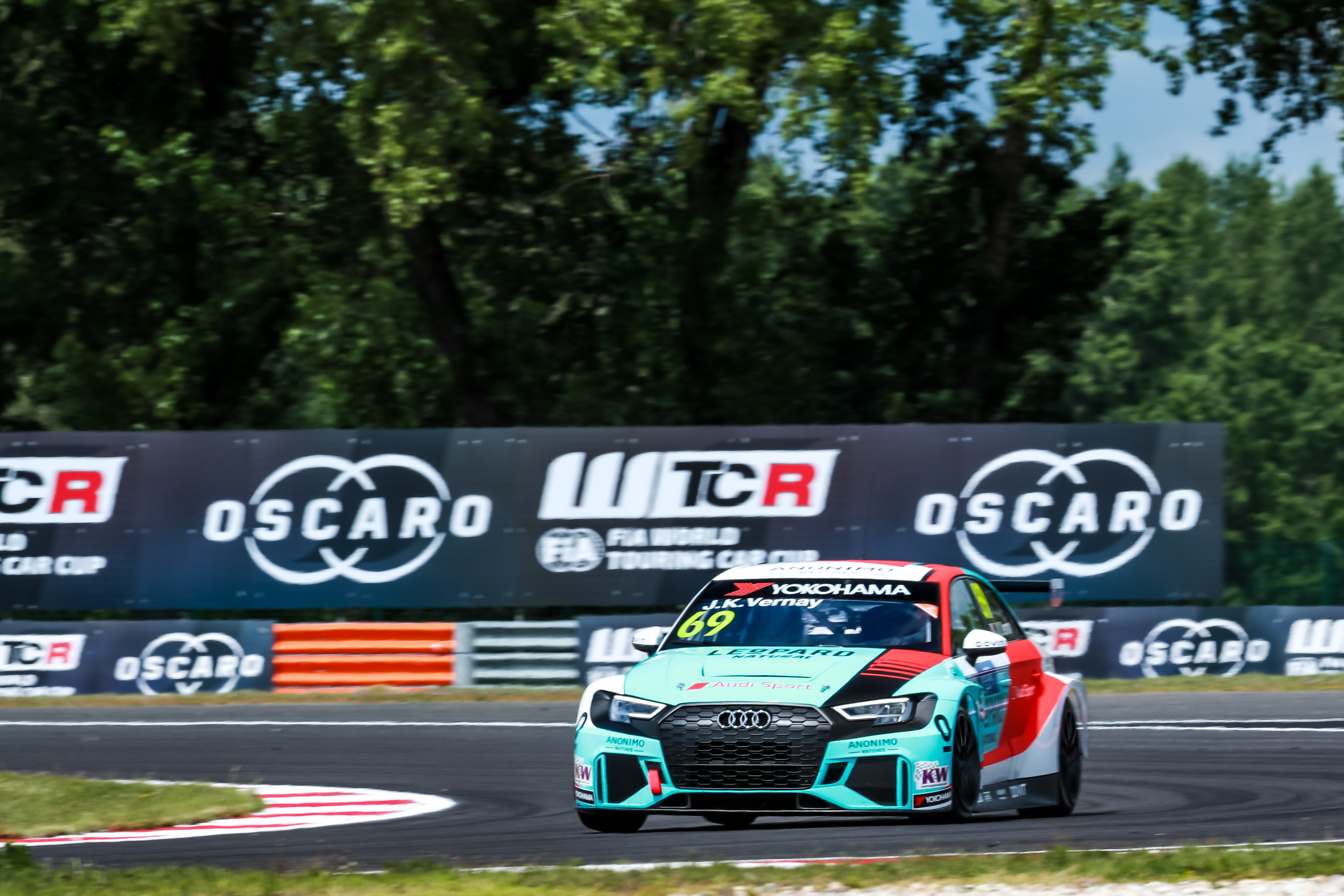 Jean-Karl Vernay: "An average weekend, I would say, but unfortunately, we paid the toll to poor qualifying for Races 2 and 3. Race 1 was very good, I could take 4th and very useful points. It wasn't so in Race 2, where we had not a good pace and I took a very poor start, as I could not see the starting lights from my position on the grid. In Race 3, I was hit in the first lap, got a puncture but there was more damage than that and had to retire."
Gordon Shedden: "It was another hard weekend in Slovakia, with changing weather conditions and a difficult qualifying. But on Sunday, I could fight back hard, had some good fights and scored points in the three races. I look forward to the next round at Zandvoort, a track that bring me some success last year."
FIA WTCR - Round 3
Slovakiaing, Slovakia, 10-12 May 2019
Race 1 Result
1. Fred Vervisch (Audi RS 3 LMS) 11 laps
2. Ma Qinghua (Alfa Romeo Giulietta) +2s834
3. Norbert Michelisz (Hyundai i30N) +3s243
4. Jean-Karl Vernay (Audi RS 3 LMS) +7s503
5. Augusto Farfus (Hyundai i30N) +13s949
12. Gordon Shedden (Audi RS 3 LMS) +22s532
Race 2 Result
1. Néstor Girolami (Honda Civic) 9 laps
2. Esteban Guerrieri (Honda Civic) + 0s651
3. Kevin Ceccon (Alfa Romeo Giulietta) + 0s983
4. Nicky Catsburg (Hyundai i30N) + 2s626
5. Rob Huff (Volkswage Golf Gti) + 4s208
12. Jean-Karl Vernay (Audi RS 3 LMS) +17s832
13. Gordon Shedden (Audi RS 3 LMS) +18s095
Race 3 Result
1. Ma Qinghua (Alfa Romeo Giulietta) 11 laps
2. Norbert Michelisz (Hyundai i30N) + 0s242
3. Kevin Ceccon (Alfa Romeo Giulietta) + 0s694
4. Niels Langeveld (Audi RS 3 LMS) +11s818
5. Mikel Azcona (Cupra) +12s413
15. Gordon Shedden (Audi RS 3 LMS) +25s427
DNF Jean-Karl Vernay (Audi RS 3 LMS) 3 laps


Photo: Audi Sport
18 hours ago
Introducing our #13 Audi RS 5 DTM livery of 2020 🔥 Fabio Scherer ⠀ First impressions?😉👇🏼 ⠀ #WRT #AudiSport #DTM… https://t.co/7pB2iQBUnk