GTWCE OVERALL TEAMS' TITLE CONQUERED AT VALENCIA
GTWCE OVERALL TEAMS' TITLE CONQUERED AT VALENCIA
26/09/2021
Team WRT has added the GTWCE overall Teams' title to the Drivers' one and the Sprint Cup double crown ahead of the final round of the series at Barcelona. This is the main take-away for the Belgian squad out of the first visit of the Fanatec GT World Challenge Europe powered by AWS to the Ricardo Tormo Circuit in Valencia, which was otherwise frustrating for Team WRT. Difficult qualifying sessions and race incidents prevented harvesting overall results worth of noting, while Frank Bird and Ryuichiro Tomita secured runner-up honours in the Silver Cup.
Team Principal Vincent Vosse was philosophical about the outcome: "It is not the way we wanted to wrap the Sprint Cup, but there is little to say. On a track like this, when you do not start at the front, the risk to be involved in incidents and issues and that's what happened. Let's not ignore the overall Team's title and put our focus on the Endurance Cup finale at Barcelona…"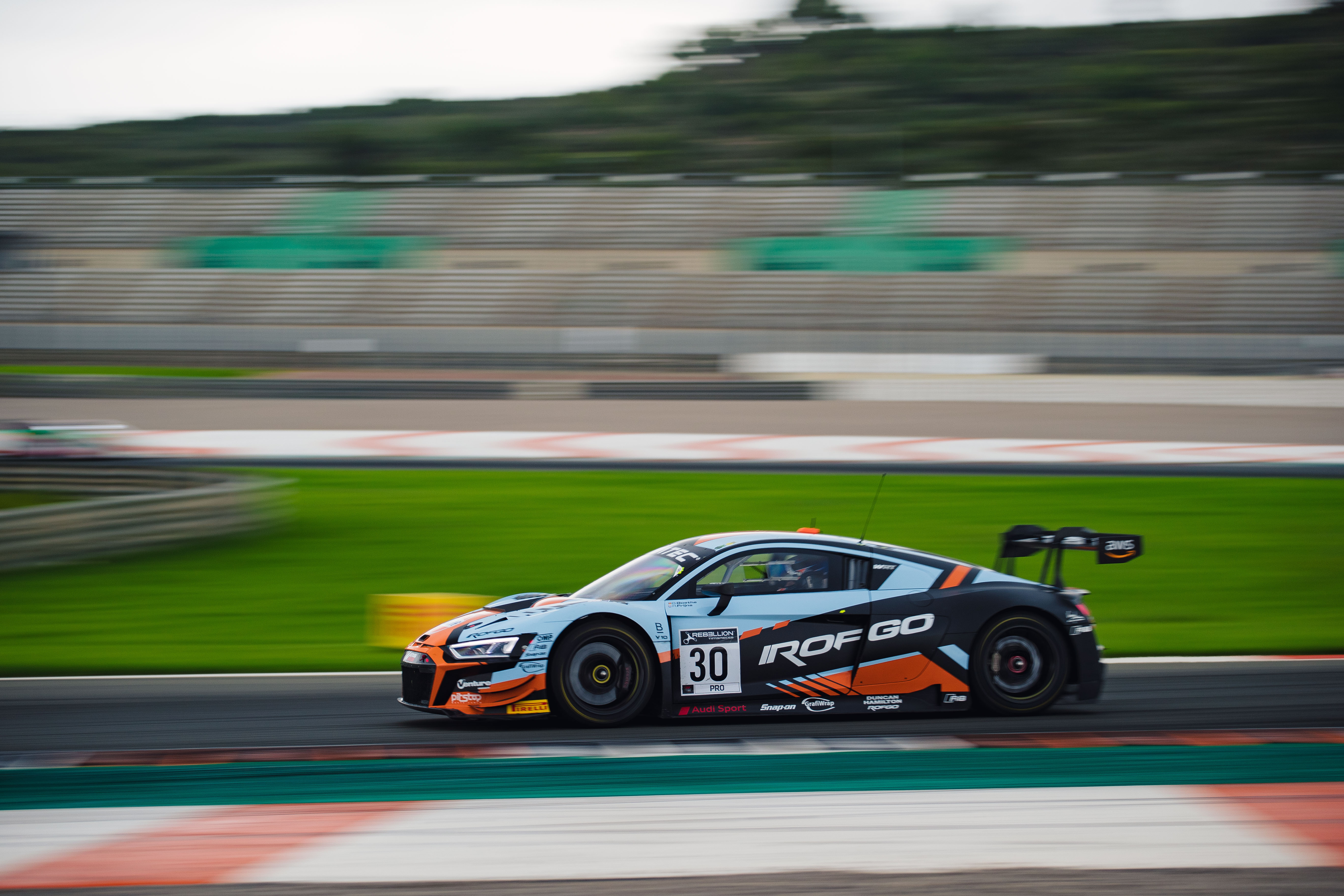 As expected, the technical Valencia track proved challenging for finding a right set-up for the cars. At Team WRT, car #32 managed to be second-fastest in free practice and pre-qualifying. Qualifying for Race 1 saw Charles Weerts take P8 on the grid, Frank Bird in P24 and Benjamin Goethe in P27 with a suspension failure hampering all chances of good results.
On a warm and sunny Sunday, the start was relatively smooth, not so much the first couple of laps. Weerts got blocked and dropped to 11th, while Bird after a fantastic kick-off that put him 12th suffered a contact dropping him to 23rd. Goethe successfully overtook the field up to 15th. Weerts climbed through the order up to 8th but shortly before the pit stop he unintentionally hit the Bentley of fellow compatriot De Pauw, which cost car #32 some positions and a drive-through once Vanthoor got at the wheel. Goethe climbed to 14th and Robin Frijns started a solid charge in his stint, eventually crossing the line fifth. A post-race penalty for a contact unfortunately dropped car #30 to P18. Ryuichiro Tomita stabilized in the top-5 in the Silver Cup, eventually finishing 4th. Vanthoor crossed the line 18th.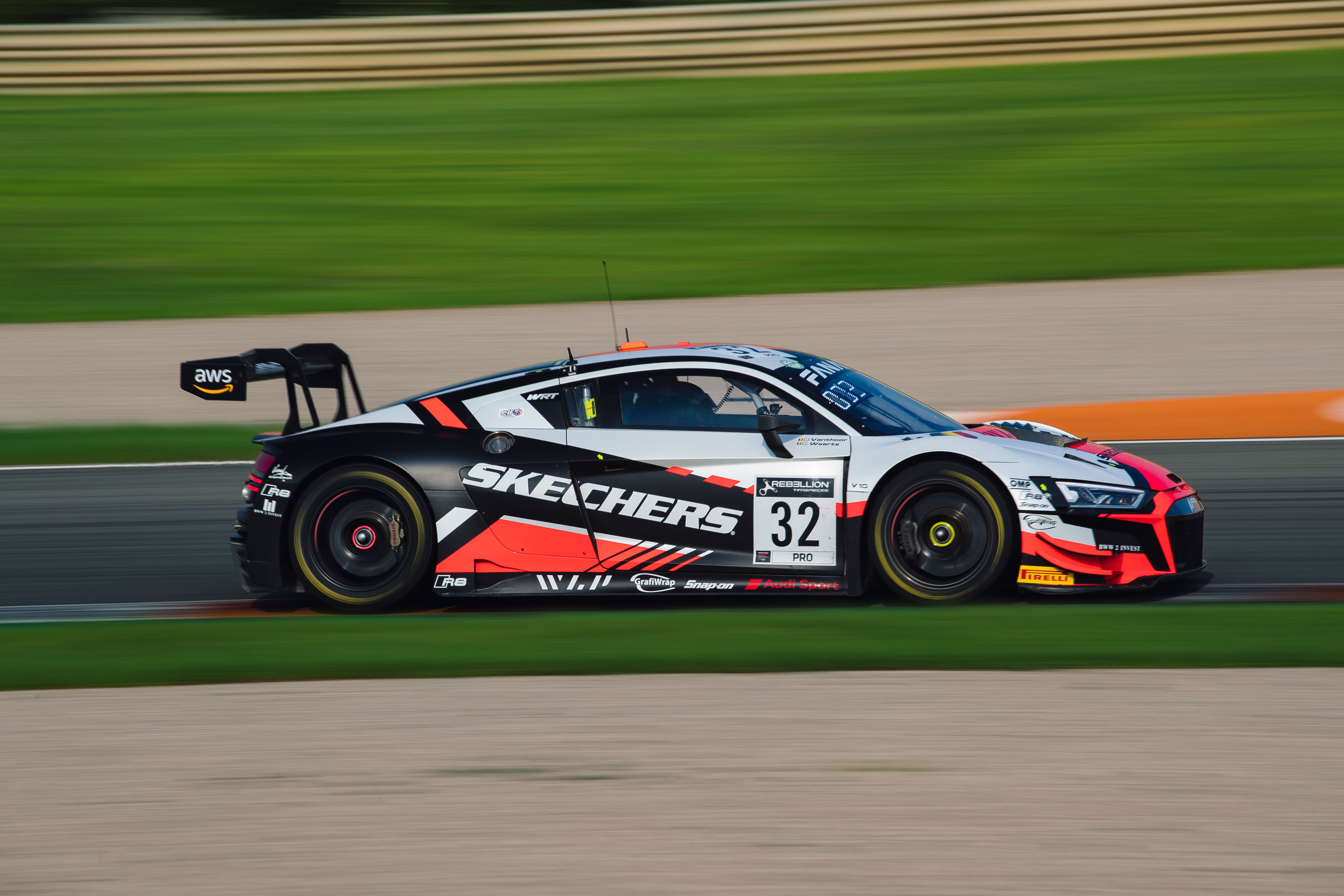 Race 2 was going to be equally frustrating. Dries Vanthoor qualified 13th as best Audi and Ryuichiro Tomita 26th while car #31 could not take part to the session because of the suspension failure mentioned earlier. Vanthoor would gain one position in the opening lap but in lap 2 he would be involved in a 4-car incident.
The rear right suspension was damaged and that was the end of the race for the Belgian. Frijns and Goethe would finish 12th after climbing through the field constantly and Tomita and Bird had a pretty similar race, crossing the line in P17 (6th in Silver).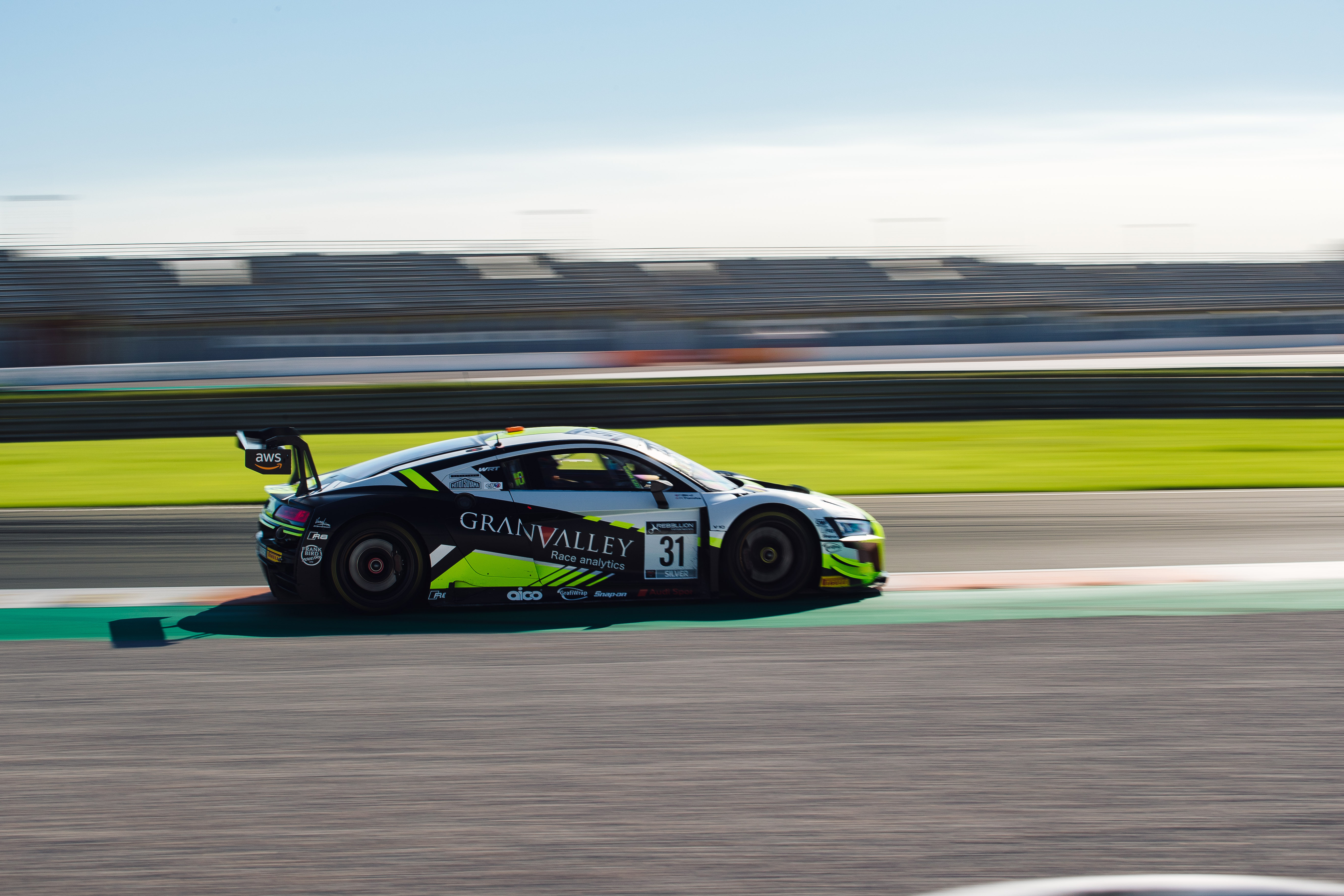 Dries Vanthoor: "Not a good weekend, we couldn't put everything together in qualifying and then in the races, we also did mistakes. Not much more we can say."
Charles Weerts: "It's a shame to finish on a low… We did not have a great pace, although it was better in the races but both Dries and I did a mistake in our respective first stint after a good start. It happens, but this should not prevent us to enjoy the fact that we are champions. I am very happy of that and I would like to thank everybody, the team, Dries, the partners, my father. Without them, it wouldn't have been possible."
Frank Bird: "We didn't maximize qualifying and that made things difficult. In Race 1, we were lucky, given a slow puncture, and in Race 2, we could finish 6th. Overall, not too bad as we finish second in the Silver Cup. Big thanks to the team"
Ryuichiro Tomita: "We struggled during the weekend and don't really know why. Still, we could take a 4th and a 6thand we finish P2 in the Silver Cup, which is a good result. It was a tough season in the Silver Cup, but we also had good races and happy moments, and I want to thank the entire team for that. Now, we still have Barcelona and I hope we'll have a good pace there."
Benjamin Goethe: "It was a positive weekend. We had this damper problem in qualifying and had to start last in both races, but then we had very good recoveries, with some fun overtakes. It's a good way to end the sprint Cup and now let's see what we can do in Barcelona."
Robin Frijns: "A difficult weekend to be honest, we struggled a bit in qualifying and couldn't take part in Q2 because of a technical issue. We climbed back in the races, but in Race 1 I had a contact with Winkelhock with whom I was fighting and got a drive-through, losing P5, and in Race 2 we finished 12th."

GT World Challenge Europe Sprint Cup – Round 5
Valencia, Spain - 24-26 September 2021
Race 1 Result
1. Engel-Stolz (Mercedes AMG) 36 laps
2. Roussel-Haase (Audi R8 LMS) es AMG) + 8s840
3. Boguslavskiy-Marciello (Mrcedes AMG) +10s825
4. Marschall-Aka (Audi R8 LMS) +17s700
5. Umbrarescu-Gounon (Mercedes AMG) +18s859£
14. Bird-Tomita (Audi R8 LMS) +17s700 (4th in Silver)
16. Vanthoor-Weerts (Audi R8 LMS) +28s505
18. Frijns-Goethe (Audi R8 LMS) +47s994

Race 2 Result
1. Stolz-Engel (Mercedes AMG) 37 laps
2. Umbrarescu-Gounon (Mercedes AMG) +15s357
3. Siedler-Costa (Lamborghini Huracan) +16s101
4. Bernicoat-Wilkinson (McLaren 720S) +18s730
5. De Leneer-Engelhart (Porsche 911 R) +28s376
12. Goethe-Frijns (Audi R8 LMS) +49s369
17. Bird-Tomita (Audi R8 LMS) +54s590 (6th Silver)
9. Goethe-Mies (Audi R8 LMS) +30s244
DNF Vanthoor-Weerts (Audi R8 LMS) 2 laps (incident)
PHOTO: Michele Scudiero


5 months ago
@Fhabsburg62 @GTWorldChEu @ValeYellow46 @augustofarfus @weerts_charles @SheldonvdLinde @vanthoordries1… https://t.co/Alo6nzivvx