THREE PODIUM FINISHES FOR TEAM WRT AT ZANDVOORT
THREE PODIUM FINISHES FOR TEAM WRT AT ZANDVOORT
20/06/2021
It was a positive weekend at Zandvoort for Team WRT in the second round of the Fanatec GT World Cup Europe powered by AWS Sprint Cup, as the Belgian squad took a podium finish (3rd) in Race 2, with Dries Vanthoor and Charles Weerts and two more P3 and podiums in the Silver Cup thanks to Frank Bird and Ryuichiro Tomita.
Team Principal Vincent Vosse commented: "Overall, a satisfactory result. We did what we could with the pace the Audis had, which did not allow to stay with the fastest cars on track. Despite a penalty, car #32 takes a podium in Race 2 and car #31 takes two podiums in the Silver Cup. I am happy with the work done by everybody in the team."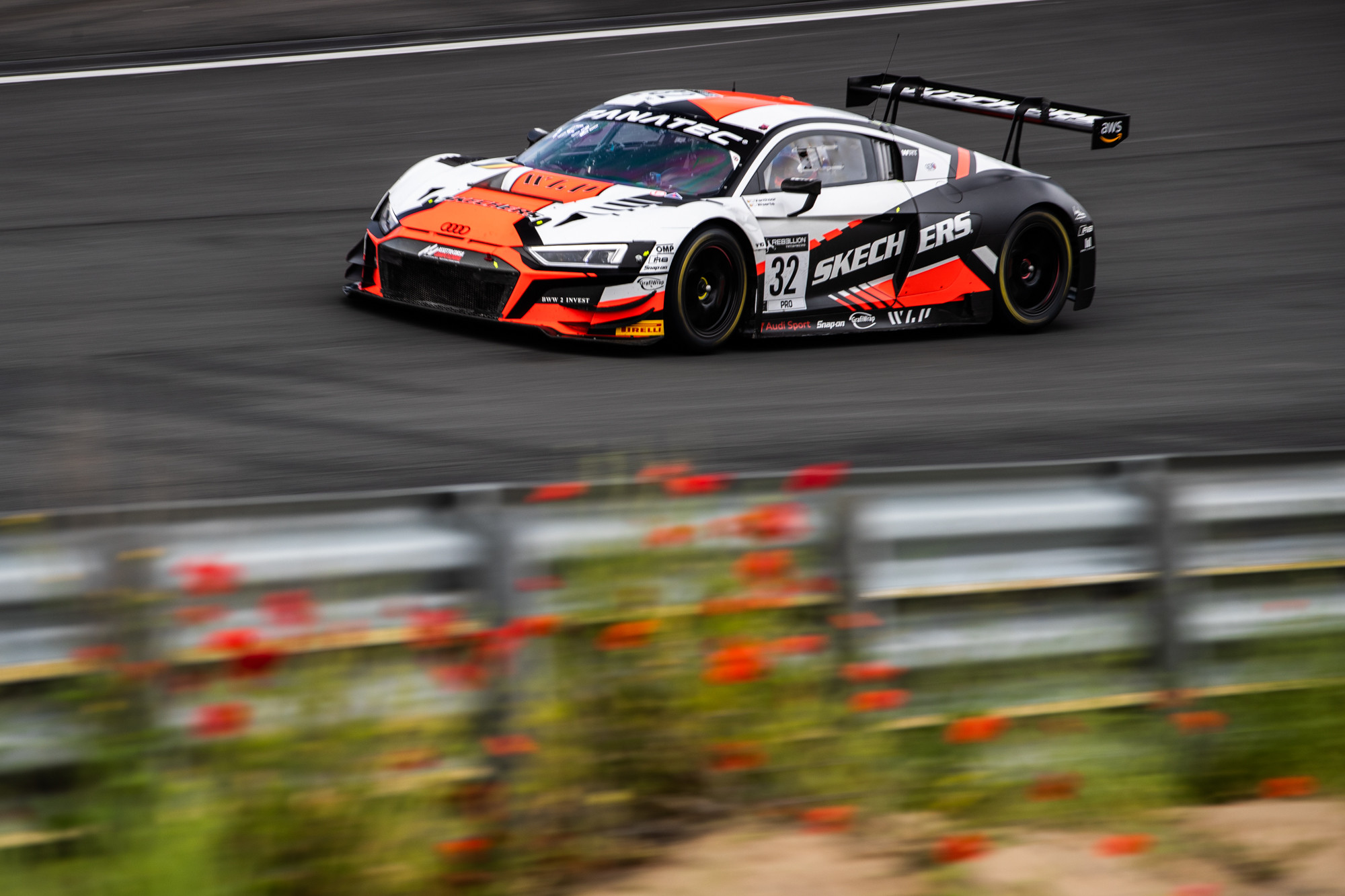 The Audi R8 LMS proved at ease at Zandvoort, as expected, since free practice with car #32 taking P2 and P7 in the two free practice sessions, where also car #31 made it to the top-10, with P3 and P10, respectively, while car #30 was in the second group. The 1st qualifying proved more difficult for car #32, with Charles Weerts being stopped in his effort by a red flag and qualifying 15th, while car #30, with Benjamin Goethe took P22 after an off-track. Frank Bird in car #31 took an excellent P8 overall (P5 in the Silver Cup).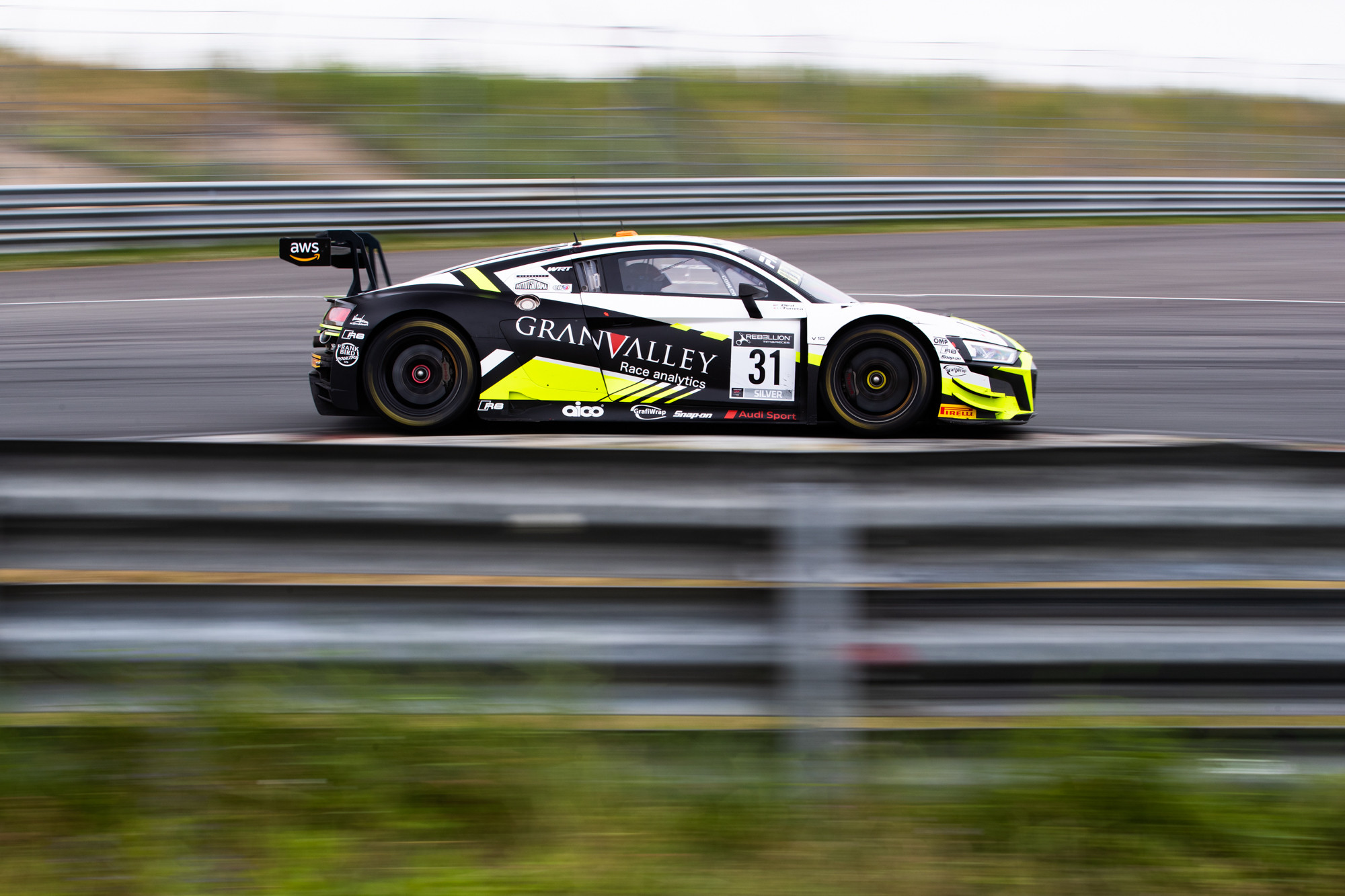 After the heavy storms that partly flooded the paddock on Friday afternoon, everything was back to normal for Race 1, which saw a relatively smooth start, despite the many cars on such a narrow track, with all three Team WRT drivers keeping their starting positions. On a track where overtaking opportunities are scarce, Frank improved to P6 at the start and maintained his position throughout first stint, while Weerts climbed up to 12th and Goethe to 21st. Good pit stops allowed the three cars to gain time, which meant that in the second stint, Ryuichiro Tomita could approach the overall podium, finishing fourth overall and stepping on the third spot of the Silver Cup podium, while Dries Vanthoor charged back to a final 8th, a position he maintained during a lively duel with Maro Engel, and Markus Winkelhock closed in P16.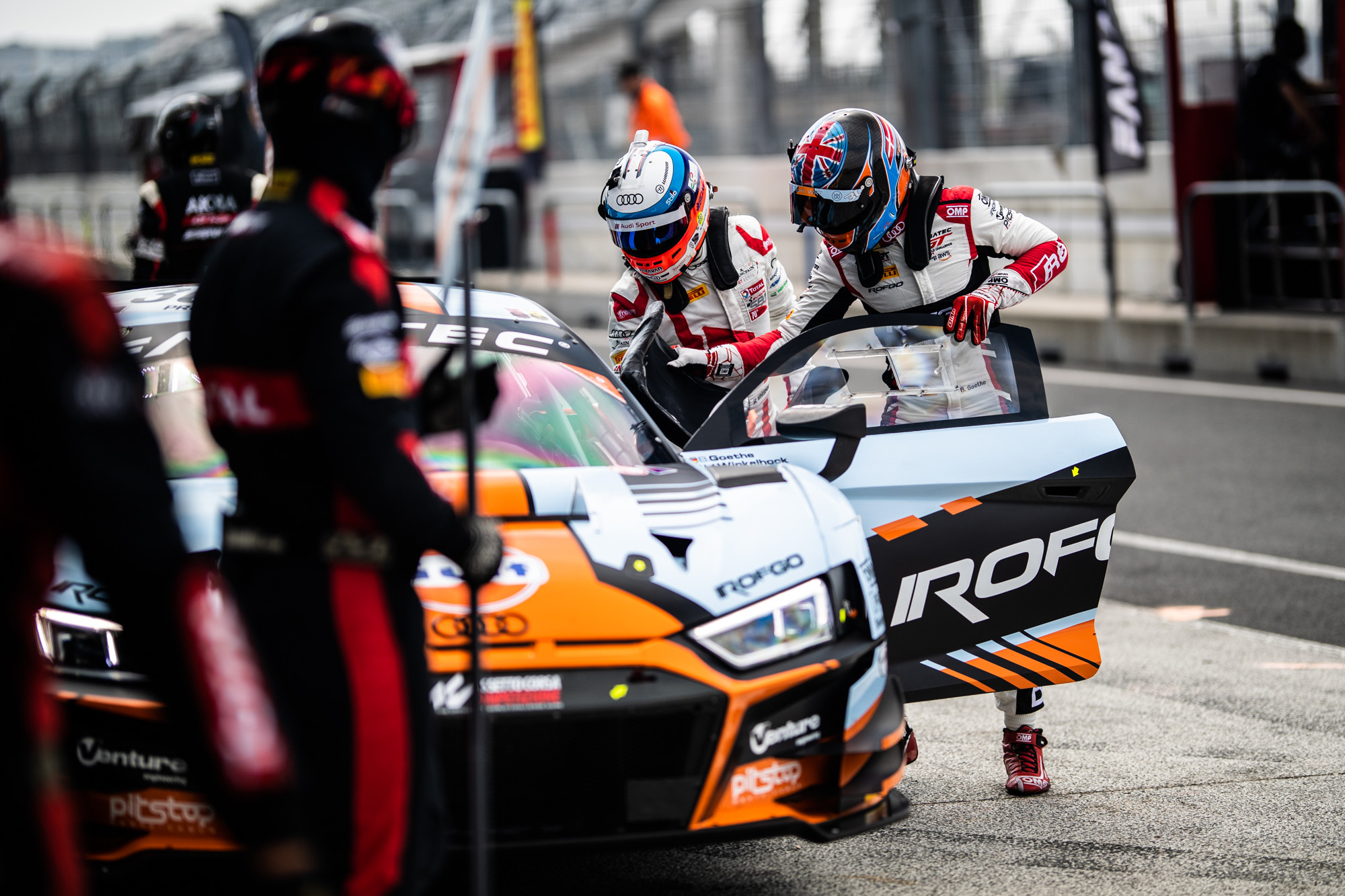 On Sunday, Dries Vanthoor qualified in first row, with the second-fastest time, while Marcus Winkelhock was 19th and Ryuichiro Tomita 26th after an off-track.
In Race 2, the opening lap proved challenging for Vanthoor, who dropped to P5, and got stuck for a long time behind a Bentley. Eventually, he passed it, closed the gap with the cars in front and got as fourth into the pit stop. Starting from the back, Marcus Winkelhock and Ryuichiro Tomita also had to sweat to recover, with the German climbing up to 12thand the Japanese to 18th. After the driver change, Charles Weerts was running 2nd when he had to serve a drive-through for speeding in the pit lane, but he managed to salvage P3 and a podium finish. Frank Bird crossed the line in P7 overall, taking 3rd and a second podium in the Silver Cup, with Benjamin Goethe closing in P18, being hit by the same penalty as Charles.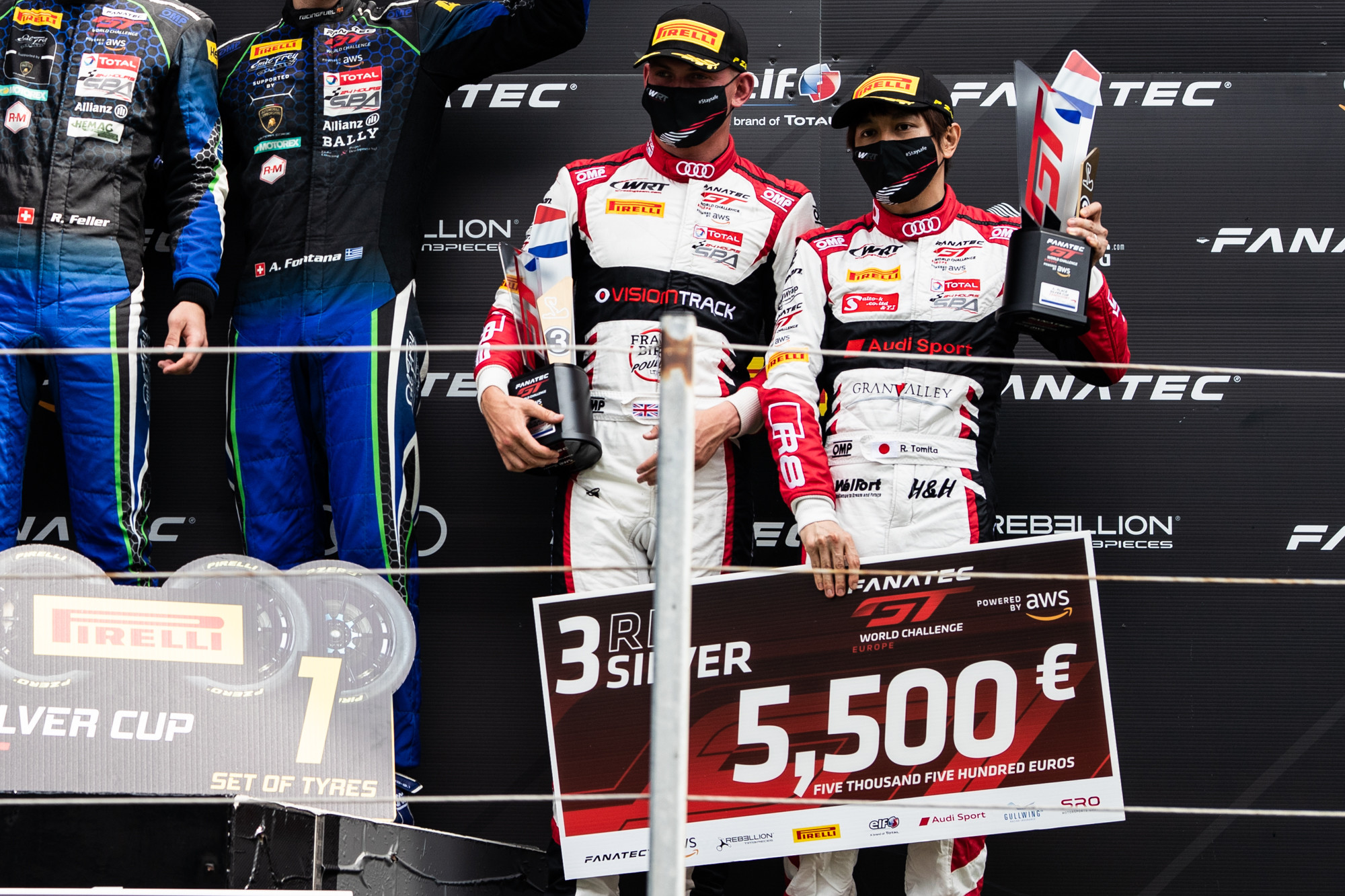 Charles Weerts: "Yesterday, we compromised our result in qualifying, because of traffic and because I could not finish my fast lap attempt, we started far away but we could come back to P8, which was a reasonable result. Today, Dries qualified well and things looked better, then we had that penalty for speeding in the pit lane, we still have to analyze and understand what happened. Still, we could finish on the podium and take some points."
Dries Vanthoor: "Saturday was not our best day, but we could take P8. Today, we qualified well in mixed conditions, which normally do not suit us. I was not happy with my performance in the opening laps, but eventually I could pass the Bentley, which was flying in the straights, and we started recovering. Unfortunately, we got the penalty after the pit stop, but we didn't lose many positions and could score good points."
Frank Bird: "We are very happy with the weekend, probably the best so far this season for us, with two podium finishes in the Silver Cup. Today we had a very good recovery after Ryu's problem in qualifying. We see we have made a great step forward and improved a lot."
Markus Winkelhock: "It was not an easy weekend, with Benji going into the gravel in qualifying 1. P15 in Race 1 was the best we could take out of the situation. Today, on a drying track, qualifying well was difficult, but we were climbing back positions in the race, before having to serve a drive-through for speeding in the pit lane".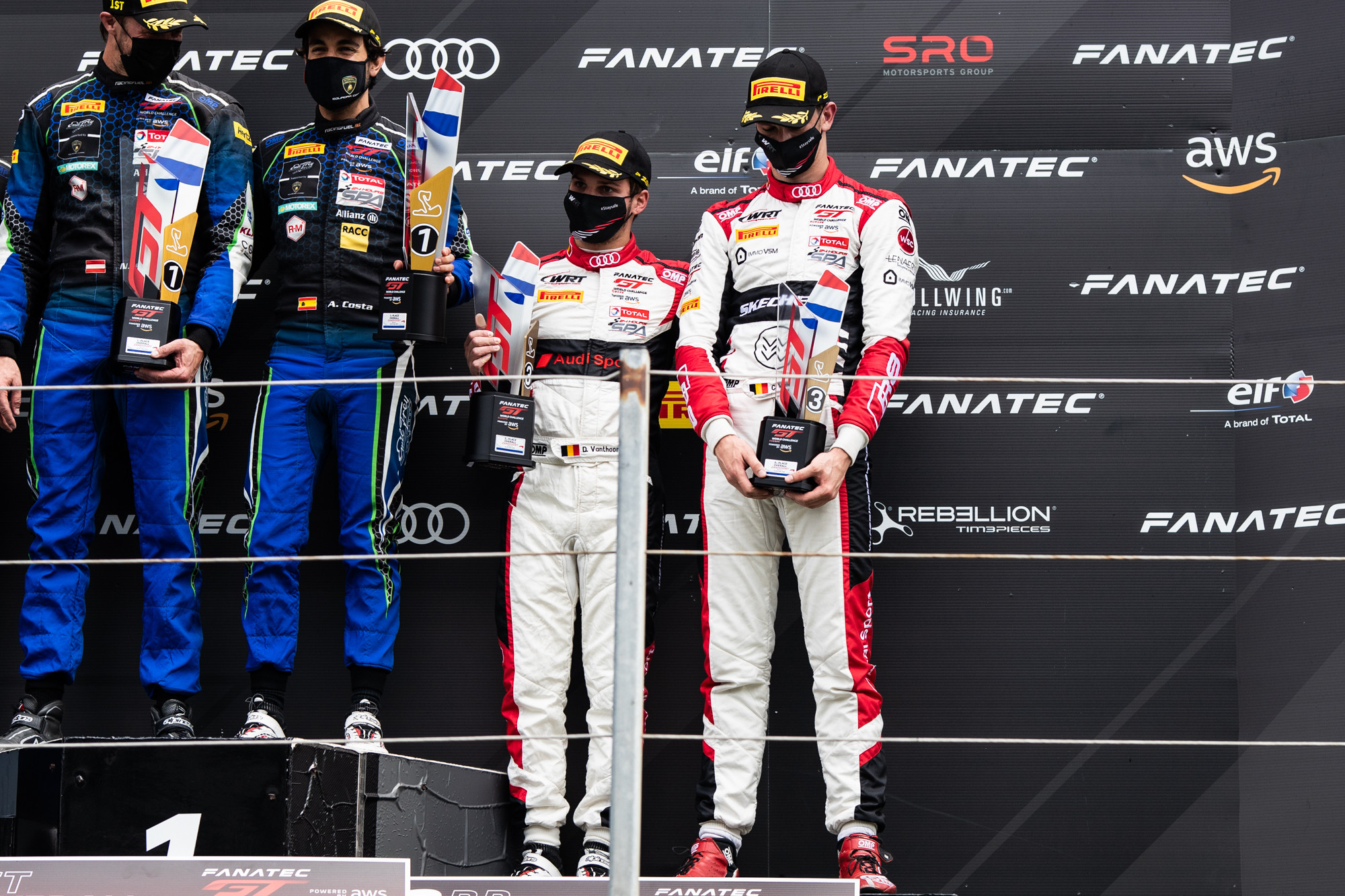 GT World Challenge Europe Sprint Cup – Round 2
Zandvoort, Netherlands – 18-20 June 2021
Race 1 Result
1. Feller-Fontana (Lamborghini Huracán) 37 laps
2. Boguslavskiy-Marciello (Mercedes AMG) + 9s628
3. De Pauw-Jean (Bentley Continental) +13s696
4. Bird-Tomita (Audi R8 LMS) +22s754
5. Puhakka-Tunjo (Mercedes AMG) +27s643
8. Vanthoor-Weerts (Audi R8 LMS) +32s793
16. Goethe-Winkelhock (Audi R8 LMS) +58s063


Race 2 Result
1. Siedler-Costa (Lamborghini Huracán) 37 laps
2. Feller-Fontana (Lamborghini Huracán) +10s954
3. Vanthoor-Weerts (Audi R8 LMS) +24s121
4. Lappalainen-Aitken (Lamborghini Huracán) +28s799
5. De Pauw-Jean (Bentley Continental) +29s358
7. Bird-Tomita (Audi R8 LMS) +32s114
18. Goethe-Winkelhock (Audi R8 LMS) +1m13s617
PHOTO: Brecht Decancq
5 months ago
@Fhabsburg62 @GTWorldChEu @ValeYellow46 @augustofarfus @weerts_charles @SheldonvdLinde @vanthoordries1… https://t.co/Alo6nzivvx