TWO CARS IN GTWCE BROUGHT HOME A GREAT RESULT
TWO CARS IN GTWCE BROUGHT HOME A GREAT RESULT
18/04/2021
It was a positive weekend at Monza where kicked-off the Endurance Cup of the World GT Challenge Europe, although a possible podium finish was lost because of the tyre issues that affected many cars including the Audi R8 LMS of van der Linde-Vanthoor-Weerts. Still, the two cars in Silver Cup brought home a great result, with Benjamin Goethe-Stuart Hall-James Pull second and Frank Bird-Valdemar Eriksen-Ryuichiro Tomita fourth.
Team Principal Vincent Vosse: "In GT, we were not so lucky this weekend, and our top car was stopped by a tyre issue that is not new and affected many other cars. It's a pity, because we lost a good result, many points and had quite some damage on the car. This tyre problem absolutely needs to be addressed by the manufacturer. On the other hand, our two Silver Cup cars produced excellent races and this is very positive."
At Monza, as per tradition, the Fanatec GT World Challenge Europe powered by AWS took off with 3-hour race valid for the Endurance Cup. The legendary track is notoriously not the most favorable for the Audi R8 LMS, but the three cars of the Belgian squad showed good pace in practice, qualifying… and sim racing! On Saturday eve, Ryuichiro Tomita scored indeed the team's first 3 points towards the Silver Cup as he won his class in the Esports race while on Sunday the number #32 entrusted to Kelvin van der Linde-Dries Vanthoor-Charles Weerts took P4 with #31 Ryuichiro Tomita-Frank Brid-Valdemar Eriksen qualifying in P16 and the #30 of Benjamin Goethe-Stuart Hall-James Pull did it in P18.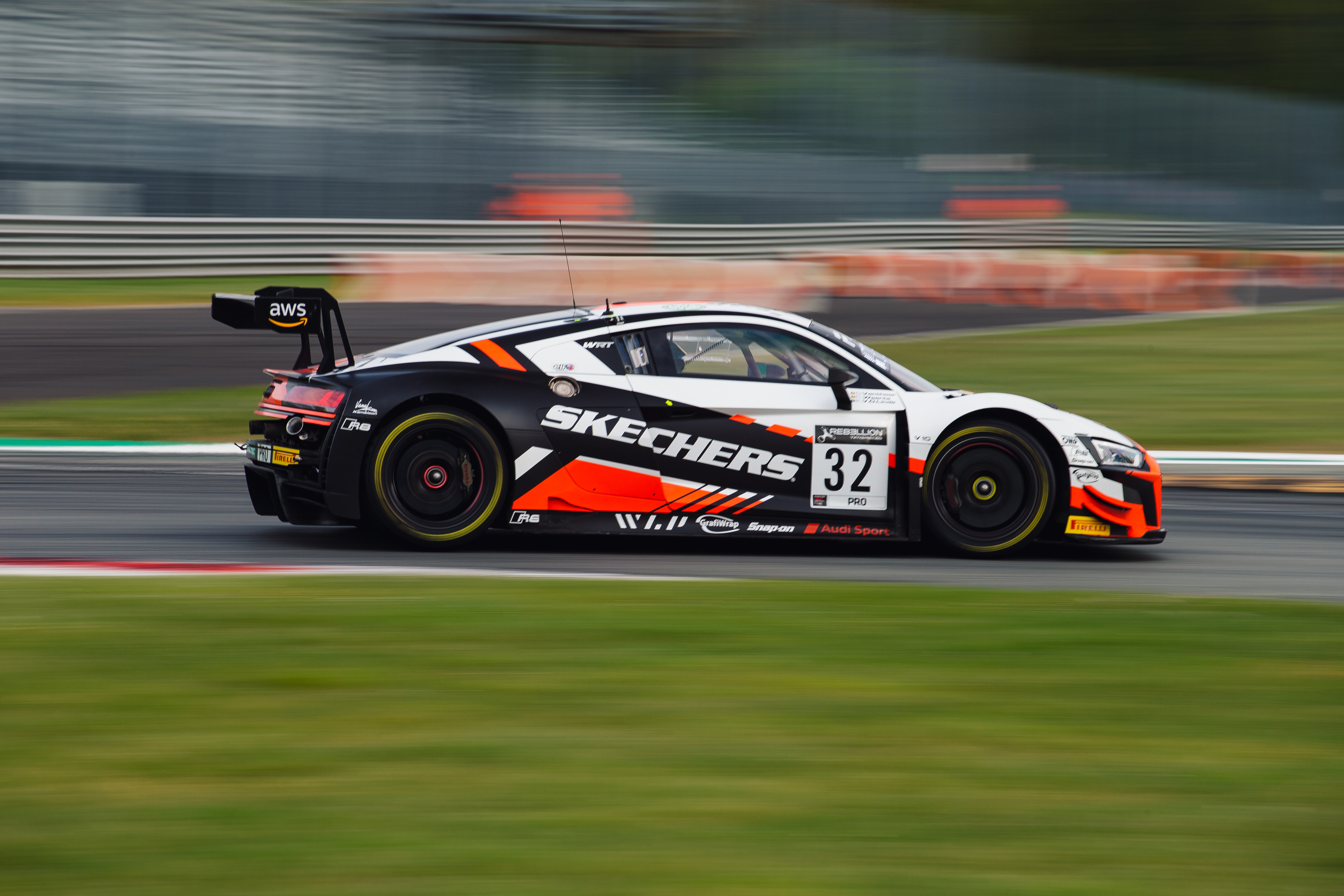 On Sunday 3 pm, 43 cars took the start, with no problems for the WRT boys, as Weerts was third in the initial laps, Bird 14th and Hall 17th. After few laps, though, the rain appeared and became quite strong, forcing everybody to pit, reshuffling the cards and provoking quite a number of full course yellow and safety-car periods. In the middle part of the race, issues with the rain tyres took a heavy toll, as many cars suffered punctures, sometimes violent.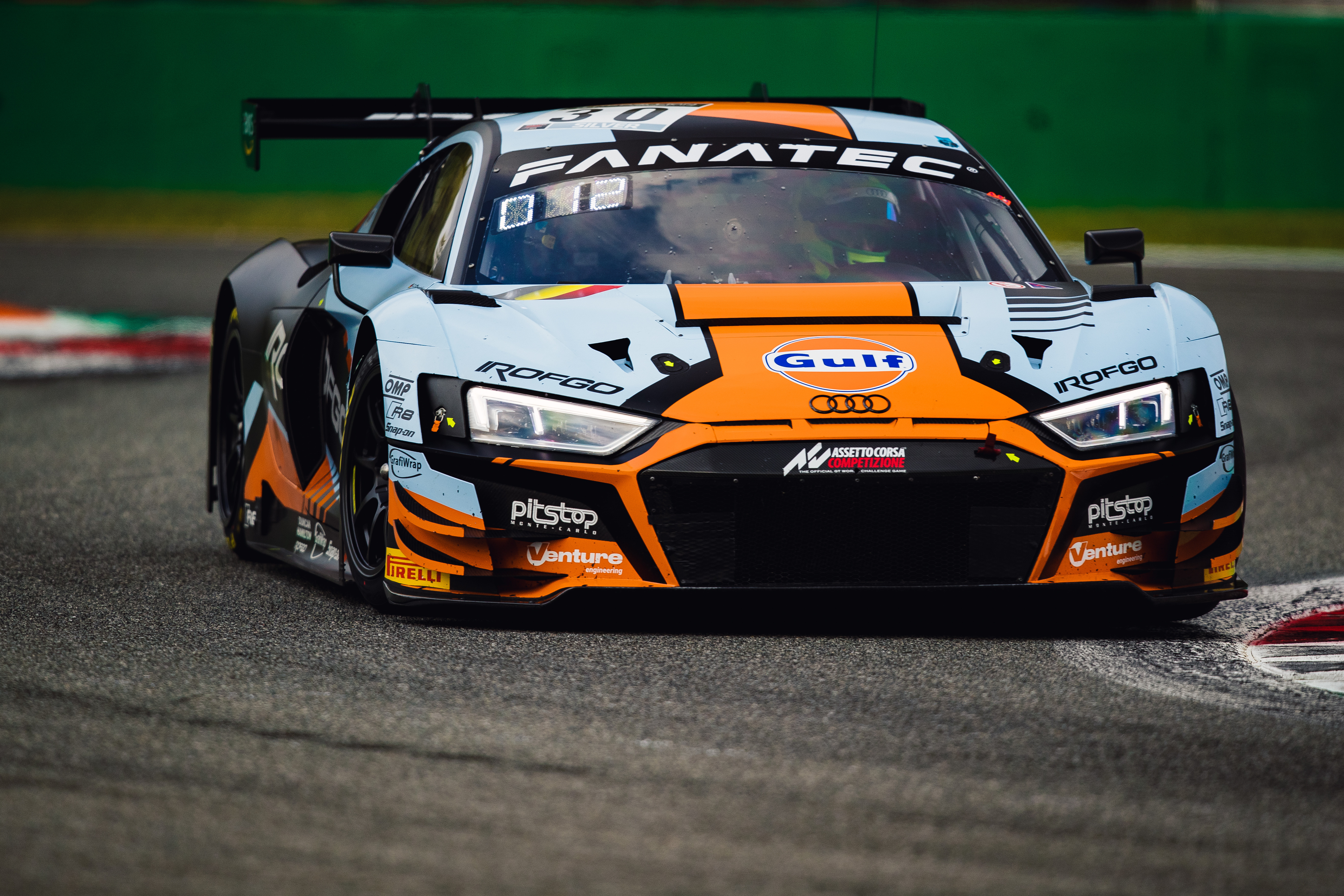 One of the victims, unfortunately, was van der Linde, who had to retire while fighting for second. The two cars entered in the Silver Cup were narrowly spared by the problem and actually started to climb positions through the field, with excellent performance from all drivers, Goethe and Pull in the #30 and Eriksen and Tomita in the #31. Eventually, they crossed the line 6th and 8th overall, and were clearly the best-placed Audi cars, taking 2nd and 4th respectively in the Silver Cup.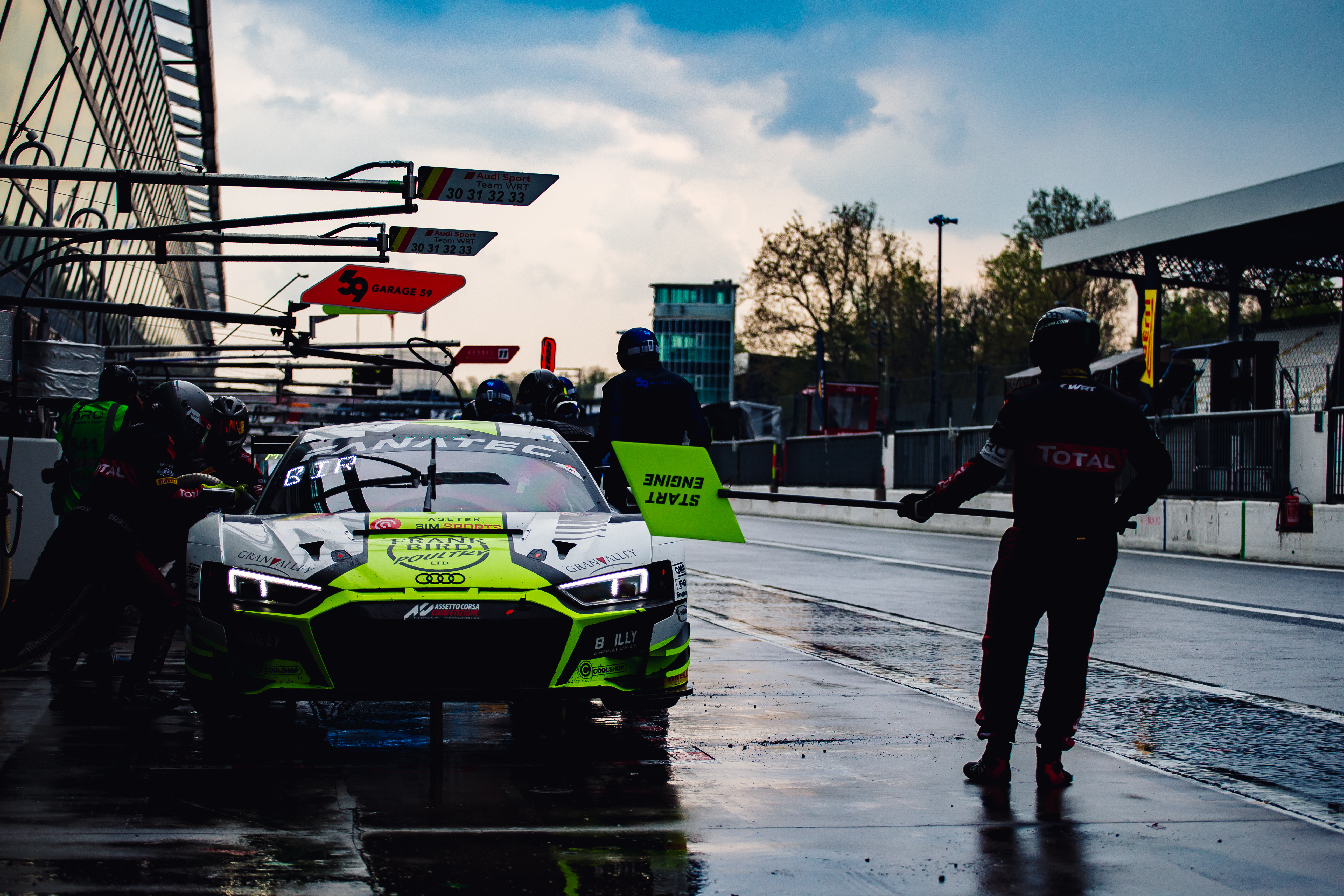 Benjamin Goethe: "We are very pleased with P2, it's a great result for our first race of the season. It was a tough race, with a lot of ups and downs, and there were many moments where we thought it wasn't doable, but it worked out well and I think we can do even better in the forthcoming races."
Ryuichiro Tomita: "It was a tough race but we proved that we are fast, the three of us, and we are really happy. Congratulations to my teammates and the entire team, we did a good job, also in managing the tyres, which today was difficult. I am sure that at the Paul Ricard, we can be even more competitive."
Kelvin van der Linde: "It was a tough weekend, and it's a pity that it ends this way, as the car was fast and the strategy perfect, I really thing we would have been fighting for the win. Unfortunately, we were hit by bad luck, with the explosion of the left rear tyre…"

GTWCE Endurance Cup - Round 1
Monza 3 Hours, 16-18 April 2021
Race Result
1. Cairoli-Bachler-Engelhart (Porsche 911R) 79 laps
2. Marciello-Juncadella-Gounon (Mercedes AMG) +2s886
3. Fontana-Ineichen-Feller (Lamborghini Huracán) +3s141
4. Fuoco-Ilott-Rigon (Ferrari 458) +3s613
5. Pierguidi-Nielsen-Ledogar (Ferrari 458) +7s799
6. Goethe-Hall-Pull (Audi R8 LMS) +15s607
8. Bird-Eriksen-Tomita (Audi R8 LMS) +23s391
DNF van der Linde-Vanthoor-Weerts (Audi R8 LMS) 29 laps (puncture)
PHOTO: Michele Scudiero


7 hours ago
Dries Vanthoor replaces René Rast in Fuji (FIA WEC) René will compete in the clashing DTM event at Spa-Francorcha… https://t.co/UlO0kF4yWz