A GREAT PODIUM FINISH TO START 2021, AS TEAM WRT TAKES SECOND AT DUBAI 24 HOURS
A GREAT PODIUM FINISH TO START 2021, AS TEAM WRT TAKES SECOND AT DUBAI 24 HOURS
16/01/2021
The 2021 season has started with yet another great result for Team WRT at the Dubai 24 Hours. In the race in the sunny Emirates that traditionally opens the GT3 endurance calendar, the Audi R8 LMS of the Belgian squad produced a very strong and faultless performance. The efforts of the team and of its drivers, GT stars Dries Vanthoor and Kelvin van der Linde, young guns Frank Bird and Benjamin Goethe and top Am racer Louis Machiels were rewarded by an excellent and close second position.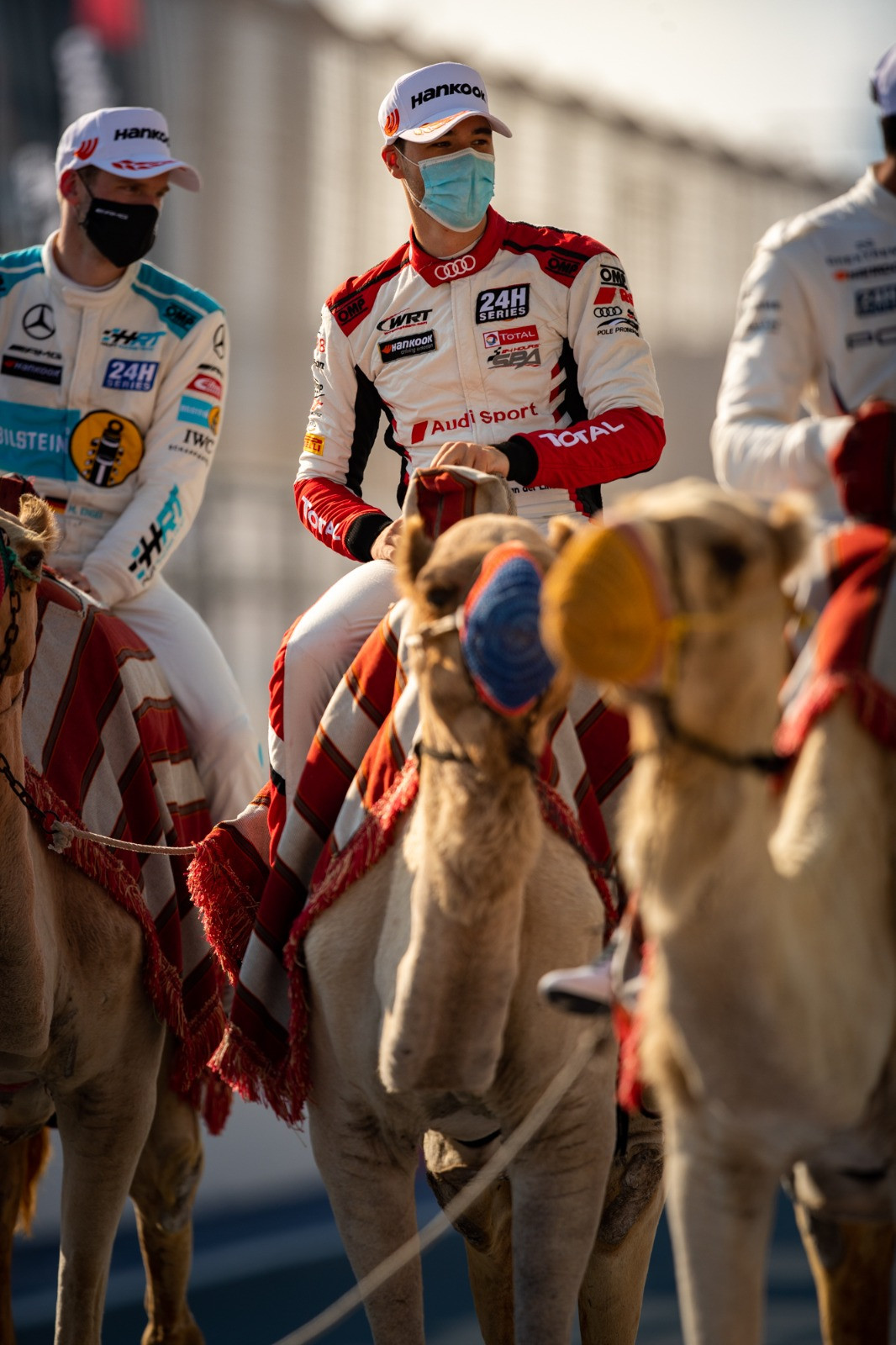 The weekend started with positive feedback for the Audi of the Belgian squad, despite having to concede the very top positions to some of the rival cars with better top speed. The Team WRT quintet was 7th and 8th in the two free practice sessions, 5th in the night practice and qualified in P10.
At the start of the race on Friday afternoon, with Kelvin van der Linde at the wheel, it quickly gained some positions, running 7th and climbing more positions thanks to great pit stops and good stints from Louis Machiels, Frank Bird and Benjamin Goethe. By the 6th hour mark, the car was 6th.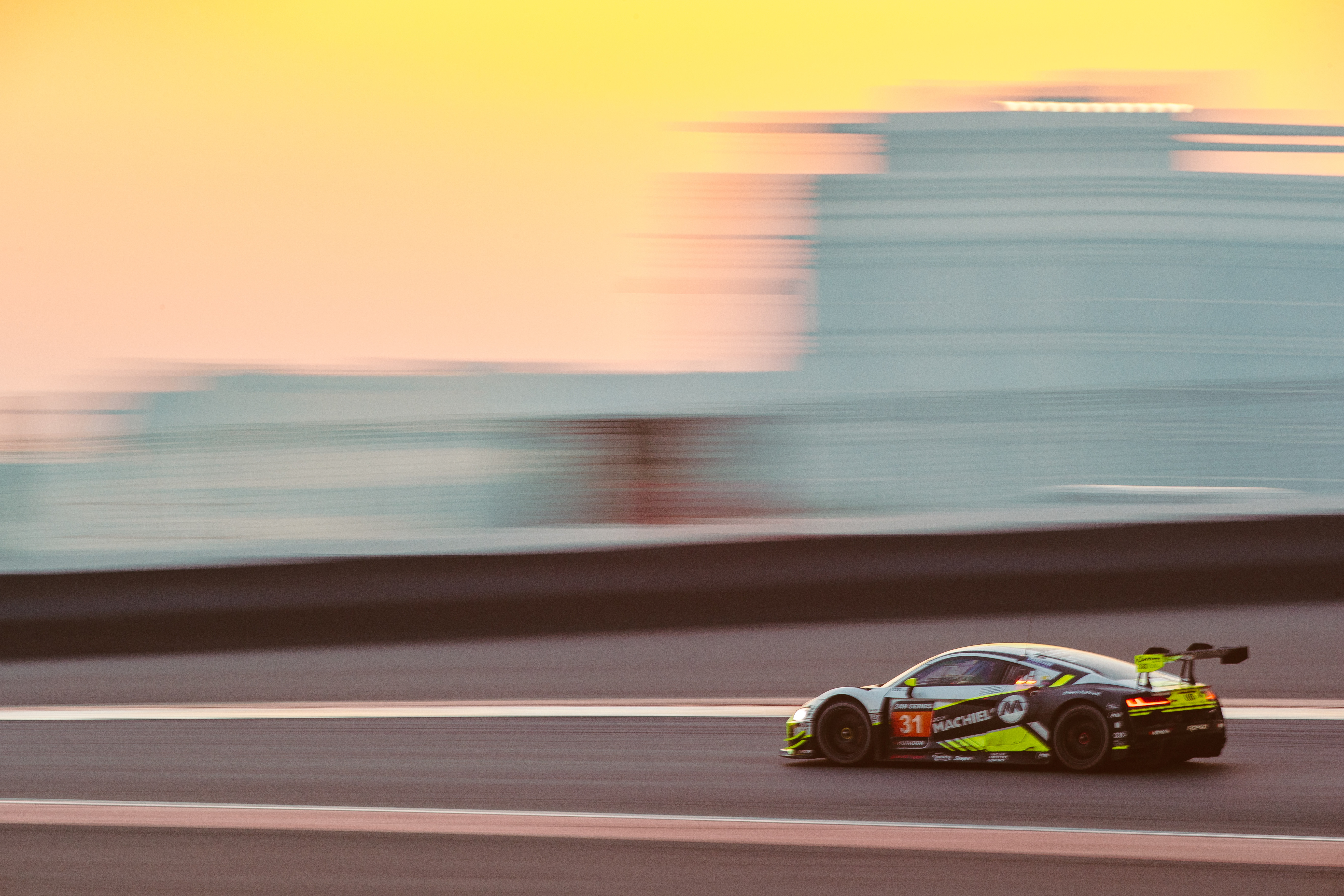 While the position further improved (4th by the 9-hour mark), the gaps between front-runners were unfortunately increased by the effects of a number of 'code 60' (full course yellow) periods, sometimes very long. Mid-race, Dries Vanthoor started a sensational charge, beating several times the best lap time, and the faultlessly-running Audi took started to close the gap and took second shortly before mid-race, without leaving the position until the flag after reducing the gap with the leader by two laps.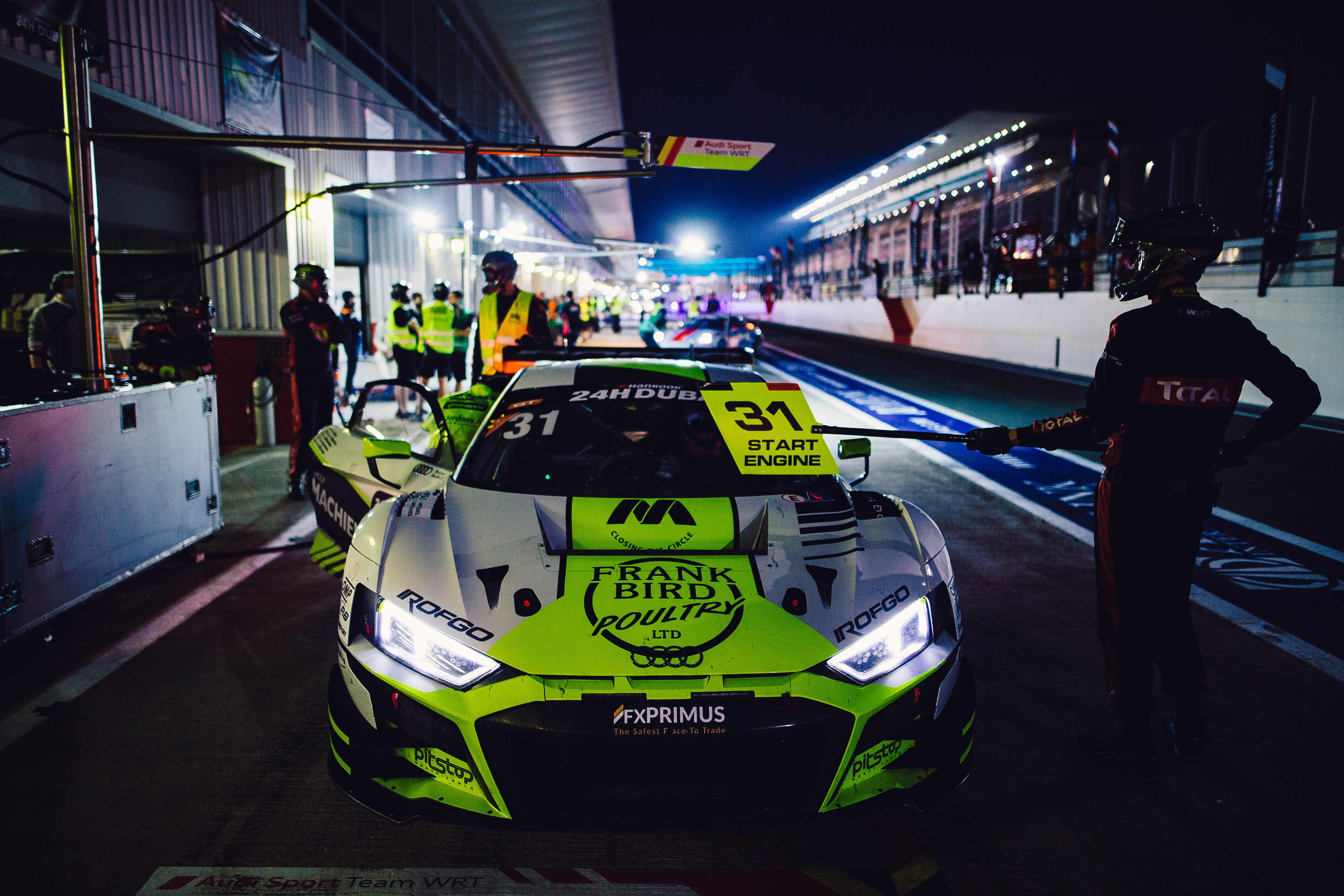 Team Principal Vincent Vosse commented: "It's a great way to start the season and the best possible result, as we did not have the same speed as the winning car. The entire team and all the drivers did a fantastic job, there wasn't a single mistake or hiccup, so we can be very happy of the result."
Frank Bird: "What a way to start the season and what a first race for me with Team WRT! All of the drivers did a perfect job, we let the race come to us, making no mistakes on track and in the pit stops, which played a massive part. A big 'thanks' to all the team, engineers and team mates. Hopefully, it's the first of many podiums this year."
Benjamin Goethe: "First race of the season and first podium, I am very happy with that, I want to thank the entire team and all my team mates. It's a shame we couldn't fight for the win, but still, P2 is an excellent result."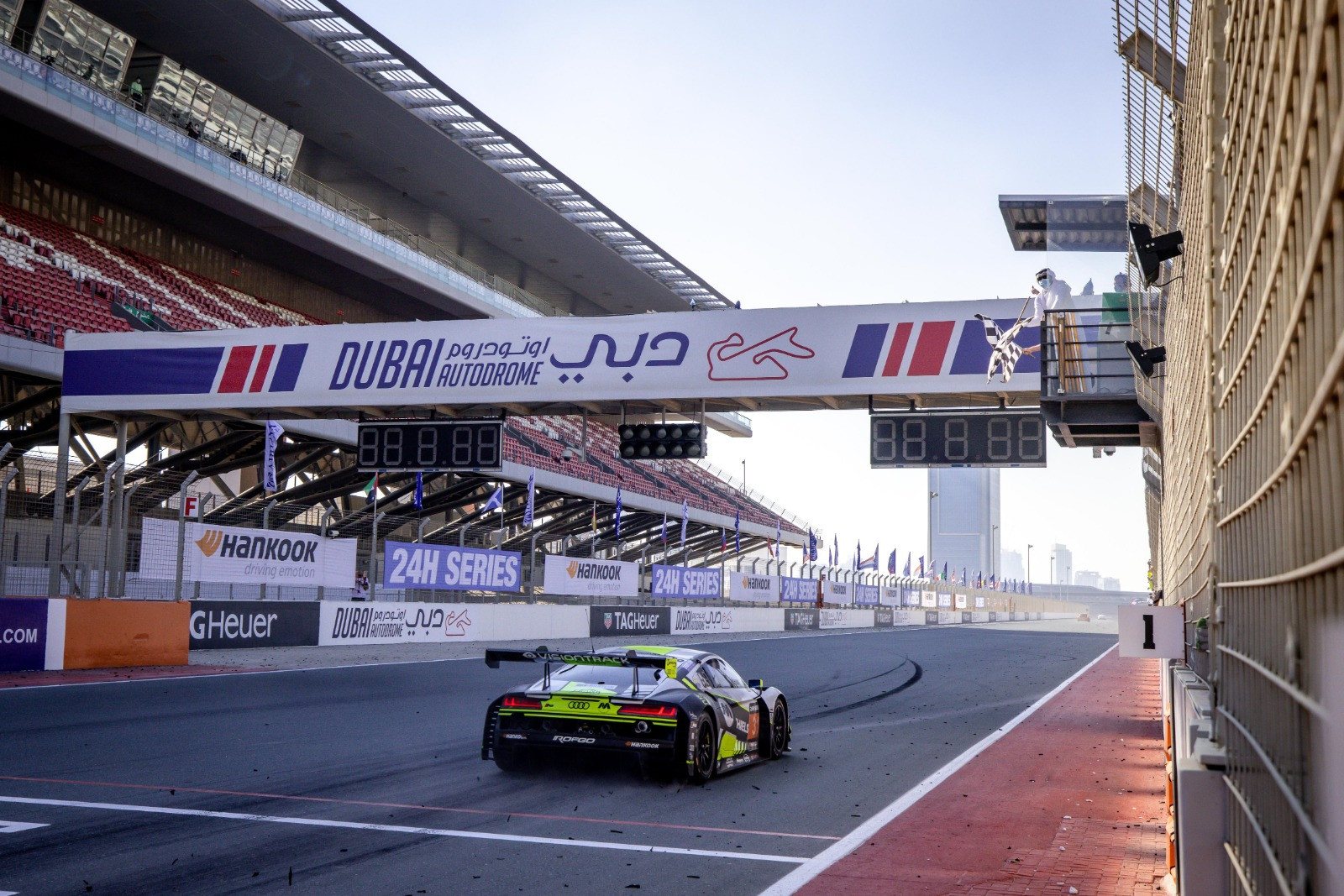 Dries Vanthoor: "I am very happy and very tired... We had a hard start of the race, finding ourselves 2-3 laps down because of the 'code 60' periods, but we kept going, as always, and pushed back like hell. The car was very strong, especially during the night hours. It was exciting to push and push and eventually get P2."
Kelvin van der Linde: "It has been an amazing race for the team and it's my first podium at Dubai. At some point, we found ourselves a few laps off the lead, but we had a fantastic recovery and we all can be very proud of what we achieved."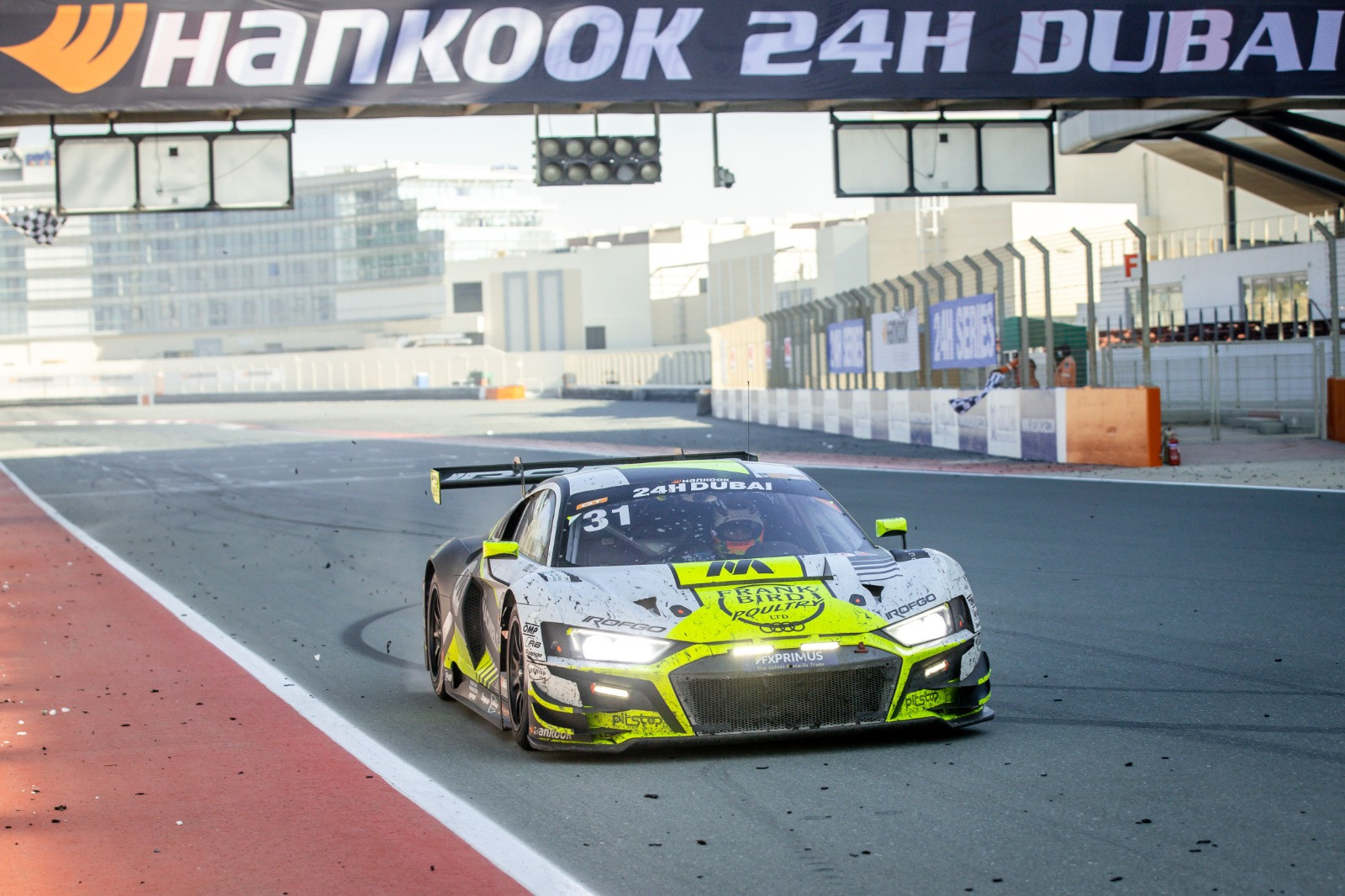 24 Hours Series – Round 1
Hankook 24 Hours of Dubai, UAE, 13-16 January 2021
Race Result
1. Jeffires-Fatien-Jaminet-Andlauer-Ferté (Porsche 911 R) 600 laps
2. Bird-Goethe-Machiels-van der Linde-Vanthoor (Audi R8 LMS) + 1 lap
3. Haupt-Engel-Assenheimer-Ratcliffe-Al Qubaisi (Mercedes AMG) + 1 lap
4. Ineichen-Bortolotti-Amstutz-Breukers (Lamborghini Huracán) + 2 laps
5. Al Qubaisi-Pierburg-Scholze-Assenheimer-Bastian (Mercedes AMG) + 8 laps

PHOTO: Michele Scudiero


5 months ago
@Fhabsburg62 @GTWorldChEu @ValeYellow46 @augustofarfus @weerts_charles @SheldonvdLinde @vanthoordries1… https://t.co/Alo6nzivvx