WINNING DEBUT FOR TEAM WRT IN THE ADAC GT MASTERS
WINNING DEBUT FOR TEAM WRT IN THE ADAC GT MASTERS
02/08/2020
The delayed start of the 2020 season is proving sweet to Team WRT: the Belgian squad took its second win in a major GT3 series in one week, in its debut weekend in the ADAC GT Masters at the Lausitzring. After a frustrating Saturday for both cars, Audi Sport driver Dries Vanthoor and Charles Weerts posted a light-to-flag win from pole position in Race 2, with the other car of Audi Sport driver Mirko Bortolotti and Rolf Ineichen also scoring good points.
Team Principal Vincent Vosse took stock of the contrasting weekend: "It's fantastic to debut in the ADAC GT Masters with a pole position and a win, and I am delighted of the great start of the season in our GT programme, with two wins in a week. We knew that the ADAC is a very competitive series, and it proved so. The entire team and the drivers did a great job, and I want to stress the maturity with which Charles Weerts managed the re-start after safety-car."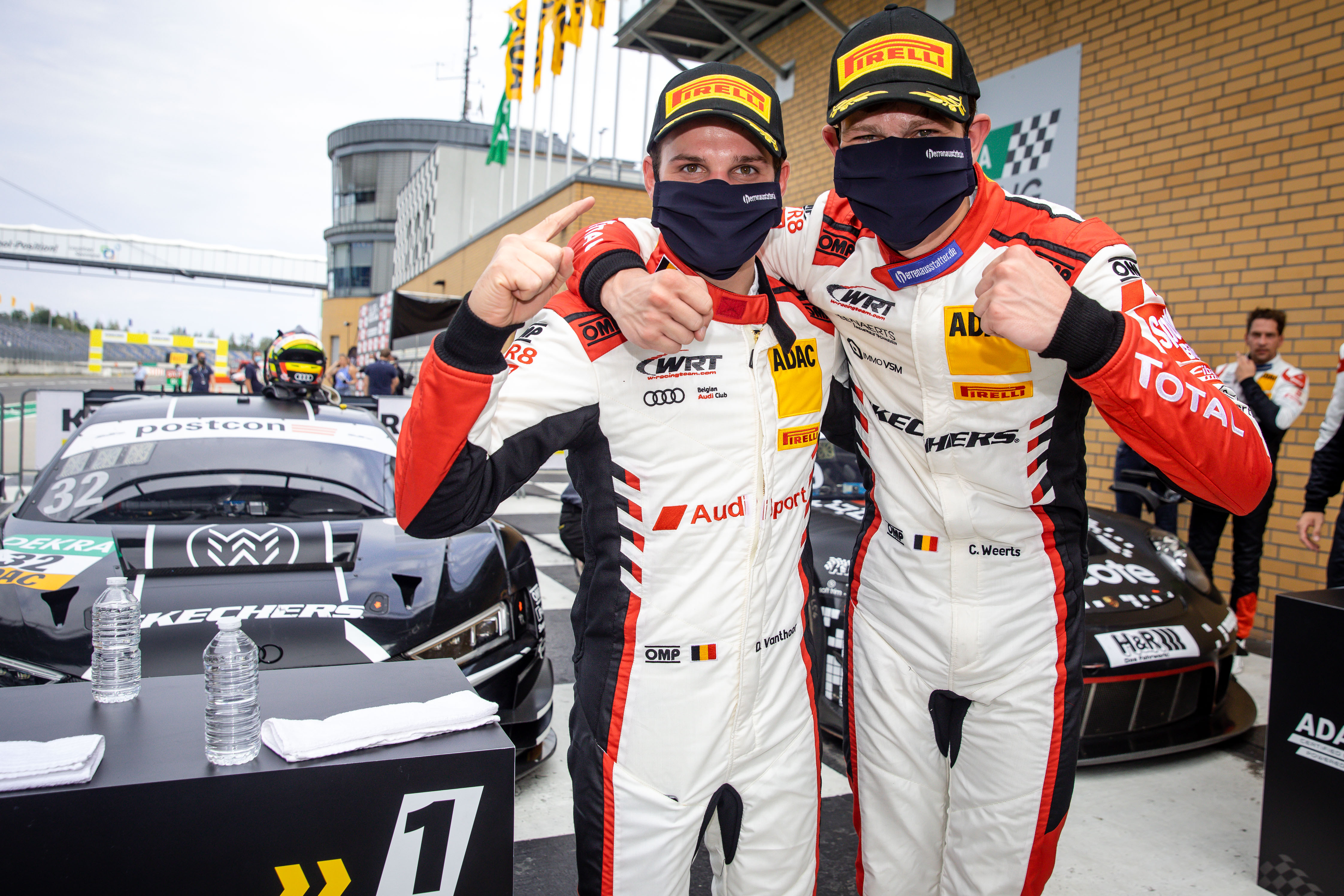 The first ever weekend in the German GT3 series started gently for the Audi R8 LMS of the Belgian squad, with free practice proving the competitiveness of the series. In Qualifying for Race 1, Charles Weerts was third-fastest, with Rolf Ineichen qualifying in P19…only 4 tenths of a second off the quickest lap! The start of the race, though, would be quite challenging for both, with Ineichen falling victim of a contact almost straight away and Weerts having a poor start (15th at the end of lap 1) and also suffering contacts in the first phases which dropped him to P28 at the end of lap 2. He then started a solid recovery, rejoining a very lively group, where Dries Vanthoor fought hard after the pit stop to eventually finish 21st, and 3rd in the Pirelli Junior classification.
On Sunday, Vanthoor took revenge, conquering a last-minute and closely-fought pole position for Race 2, with Mirko Bortolotti qualifying 8th. The Belgian had to fight hard to keep the advantage at the start but perfectly managed to get first at first corner and pulled away, building an 8-second gap in the first 15 laps. Bortolotti quickly regained the 8th position that he had briefly lost in the initial phases. Both cars pitted almost at the same time (lap 24) and Weerts not only maintained the advantage (13 seconds) built by Vanthoor but even increased it by a couple of seconds, while Ineichen stabilized in P8 after a strong fight with two other Audi. In lap 30, a safety-car period, reshuffled the cards, but Weerts mastered perfectly the restart and crossed the line as winner in overall and Junior classification, with Ineichen finishing 7th after resisting all attacks from behind and taking a win in the Trophy classification.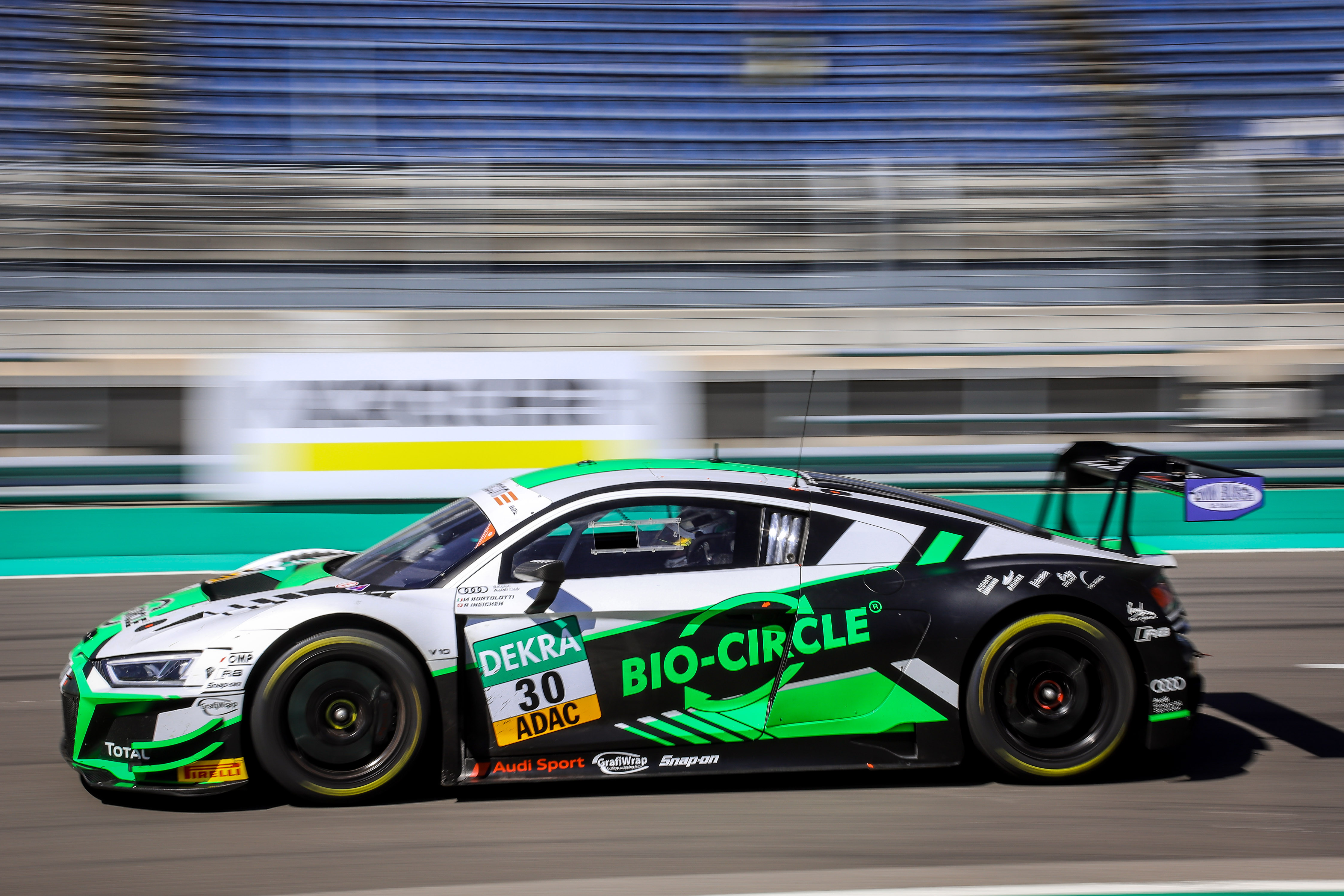 Dries Vanthoor: "It was a very good Sunday for us, we all worked very well. I wasn't completely happy with my qualifying performance but it was good enough to get the pole. The start procedure in the ADAC GT Masters is a little bit different, it doesn't help keeping the advantage and I was a little bit surprised, but I could stay in front and build a good gap. The car was amazing and we had kept a set of fresh tyres, so everything worked well. Charles did a great job in his stint and managed very well the restart. It's a good kick-off in the series and we hope to continue like that."
Mirko Bortolotti: "It has been a weekend with ups and downs for us in car #30. Unfortunately, Rolf got taken out of the track in Race 1 with no responsibility in the incident and we had to retire. In Race 2, we did a solid race and managed to finish 7th."

ADAC GT Masters – Round 1
Lausitzring, 1st-2nd August 2020
Race 1 Results:
Stolz-Engel (Mercedes AMG) 43 laps
Ammermüller-Engelhart (Porsche 911) + 0s736
Hofer-Haase (Audi R8 LMS) +14s828
Fittje-Jahn (Porsche 911) +16s878
Costa-Perera (Lamborghini Hurcan) +17s204
21. Weerts- Vanthoor (Audi R8 LMS) +42s063
DNF Ineichen-Bortolotti (Audi R8 LMS) 1 lap (contact)
Race 2 Results:
Vanthoor-Weerts (Audi R8 LMS) 42 laps
Stolz-Engel (Mercedes AMG) + 3s799
Renauer-Müller (Porsche 911 R) + 5s076
Ammermüller-Engelhart (Porsche 911 R) + 6s127
Niederhauser-van der Linde (Audi R8 LMS) + 8s909
7. Bortolotti-Ineichen (Audi R8 LMS) +16s820

PHOTO: ADAC GT Masters

5 months ago
@Fhabsburg62 @GTWorldChEu @ValeYellow46 @augustofarfus @weerts_charles @SheldonvdLinde @vanthoordries1… https://t.co/Alo6nzivvx