WRT SPEEDSTAR AUDI SPORT REPEAT PODIUM FINISH AT THE DAYTONA 24 HOURS
WRT SPEEDSTAR AUDI SPORT REPEAT PODIUM FINISH AT THE DAYTONA 24 HOURS
27/01/2020
For its second participation in the Rolex 24 at Daytona, Team WRT, again associated with Speedstar Motorsports, took a second consecutive podium finish, with the Audi R8 LMS driven by Audi Sport drivers Mirko Bortolotti and Dries Vanthoor, together with Rolf Ineichen and Daniel Morad, crossing the finish line in 3rd in the GTD class, like last year.
The Belgian Canadian outfit displayed a strong performance, in a 24-hour race that proved to be a long sprint race, wherein WRT Speedstar Audi Sport finished third on the podium.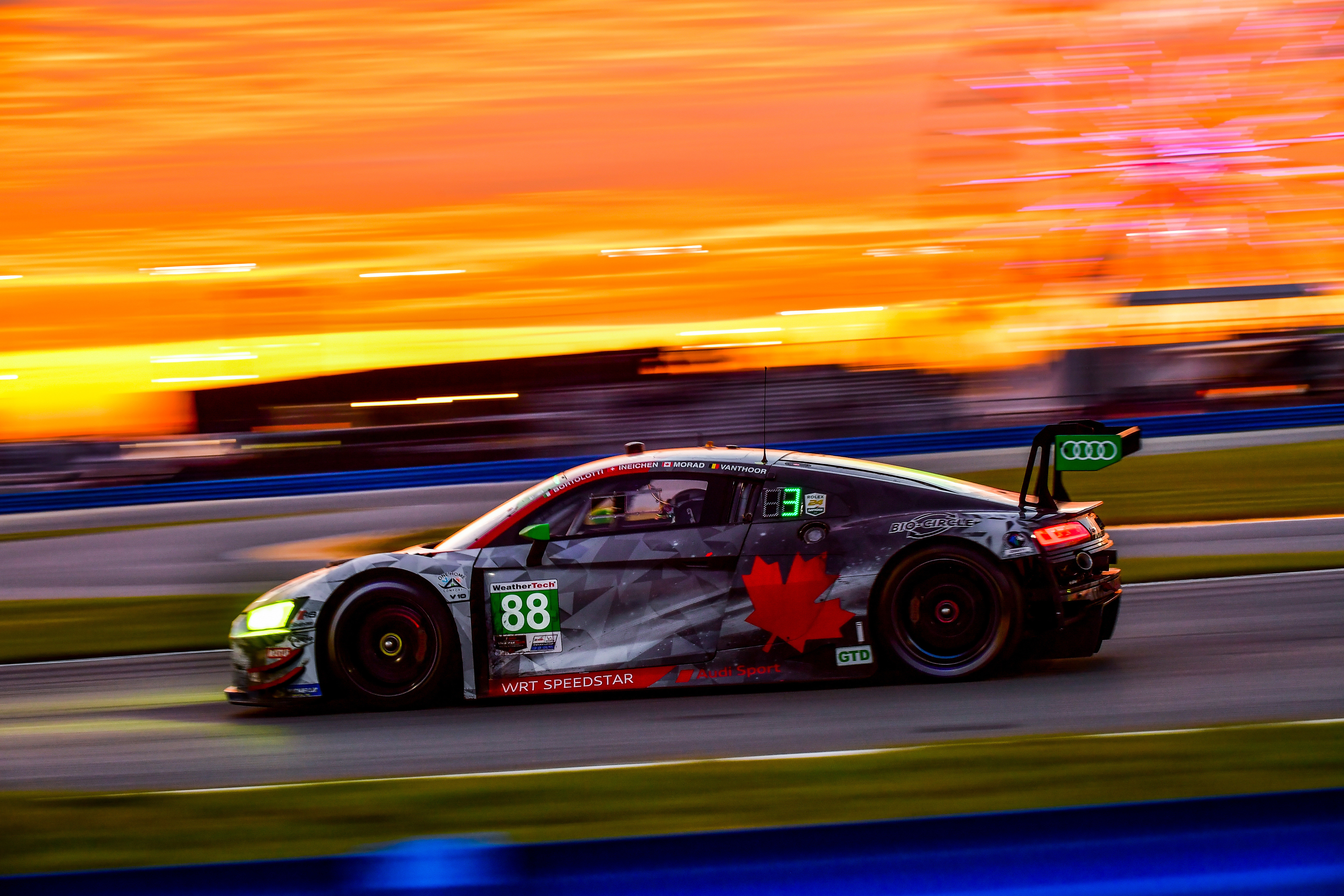 It all started positively for the maple leaf-livered Audi R8 LMS, which was always in the top group in the four practice sessions. Mirko Bortolotti topped the rankings in the first session, with a time of 1.58.763, with Dries Vanthoor being 4th-fastest in the night session. The car qualified 6th, with Rolf Ineichen posting the best time.
The race started early afternoon on Saturday, with the car consistently in the top 6, forming with other five cars a very stable sextet that fought for the GTD victory in the same lap until the closing hours, with positions changing according to the pit stops and the 'caution' periods, not too many (6) this year.
The car from WRT Speedstar Audi Sport entered the final hour in third position and Mirko Bortolotti maintained this position to the checkered flag.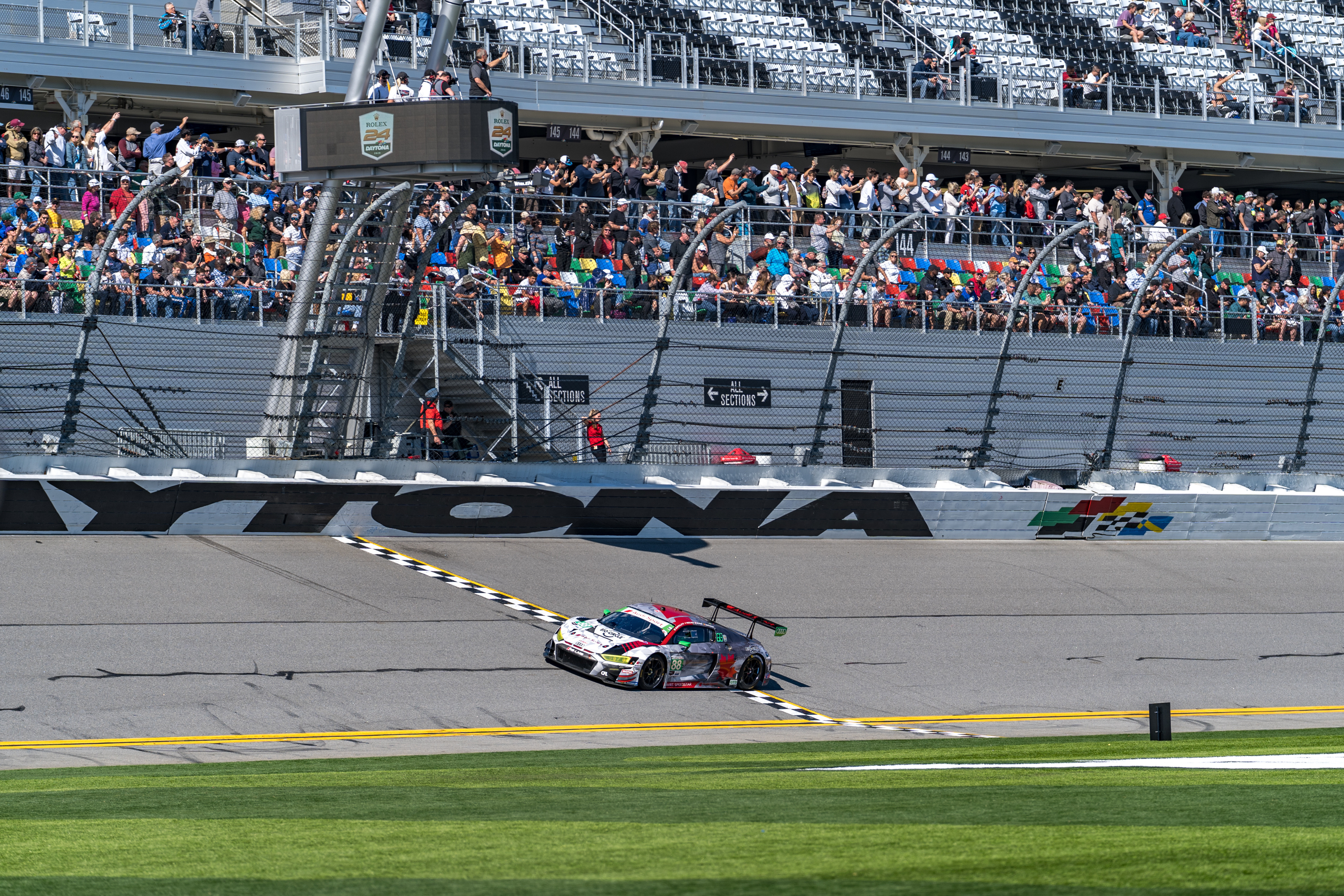 Vincent Vosse: "It's fantastic to be on the podium again at Daytona, in our second time in this great race. Obviously, we would have liked to win this time, but taking third for the second year in a row in such a competitive race is a great result for the team. We did a fantastic race, with not a single mistake, and I am very proud of the terrific work done by the whole team and our drivers, especially during the night. Everything worked to perfection: the car, the driving, the strategy, the pit stops, there is nothing to say. We were just beaten by cars which had a little bit more top speed, and we can be very happy of what we achieved."
Mirko Bortolotti: "I am really proud of what has been achieved by Audi Sport, the whole team and my team mates. I gave everything I had and the four of us were flying out there… We had some setbacks but managed to get back to the leading positions. Unfortunately, in the last couple of hours, we had a small issue with the rear wing and could not fight for the result we could have fought for. Still, we could bring home third position."
Dries Vanthoor: "We can be happy of this result, because we all did a great job: the car, the team, and the drivers. It may not be the result we came here for, but we really extracted the maximum out of the package, and it is a very good start of the season."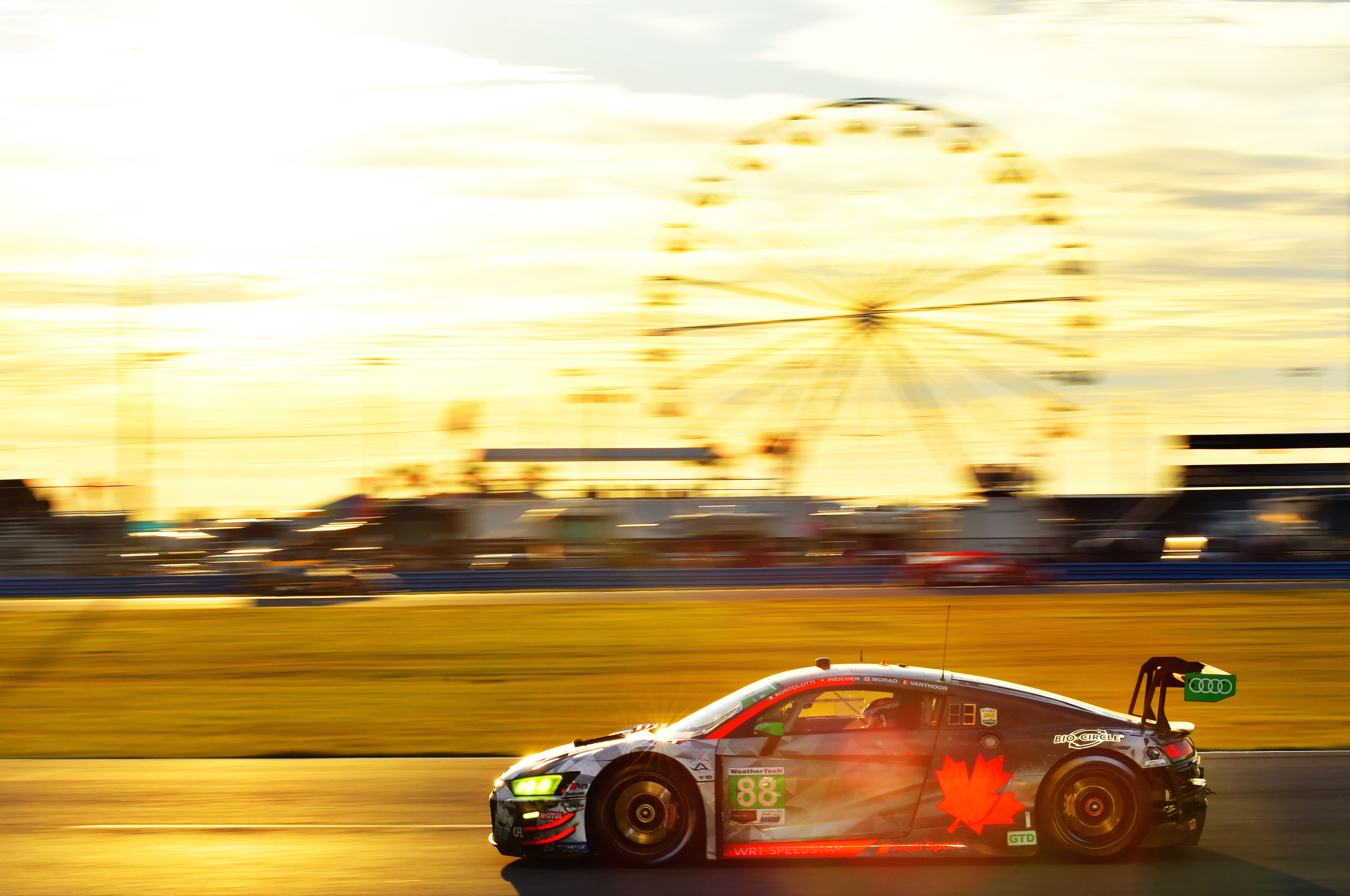 IMSA WeatherTech SportsCar – Round 1
Rolex 24 Hours of Daytona, 23-26 January 2020

Race Result (GTD)
1. Caldarelli-Sellers-Snow-Lewis (Lamborghini Huracán) 765 laps
2. Mapelli-Potter-Pumpelly-Lally (Lamborghini Huracán) + 21s908
3. Bortolotti-Vanthoor-Ineichen-Morad (Audi R8 LMS) + 1 lap
4. Bachler-Long-Hardwick-Imperato (Porsche 911R) + 1 lap
5. Bleekemolen-Pepper-Müller-Estep (Porsche 911R) + 1 lap

Photo: Jamey Price
8 hours ago
Dries Vanthoor replaces René Rast in Fuji (FIA WEC) René will compete in the clashing DTM event at Spa-Francorcha… https://t.co/UlO0kF4yWz