DUBAI 24 HOURS SUSPENDED BECAUSE OF THE RAIN, WITH BOTH TEAM WRT CARS IN THE TOP-5
DUBAI 24 HOURS SUSPENDED BECAUSE OF THE RAIN, WITH BOTH TEAM WRT CARS IN THE TOP-5
11/01/2020
The Hankook 24 Hours of Dubai will go down in history as one of the shortest 24-hours races ever, as they were truncated by an unusual event in the Gulf region, rain! The race was eventually stopped after a very long red-flag period, with the final results published based on the 7 hours of real race achieved. The two Audi R8 LMS of Team WRT finished in the top-5, with Vanthoor - Mies - Vergers - Al Saud - Breukers taking third in the MS7 by WRT car, and Bortolotti - R.Ineichen - van der Linde - M.Ineichen fifth. Both cars were always among the front-runners and took the lead at one moment during the race.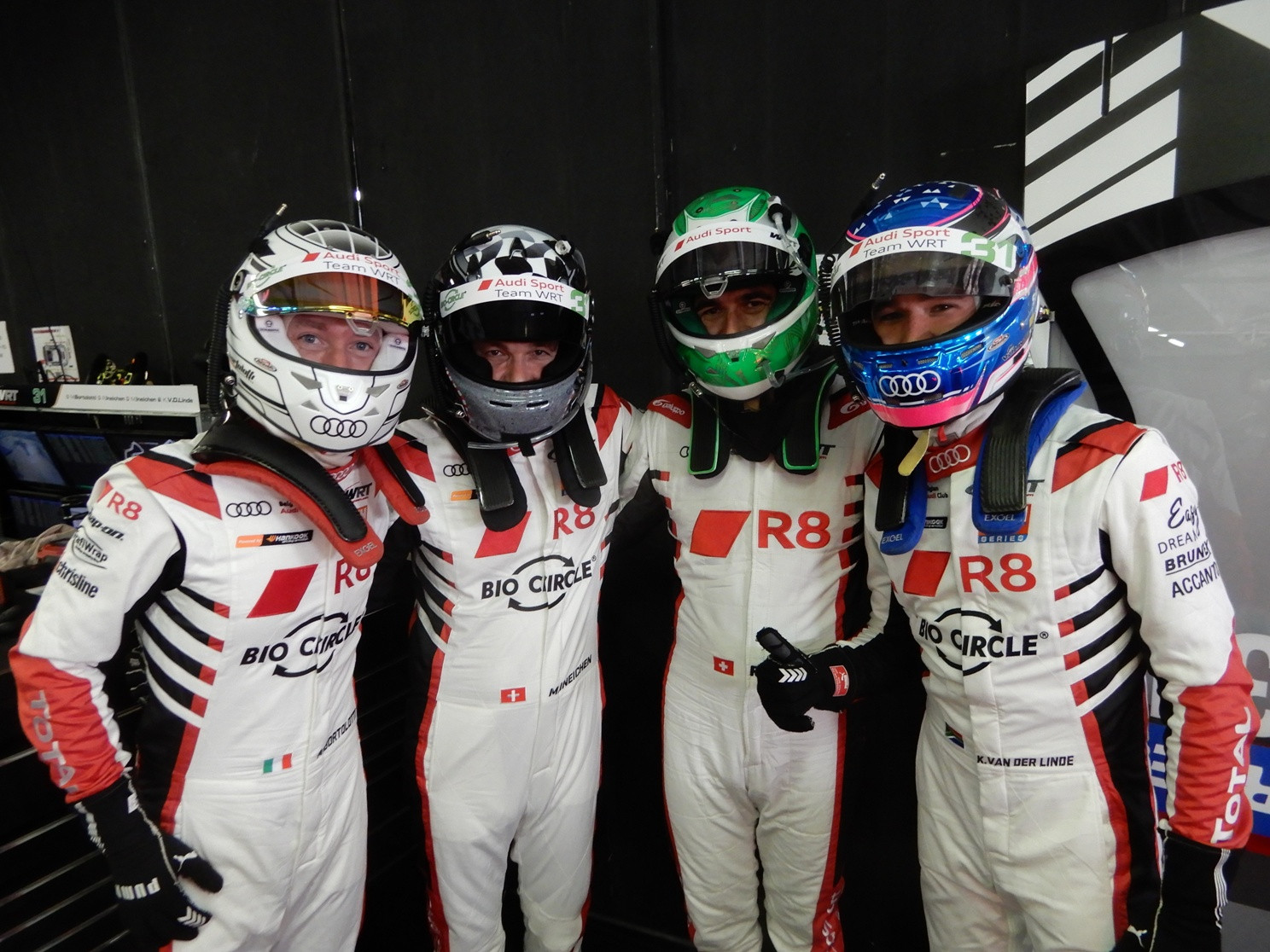 The same trend had emerged throughout the weekend, with Mirko Bortolotti topping the rankings in Free Practice and Dries Vanthoor doing the same in the Night Practice. In Qualifying, car #7 was fifth-fastest and car #31 seventh.
The Race started on Friday at 3p.m. local time in perfect conditions and basically saw both cars fighting in the top-5 in the initial hours, which already saw some 'Code 60' situations because of several incidents. As said, both cars ran in the lead at some point, as the race and pit stops unfolded (Rolf Ineichen in car #31 twice in the early stages, Michaël Vergers in car #7 also twice later on the race).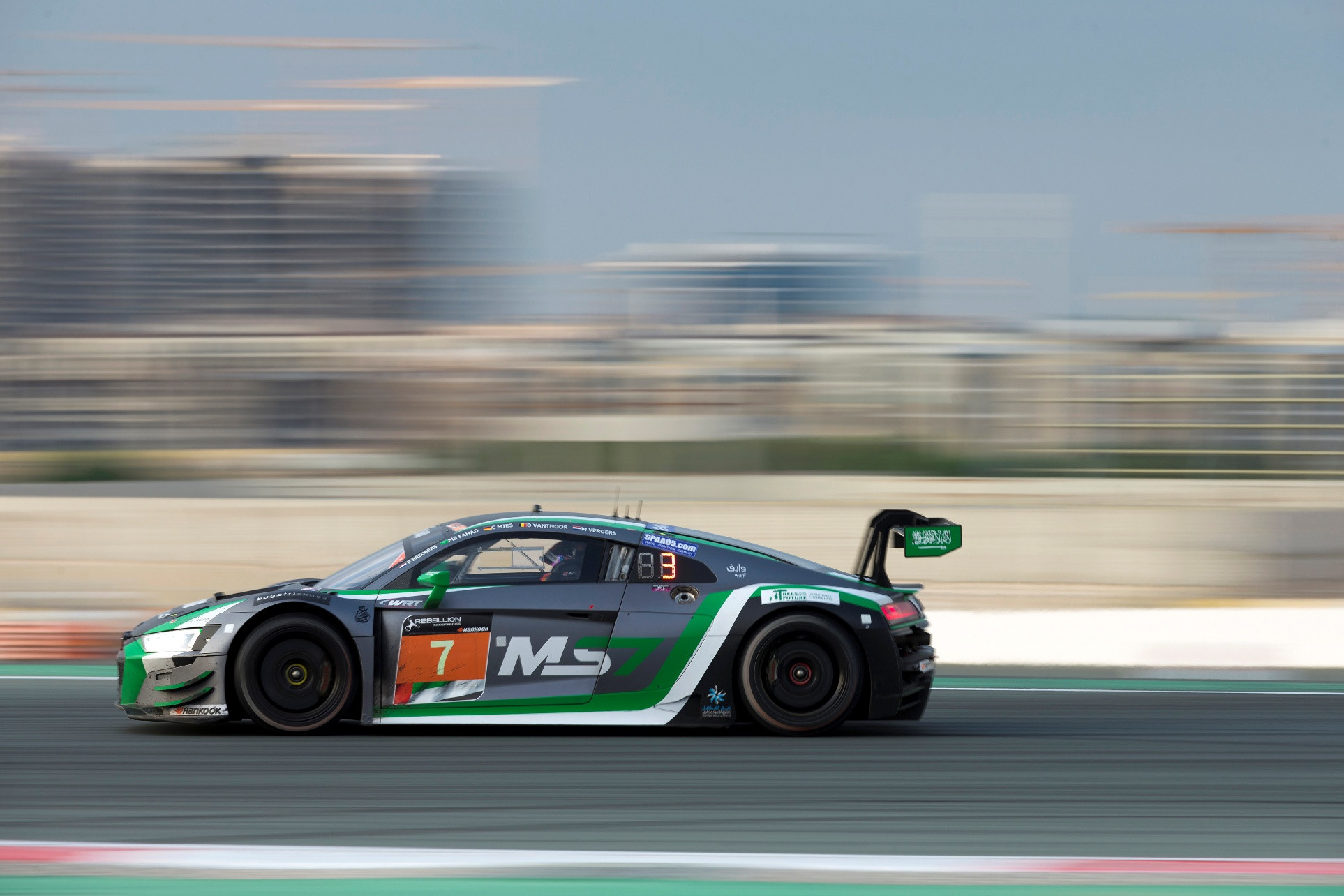 Roughly after one fourth of the race length was covered, heavy rain appeared and the situation became worse and worse, with some sections of the track and the pit lane literally flooded. The race was stopped shortly after 10p.m. and after a long red flag period at 7:38 in the morning, the decision not to resume action was taken, leaving the results frozen at the time of suspension, after 7 hours and 17 minutes of actual racing.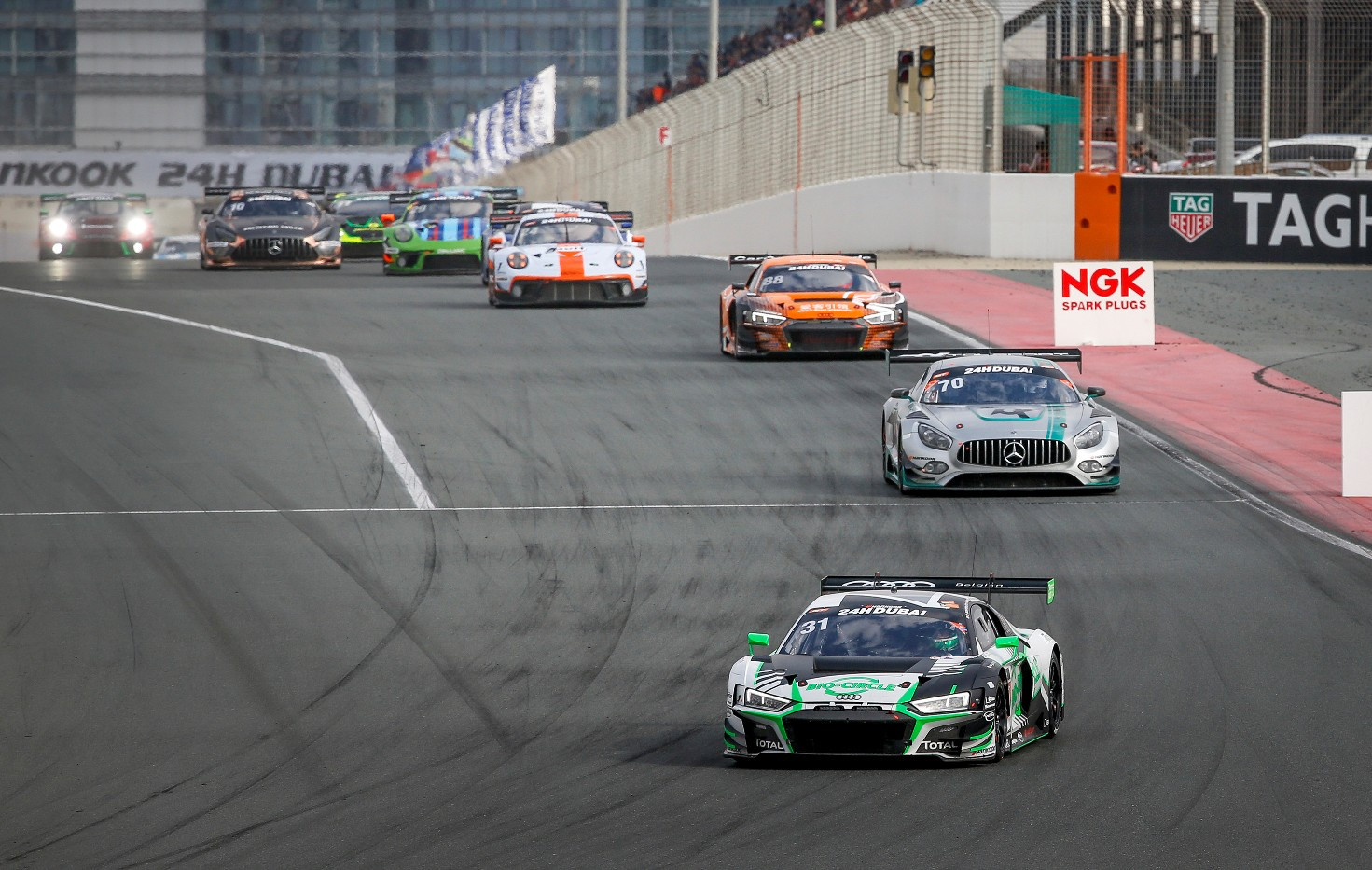 Vincent Vosse: "It is of course a very frustrating situation not to be able to complete the race that you have come here for, but there is nothing to do against Mother Nature's commands! The situation was really terrible, even in road traffic, with 50 cm of water almost everywhere. Even going back to the hotel has been a venture. The result doesn't mean much, as our strategy was on the long run, but the positive we can take out is that our cars and drivers have been always competitive and had not trouble whatsoever throughout the sessions."
Christopher Mies: "It was a weird race, of course, but P3 is a good result, we take it. Everything went well until the suspension, with the team doing a great job and calling pit stops at the right moment. We were leading shortly before suspension, but made a strategic pit stop and that meant P3 at the time of suspension, but we certainly had the pace to fight for the win."
Mirko Bortolotti: "It has been a quite unfortunate race, as we couldn't even make 30 % of it, but we cannot change the situation. Still, it was a great first race with the team. We were following our strategy, having our Silver and Bronze drivers at the wheel in the early hours, but the suspension of the race, of course, prevented the rest of the strategy to play. I did not do even a full stint, but it was a good one performance-wise, so I am quite happy. I think we would have had the pace to fight for the win."

24 Hours Series – Round 1
Hankook 24 Hours of Dubai, UAE, 8-11 January 2020
Race Result
1. Bleekemolen-Al Qubisi-Metzger-Haupt-Barker (Mercedes AMG) 168 laps
2. Breukers-Haase-Ortmann-Parhofer-Winkelock (Audi R8 LMS) + 4m42s486
3. Al Saud-Vergers-Vanthoor-Mies-Breukers (Audi R8 LMS) + 5m10s218
4. Allemann-A.Renauer-M.Renauer-Bohn-Müller (Porsche 911R) + 1 lap
5. Bortolotti-R.Ineichen-M.Ineichen-van der Linde-Breukers (Audi R8 LMS) + 1 lap

PHOTO: Audi Sport and Xynamic Automotive Photography


1 day ago
@GTWorldChEu We want front row seats! 😍