A WEEKEND OF STELLAR RACES FOR TEAM WRT AT KYALAMI (IGTC) AND FUJI (SUPER GT x DTM)
A WEEKEND OF STELLAR RACES FOR TEAM WRT AT KYALAMI (IGTC) AND FUJI (SUPER GT x DTM)
21/11/2019
It may be almost winter in the Northern hemisphere, but the international racing season is far from over! This weekend, once again, the Team WRT crews will be deployed in two different continents for two great and history-making events on some of the most iconic tracks in the world.
In the warmth of South African late Spring, the revived 9 Hours of Kyalami will serve as the final and title-deciding round of the Intercontinental GT Challenge. Under the colours of Audi Sport Team WRT, the Belgian squad is entering one of the two works R8 LMS.
Very far from there, at the Fuji Speedway, will go on stage the Super GT x DTM Dream Race which will see in action Super GT and DTM racers in a truly unique event. Benoît Tréluyer will drive the Audi RS 5 DTM entered by WRT Hitotsuyama Team Audi Sport.

IGTC
After visiting Australia, North America, Europe and Asia, the Intercontinental GT Challenge is in Africa for its final round of 2019. It is Kyalami hosting the event that marks the return of a top GT race to the continent, and rightly so. The legendary former F.1 track in South Africa is the cradle of African motorsports and has hosted between 1961 and 1982 the prestigious 9 Hours race, now revived by the IGTC after a 37-year hiatus.
A stellar grid is expected in the 4.522 km track located between Johannesburg and Pretoria. Team WRT is fielding, under the banner of Audi Sport Team WRT, one Audi R8 LMS entrusted to the three Audi Sport drivers who brilliantly won the Suzuka 10 Hours in August, composed of Belgium's Dries Vanthoor and Frédéric Vervisch and local hero Kelvin van der Linde. For the occasion, the car will sport a striking zebra livery, following Audi's tradition to honour local culture with special colour schemes that are also a delight for model cars collectors.
After winning three Manufactuers' titles in a row, Audi is in contention for runner-up honours this year while Frédéric Vervisch will be fighting for the Drivers' crown. The Belgian is third in the overall standings, but only six points from the leader, which leaves all options open.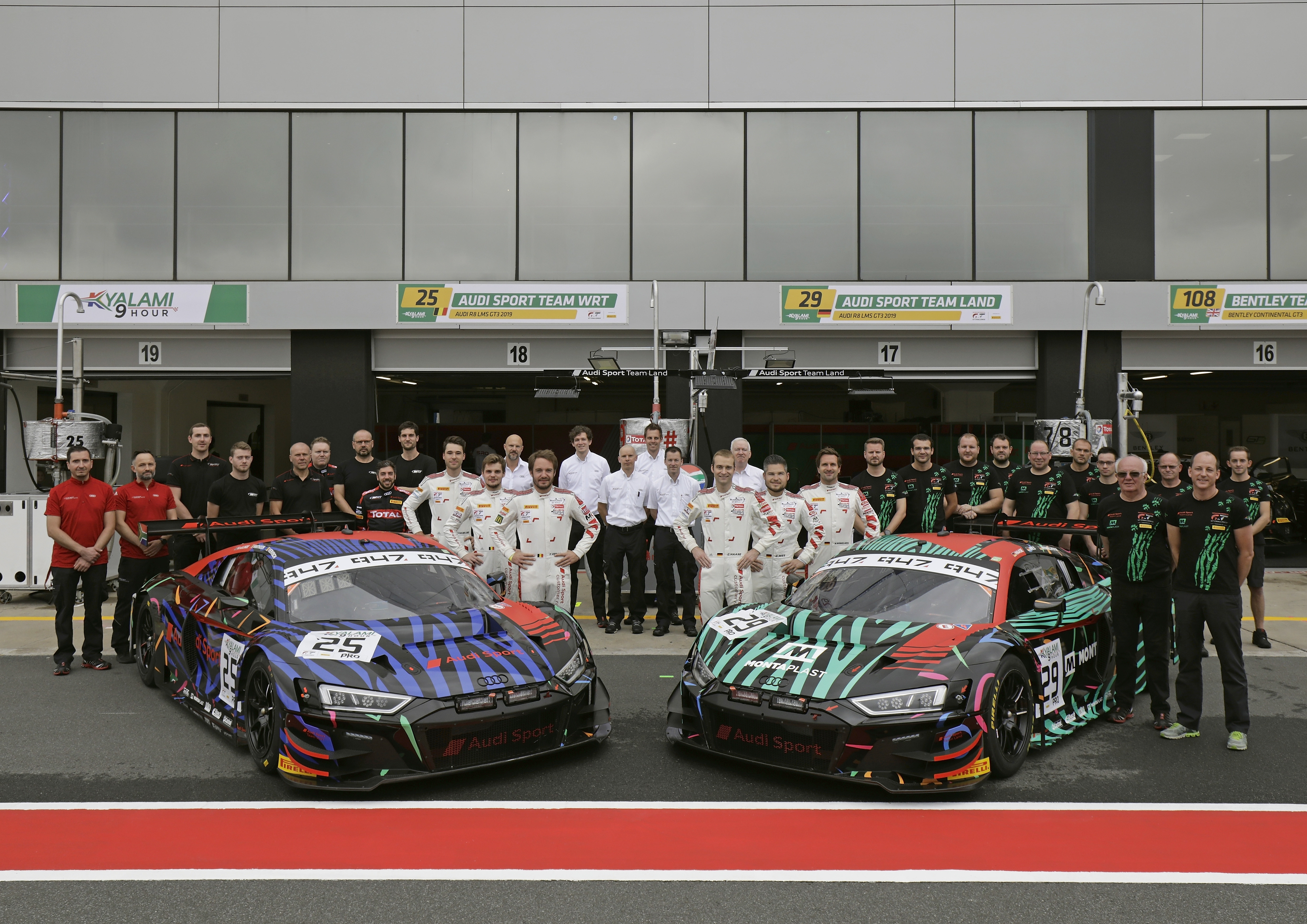 Vincent Vosse, Team WRT Principal: "It is particularly nice to go back to South Africa and to Kyalami, where I raced in 1995, in what was then an international Super Touring Car race. It's a great track in a superb location and there couldn't be a better place to hold this final round of the IGTC. We are completely determined to do well and to support Fred in his fight for the title. With Dries, Fred and Kelvin, who will be racing at home in front of his crowd, we have a very strong package, and while the car will be a little bit heavier following the BoP adjustments made after Suzuka, we are confident that we have our chances. We will, of course, keep an eye on what happens in Japan, and it's a pity I cannot be in two different places at the same time!"
Frédéric Vervisch: "It's nice to be here, on such a great venue, and back with Dries, Kelvin and Team WRT. We were a little bit off-pace in this morning's free tests, but let's see how things develop. It's going to be a tough challenge anyway. We need to work on both the set-up and the strategy, maybe that will bring us forward."
Kelvin van der Linde: "I'm very happy to be at home racing with the team with which we won at Suzuka. I'm very confident racing with Dries, Fred and Team WRT. If we can find a good set-up and make no mistakes, there is no reason why we shouldn't be at the front. That's the goal, and to help Fred getting the title. If we can also win the race, even better."
Dries Vanthoor: "It is going to be an exciting weekend. It's a new track for almost everybody, so it is going to be a very nice experience, and of course, it is home race for Kelvin and a very special event for him. We will try, of course, to help Fred winning the title, and let's see how it goes."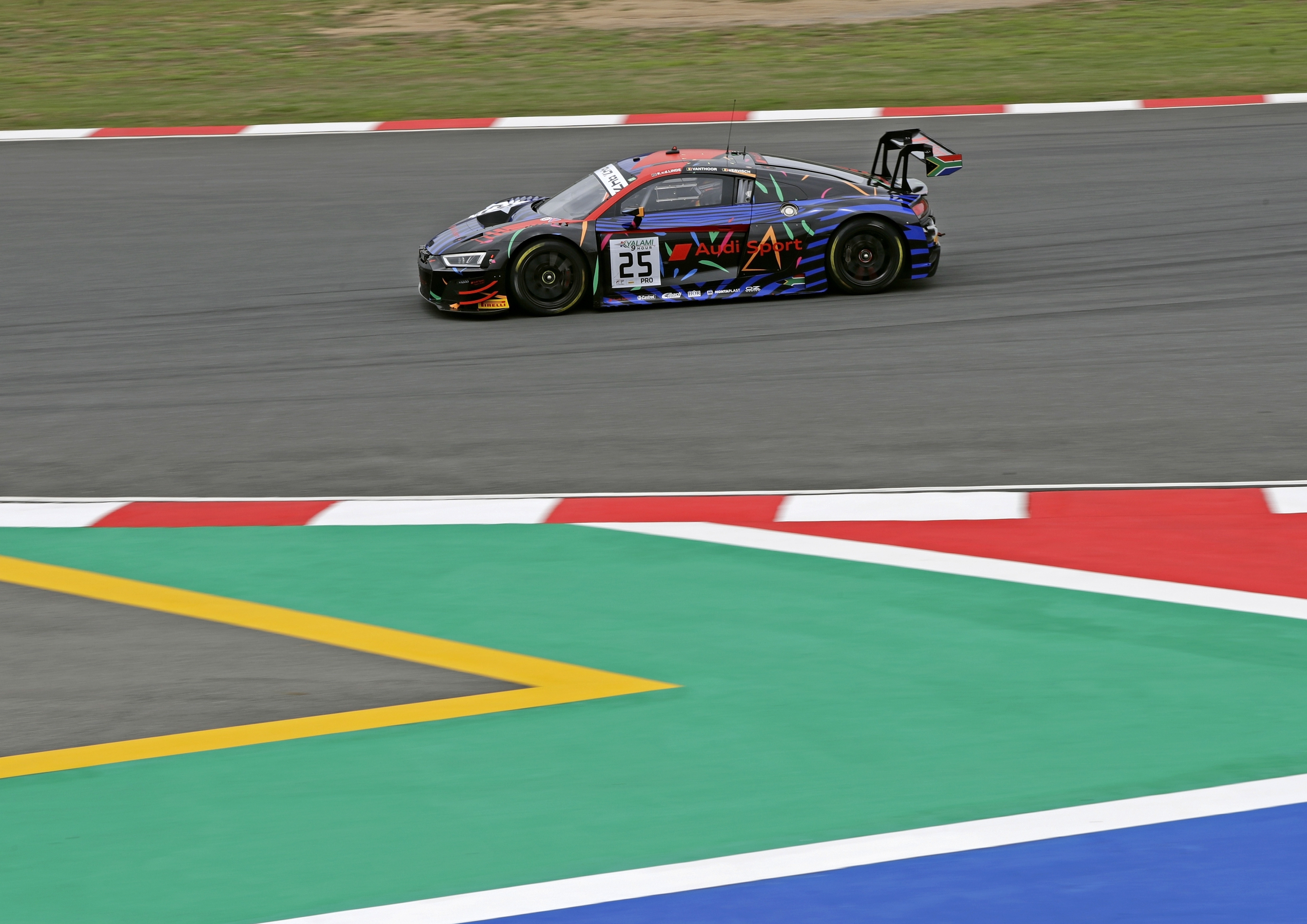 Super GT x DTM Dream Race
The country of the Rising Sun will indeed be the other place under the spotlight this weekend, as Super GT and DTM contenders will gather for a exceptional first combined event, rightly dubbed the 'Dream Race'.
After the appetizer at the DTM's Hockenheim finale, where a delegation of Super GT cars joined the DTM field, this event represents a further step ahead in the cooperation between the two series. Four Audi and three BMW are joining the regular Lexus, Nissan and Honda contenders of the Super GT.
The scenery couldn't be more well-chosen, as it is the iconic 4.563-km Fujiyama Speedway at the feet of the eponymous volcano hosting the event, which will have a format combining the features of the two series. The two races will have a 55 minutes + 1 lap duration, like in the DTM, but some specificities of the DTM, like DRS and P2P, won't be in use this time. All cars will run on Hankook tyres.
Under the colours of WRT Hitotsuyama Team Audi Sport, the Baudour-based squad is following one of the RS 5 DTM part of Audi's 4-car entry. At the wheel, a driver that needs no presentation, Benoît Tréluyer, who already raced for Team WRT in the Blancpain GT Series in 2016. As widely known, the 42-year-old Frenchman has strong ties with Audi, for whom it won the Le Mans 24 Hours three times and a FIA WEC Drivers' title. Moreover, he is widely popular in Japan, a country he considers his second home and where he raced for a decade, clinching the F.3, F.Nippon and GT titles.
No doubt he will be one of the stars of this Dream Race, where changing weather conditions, as often at Fuji, are expected to play their role.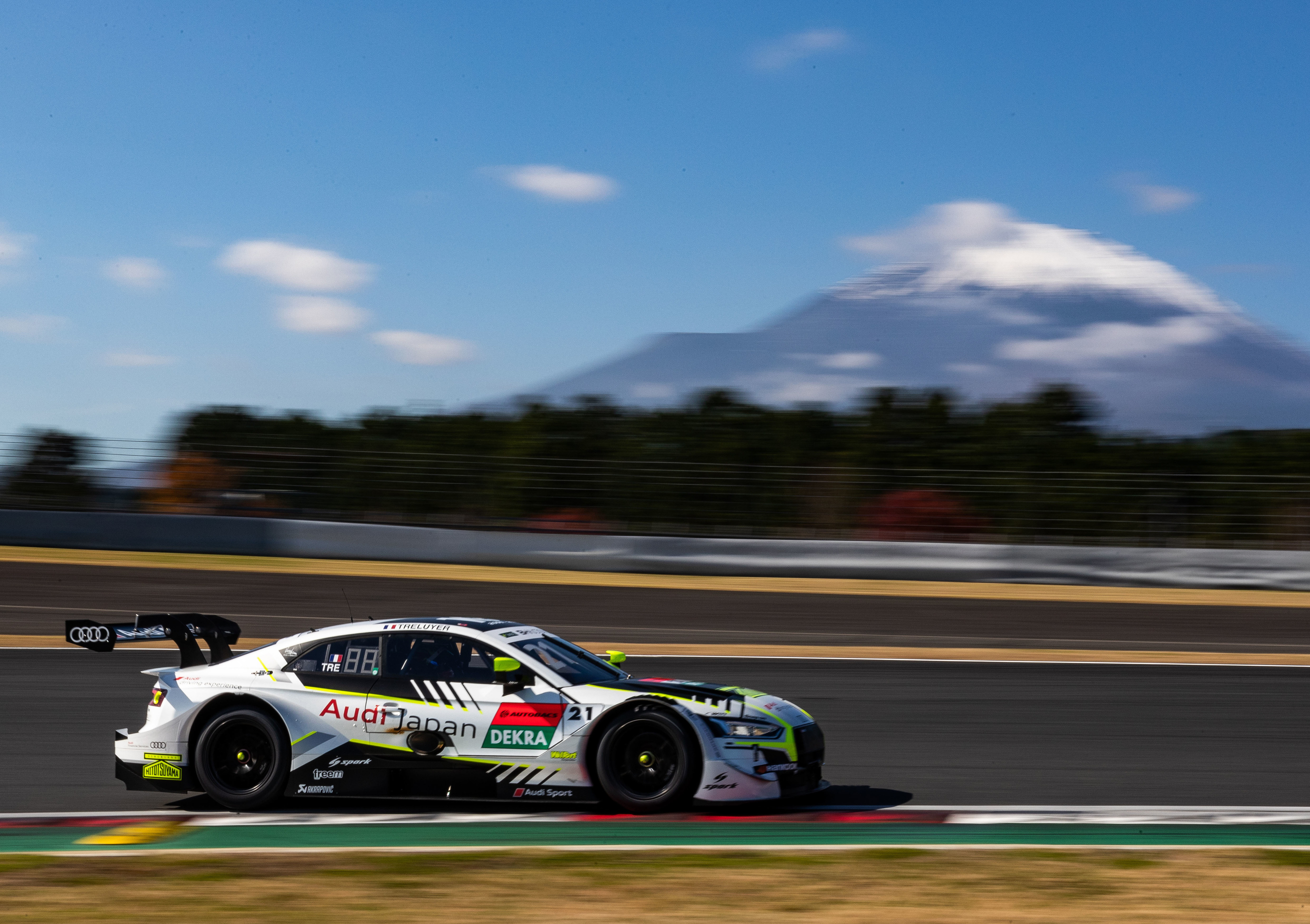 Thierry Tassin, Sporting Director: "With a part of the WRT crew, I joined directly from Macau, where we were racing last weekend, and it is just fantastic to be part of two exceptional events in one week! Today [Thursday], the weather is bright at Fuji, and we can perfectly see the white-topped mountain, but forecasts point to heavy rain for the weekend. This will certainly influence what happens on the track. Today, in the test sessions, we had some tyre issues, and an off-track after a puncture in the rear left tyre, but we will see how things will go on a wet track. We will do our best, as always, and it is nice to have with us a friend of the team as Benoît, who knows the track and Japanese GT racing very well."
Benoît Tréluyer: "This event at Fuji makes a dream come true for me. It combines the two elements I owe the greatest successes to in my career: Japan and Audi. Obviously, after three years with only few races, it won't be easy for me. But I'm going to give my best and hope that I won't disappoint WRT, Audi and my Japanese fans."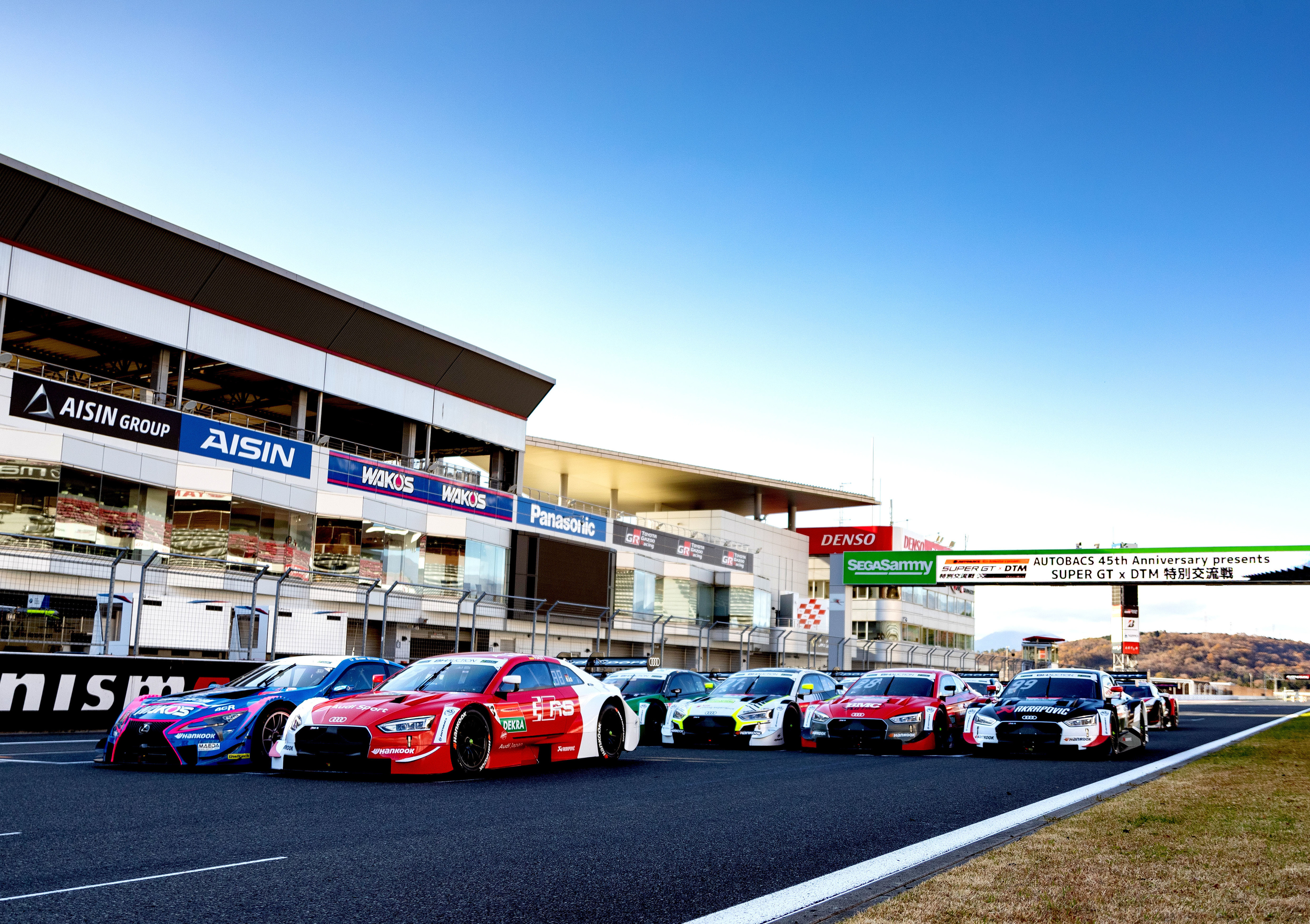 IGTC – Round 5
Kyalami 9 Hours, South Africa, 21-23 November 2019
Timetable (CET +1)
Thursday 21 November 2019
10:00-12:00 Paid Practice
14:00-16:00 Paid Practice
18:00-19:30 Free Practice (night)

Friday 22 November 2019
10:50-12:35 Pre-qualifying
14:45-15:45 Qualifying (15' per driver)
16:25-16:40 Pole Shoot (10 top cars)

Saturday 23 November 2019
13:00-22:00 Race (9 hours)
Audi Sport Team WRT entry (Audi R8 LMS)
#25 Dries Vanthoor (BE) – Frédéric Vervisch (BE) – Kelvin van der Linde (ZA)

Super GT X DTM Dream Race
Fuji Speedway, Japan, 21-24 November 2019
Timetable (CET +8)
Thursday 21 November 2019
2 x 45 min Tyre test session

Friday 22 November 2019
10:05-10:50 Free Practice 1
13:45-14:30 Free Practice 2

Saturday 23 November 2019
09:25-09:45 Qualifying Race 1
14:33-15:33 Race 1 (55 min +1 lap)

Sunday 24 November 2019
09:25-09:45 Qualifying Race 1
14:33-15:33 Race 1 (55 min +1 lap)
WRT Hitotsuyama Team Audi Sport entry (Audi RS 5 DTM)
#21 Benoît Tréluyer (FR)


PHOTO: Audi Sport

22 hours ago
RT @EuropeanLMS: Battle-scarred and victorious. @followWRT 🏆 #ELMS #4HBarcelona #MondayMotivation https://t.co/DKLG9CLZa3