RUNNER-UP IN THE TEAMS' STANDING, PODIUM FINISH AND BEST ROOKIE IN THE DRIVERS' STANDING: TEAM WRT CONVERT THE TRY IN MONZA!
RUNNER-UP IN THE TEAMS' STANDING, PODIUM FINISH AND BEST ROOKIE IN THE DRIVERS' STANDING: TEAM WRT CONVERT THE TRY IN MONZA!
13/10/2019
"We made it!": there was a sense of relief and satisfaction among Team WRT members at the end of a TCR Europe season, whose final round at Monza proved challenging till the very end. Still, the Belgian squad reached all its objectives: Team WRT is the runner-up in the Teams' overall standings, and Santiago Urrutia clinched the third place on the final podium of the series, being also the best-classified driver competing on Volkswagen Group cars and taking the unofficial title of best rookie of the year.
Both the Uruguayan and Maxime Potty had to suffer and fight hard in Italy to bring home three points finishes that secured all the objectives. Throughout the weekend, they struggled with lower top speed than some of their rivals, something that on the fast 'Temple of Speed' represents a very serious handicap.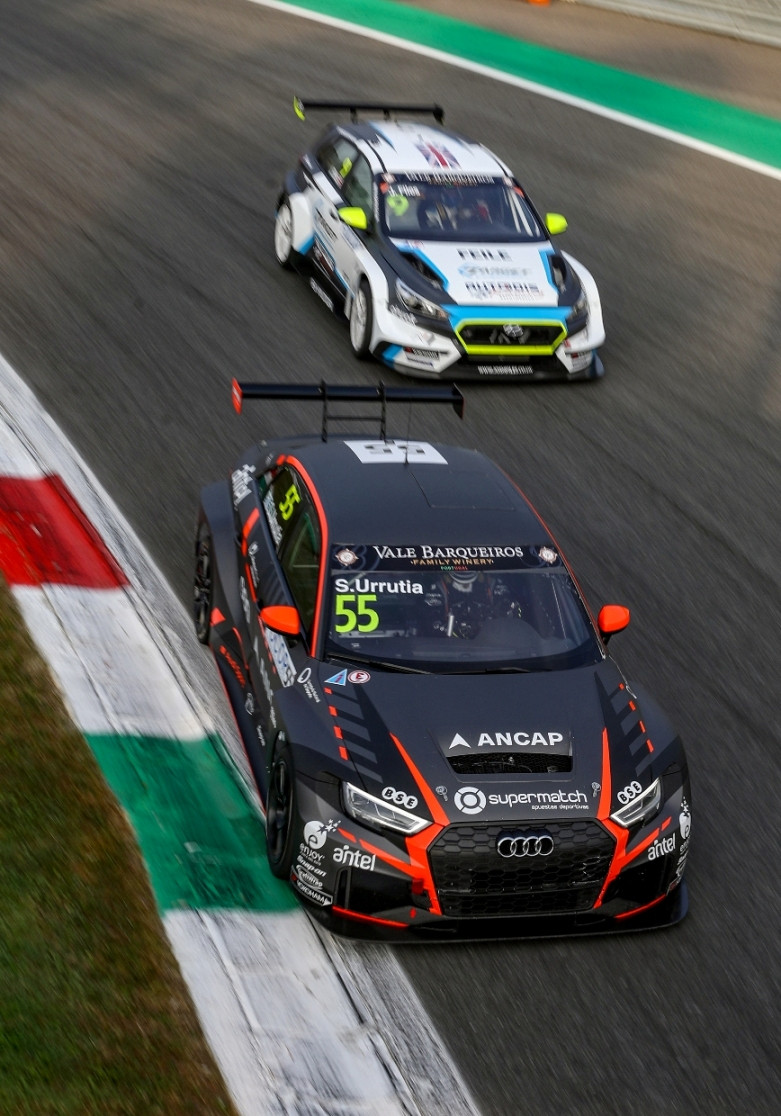 The team also secured third position in the TCR Benelux standings, both in Teams and Drivers, with Urrutia. The weekend started with intensive work to find the best balance, and good progression through the free practice sessions for Urrutia, fifth in FP2, while Potty had to struggle with fuel cut issues. In Qualifying 1, the Belgian found the right pace (11th) to make it to Q2, together with the Uruguayan (4th) while in Q2, Urrutia impressed with the third-fastest time. By clocking the 10th lap time, Potty put himself on pole position for Race 2.
Race 1, as expected, had very lively initial laps, but with no major incidents. Urrutia took an excellent kick-off to stabilize in third position, unfortunately losing a podium finish as he couldn't resist to the assaults of the faster Hyundai of Files. Potty, on his side, had simply not enough top speed and found himself in the impossibility to defend his initial top-10 position. Although he put a good performance, he dropped positions and got hit several times to finish a disappointed 20th.
In Race 2, Potty took an excellent start, keeping the position during half lap before holding second position for a couple of laps. He then simply couldn't resist in the straights to the charge of much faster cars but managed to stay in the top-10 and finish 9th. Urrutia also suffered from lower top speed, but to a lesser extent. Starting from P9, he always remained in the top-10, achieving an excellent P6 under the flag.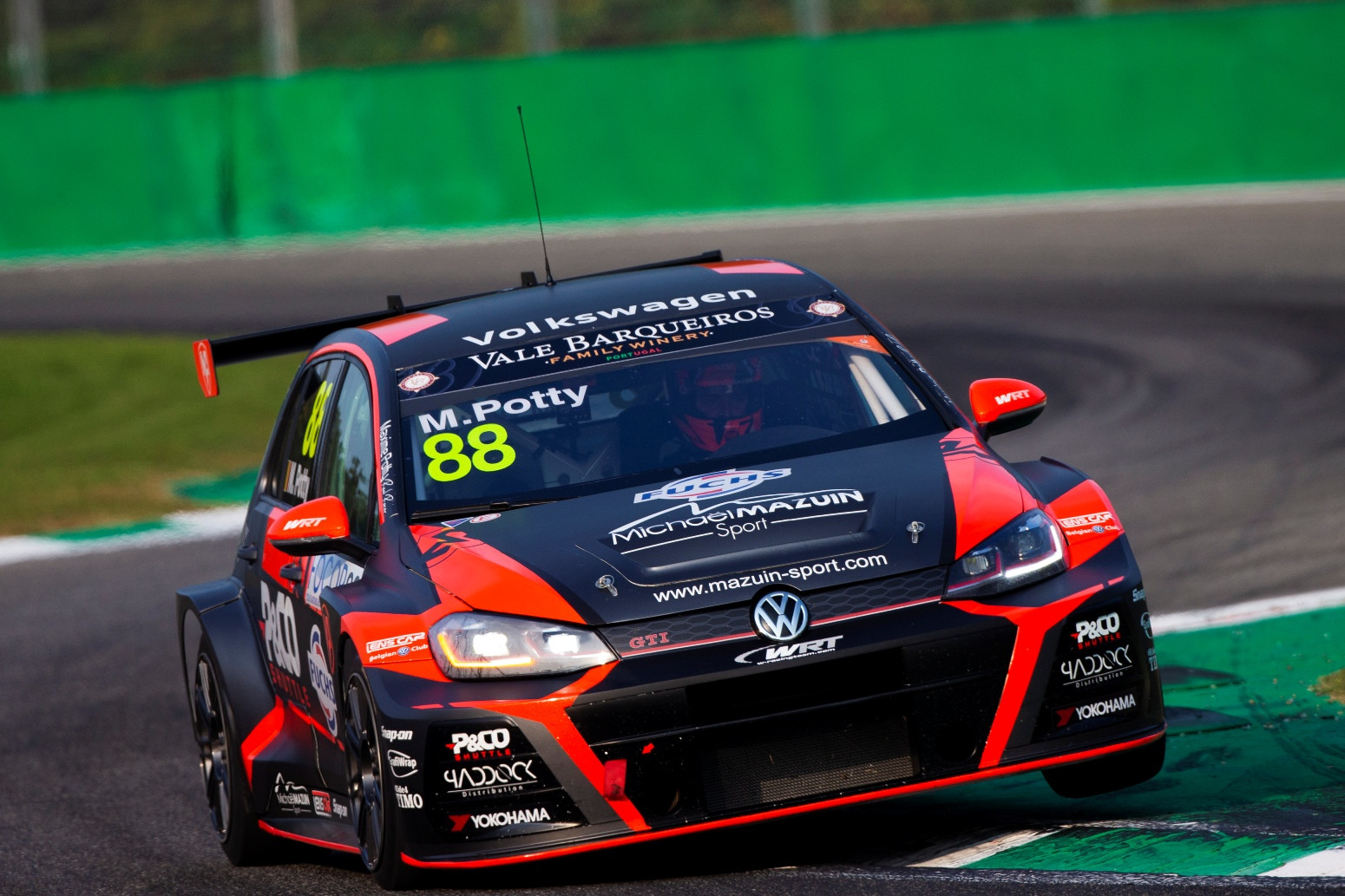 Santiago Urrutia: "I am very happy to finish third in this first season in touring cars. It's a great achievement and a fair reward to Team WRT and the boys, who have put a great work into this. It has been a difficult and very-closely fought season, and here in Monza, we have had quite a hard time with cars that had much more top speed than us and could play with slipstreaming, but eventually we made it."
Maxime Potty: "I am happy we could obtain what we did as a team, but it has been a very frustrating weekend. I simply did not have enough top speed. Race 1 was horrible, I was just getting passed by other cars and got hit and shaken many times. In Race 2, we did much better, at least I could defend myself and stay in the top-10."

TCR Europe - Round 7
Monza, Italy – 11-13 October 2019
Race 1 Result
1. Julien Briché (Peugeot 308) 13 laps
2. Aurélien Comte (Peugeot 308) + 0s409
3. Josh Files (Hyundai i30N) + 4s710
4. Santiago Urrutia (Audi RS 3 LMS) + 8s113
5. Mato Homola (Hyundai i30N) +14s162
20. Maxime Potty (VW Golf GTI) +29s102
Race 2 Result
1. Josh Files (Hyundai i30N) 13 laps
2. Julien Briché (Peugeot 308) + 1s223
3. Dan Lloyd (Honda Civic) + 5s739
4. Teddy Clairet (Peugeot 308) +13s829
5. Gianni Morbidelli (VW Golf) 14s038
6. Santiago Urrutia (Audi RS 3 LMS) +15s001
9. Maxime Potty (VW Golf GTi) +19s421

PHOTO: TCR Europe
18 hours ago
Check it out: @Fhabsburg62 Wins Asian Le Mans and joins WEC https://t.co/2TtbkD3QBr https://t.co/zbdotds0kw