FIGHTING UNTIL THE END, BUT NO REWARD FOR THE BELGIAN AUDI CLUB TEAM WRT AT BARCELONA'S BLANCPAIN FINALE
FIGHTING UNTIL THE END, BUT NO REWARD FOR THE BELGIAN AUDI CLUB TEAM WRT AT BARCELONA'S BLANCPAIN FINALE
29/09/2019
A frustrating Blancpain GT Series season for the Belgian Audi Club Team WRT came to an end at Circuit de Barcelona with a last disappointment: none of the three cars finished a race rich in incidents. Still, car #2 of Álex Riberas, Ezequiel Pérez-Companc and Dries Vanthoor had a podium finish (and possibly, P2) in sight until the penultimate lap, proving once again the competitive spirit of the Belgian squad.
The weekend, though, brought satisfaction to Audi Sport Team WRT thanks to the excellent race debut of the new Audi R8 LMS GT2 that James Sofronas brought to a first podium finish in the Blancpain GT Sports Club.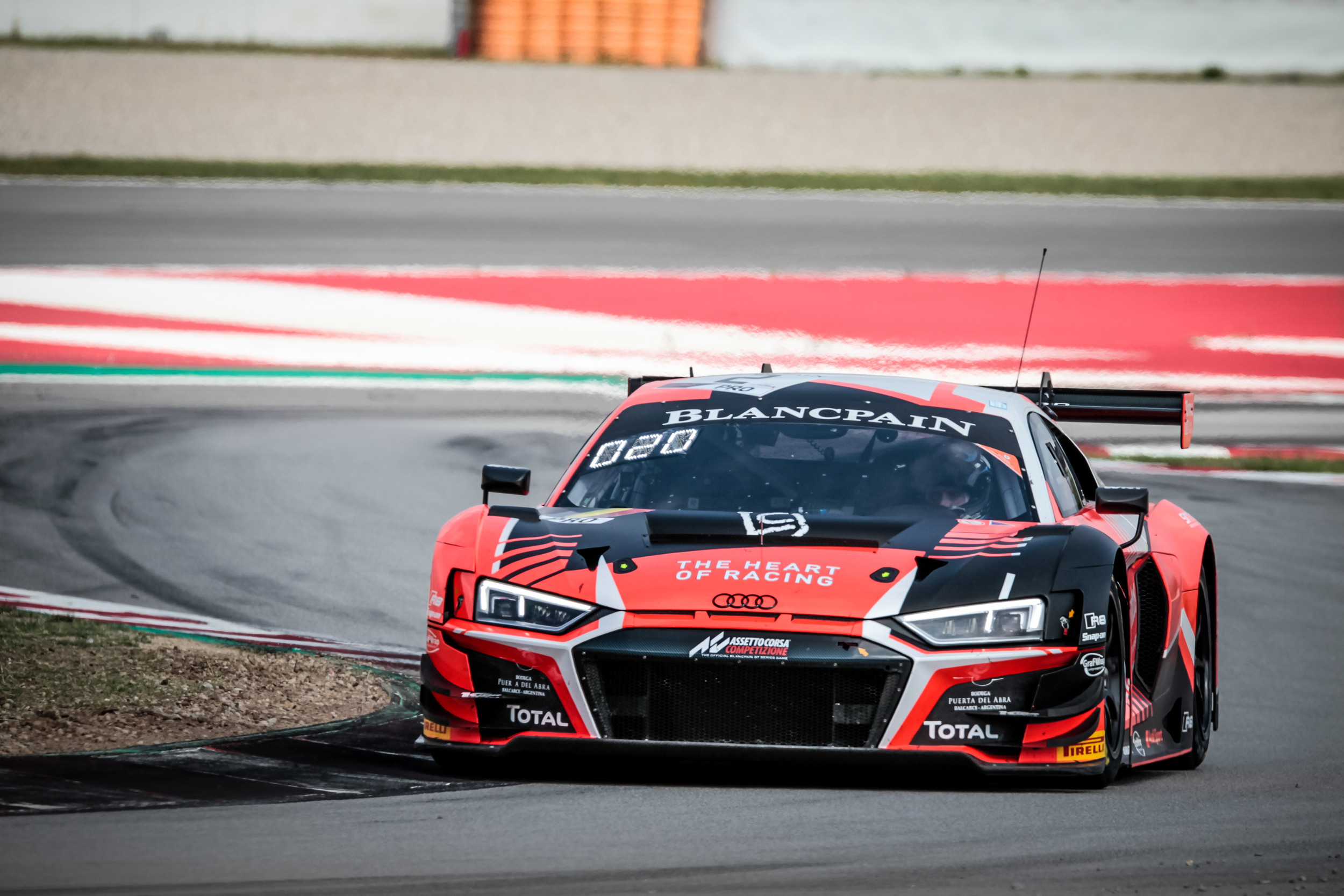 The weekend started with good feedback for car #2, the fastest on track in free practice and the second-fastest in the pre-qualifying, with the other two cars in the second half of the group. In Qualifying, car #2 took P4 in the average of best times of the three drivers, with car #10 taking an excellent P11 and car #17 P36.
In a warm and gorgeous late summer day, the race was marred with incidents and safety-car or full course yellow periods, which actually counted for more than half of race duration. It was so since lap 1, following various contacts and a serious accident for one of the Porsches. At the start, Álex Riberas had maintained P4, while Weerts was hit by a Bentley and three laps were lost in the pits to repair the steering box.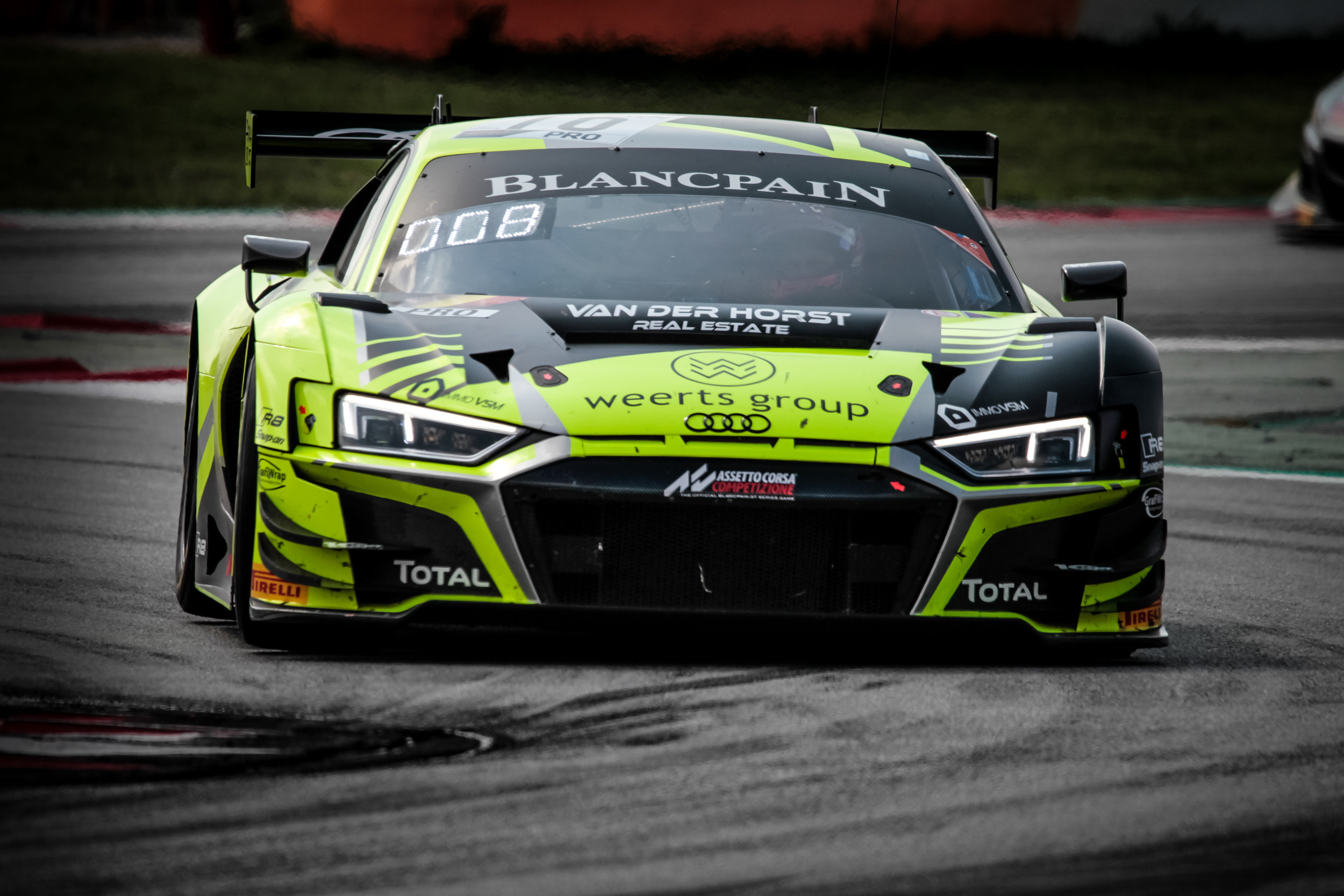 The race resumed shortly before the first pit stop, with the cars of the Belgian Audi Club Team WRT making early stops. Unfortunately for car #10, another contact, while Rik Breukers was at the wheel, ended its race. In car #2, Pérez-Companc remained in the top-6, with a minimal gap behind the leaders, while Sean Walkinshaw brought car #17 in the top 25.
The third stint saw Dries Vanthoor rejoining in 4thafter the pit stop and starting one his traditional charges. He dueled hard with Marciello for 3rd, passing him and found himself fighting with Buurman for P2 in the very last minutes. He was achieving the overtaking move when a contact ruined his efforts. Similarly, Shae Davies was victim of last-minute rubbing, when the race resumed for the final two laps, losing the P19 to which he had climbed.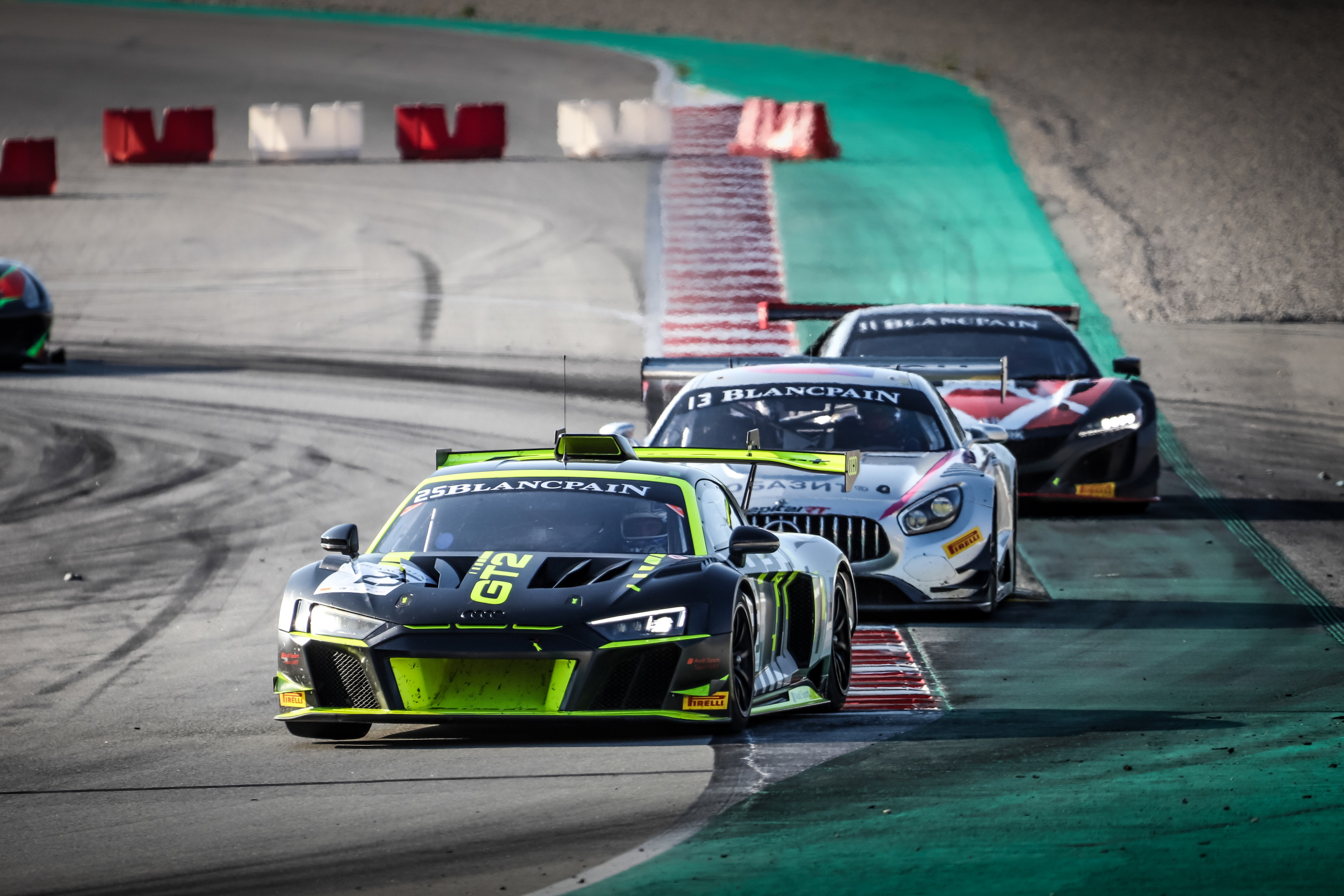 A much more positive note came from the Blancpain GT Sports Clubraces, where the Audi R8 LMS GT2was making its race debut under the banner of Audi Sport Team WRT. The car proved extremely competitive against the GT3 cars, taking P6 and P7 in the two qualifying sessions in the hands of James Sofronas, who was delighted with the car's behavior. The American took a podium finish (3rd) in Race 1 while in Race 2, he was 2nd when he stumbled on a non-signaled oil spot on the track, visiting the gravel trap and losing positions.
Vincent Vosse: "It's clearly disappointing to lose the three cars in the race, but we fought until the very last minute for the podium and we proved competitive. That's what racing is about. It has not been an easy Blancpain season, for sure, but we are going to be back with even greater determination. On the contrary, it has been a wonderful debut for the new Audi R8 LMS GT2 and we really look forward to the new series starting next year."
Dries Vanthoor: "Definitely, not a good season, at least in Endurance. It was a tough race for us today, but at the end we were in P3 and I got a message saying I was free to give it a go, and that is what I did, but unfortunately, it didn't work. It happens. Hopefully, next season will be better."
Charles Weerts: "We had a good qualifying and could aim at a good race result, but then everything was compromised by drivers who don't know what to do on the track. Overall, this first season was positive for me, I did some mistakes, which is normal, but my pace was good at every event, and we got some good results, so I am happy."
Sean Walkinshaw: "It was nice to have the opportunity to race for WRT here, I always wanted to join such a great team. Of course, coming in at the last race, with little testing, is always a challenge but we did a good job in setting-up the car, which improved session after session. The race was tough, with so many safety-cars and FCYs, it was difficult to keep the rhythm. Being the last race of the season, there were a number of guys a little bit too nervous out there…"

Blancpain Endurance Cup – Round 5
Barcelona-Catalunya, Spain, 27-29 September 2019
Race results:
Caldarelli-Costa-Mapelli (Lambo Huracan) 85 laps
Kirchhöfer-Lynn-Dennis (Aston Martin Vantage) +4s438
Pepper-Kane-Gounon (Bentley Continental) +5s266
Altoè-Venturini-Keen (Lambo Hurcan) +6s401
Bastian-Boguslavskiy-Fraga (Mercedes AMG) + 1 lap
24. McDowall-Davies-Walkinshaw (Audi R8 LMS) + 1 lap (DNF)
25. Vanthoor-Riberas-P.Companc (Audi R8 LMS) + 1 lap (DNF)
DNF Weerts-Breukers-Nato (Audi R8 LMS) 45 laps (damage)
1 day ago
RT @DTM: Harder. Better. Faster. Stronger. 🏎️💨 #DTM2020 🏆 https://t.co/3YX5uSEIBO