Top-5 finish and good pace shown partly mitigate frustration caused by radiator issue at Oschersleben's TCR round
Top-5 finish and good pace shown partly mitigate frustration caused by radiator issue at Oschersleben's TCR round
04/08/2019

It was again a weekend that left as much frustration as satisfaction for Team WRT in the TCR Europe. At Oschersleben, in the firfth round of the season, the Audi RS 3 LMS of Santiago Urrutia and, to a lesser extent (because of the greater compensation weight carried) the Volkswagen Golf GTI of Max Potty proved they had good pace, but their weekend was disturbed by the damage imposed to radiator of a number of contenders by the kerbs of the German track.
The issue prevented Urrutia to benefit from his P3 on the grid of Race 1, although he recovered with a solid top-5 finish in Race 2, while Potty, having to fight in the middle of the compact group, took P9 in Race 1 as best result.
The weekend started well, at least for Santi Urrutia, as the Uruguayan posted the best time in free practice 1, with Max Potty 13th and victim of a broken radiator, as he went over a kerb. The issue, which affected several other drivers of different model cars, found an explanation in the way the front splitter and carter undercover 'flexed' over the high kerbs of the German track, resulting in damage in the front radiator. No less than 11 cars suffered similar damage in free practice and qualifying. In free practice 2, Potty again, but also Urrutia, were victim of the issue. Santi had to stop off-track not to damage the engine but was still 9th-fastest, with Potty 19th.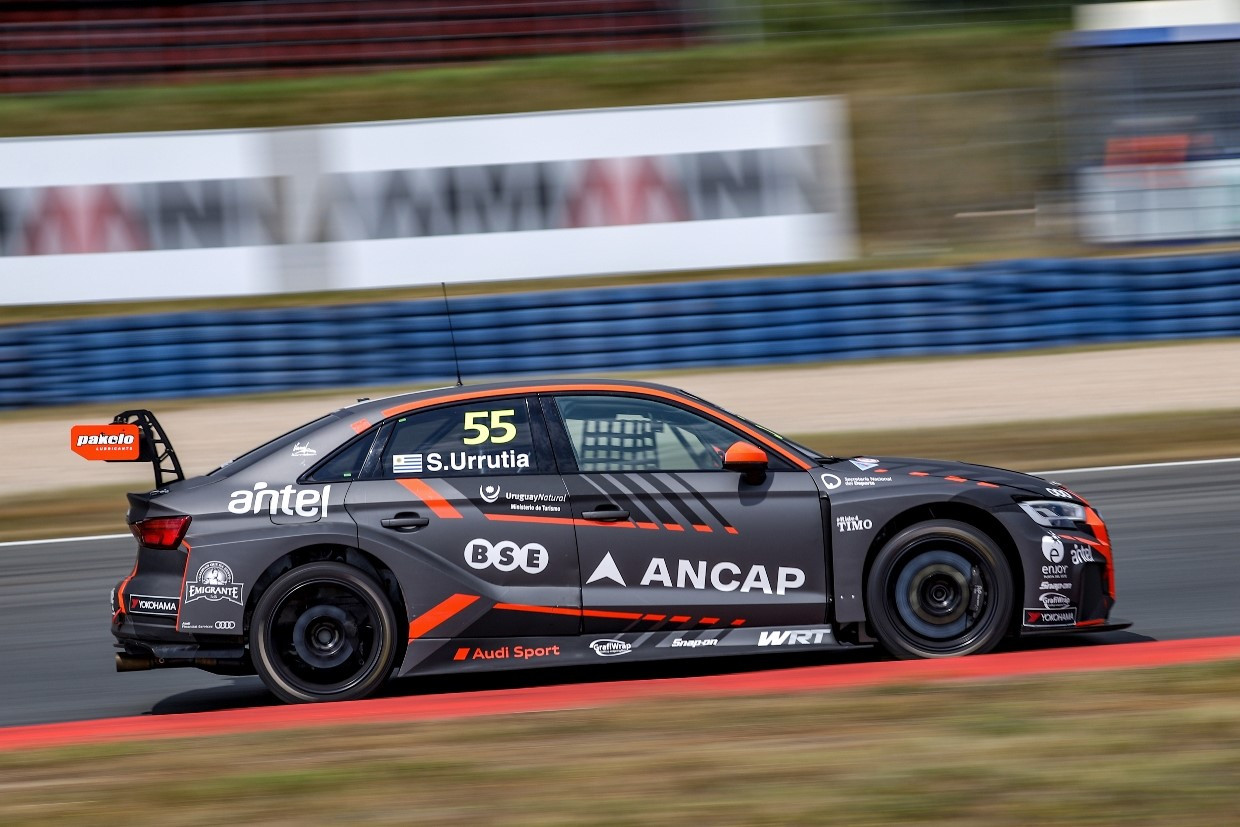 On Saturday, in qualifying, the Belgian could not find good pace when he put on new tires, taking P19, while Urrutia made it easily to Q2 with the 8th time, taking an excellent final P3 that granted him second row.
Unfortunately, Santi could not make any use of his excellent qualifying, as he had to pit after formation lap following a small leak in the radiator that couldn't be noticed with the car still standing. The team's crews made an excellent job in changing the radiator in a very short time, but Urrutia had to take the start from the pits, in last position. He recovered up to 15th in Race 1, while Potty, in the middle of the group, had to fight fiercely, being hit at the front and the back, to take a final P9.
Race 2 saw a very good start by both drivers. Urrutia gained two positions from P8 in the grid, while Potty, starting from P19, climbed up to P14 in the initial phases, but in lap 5, the Belgian was sent out off the track. He managed to rejoin the race to finish 20th. In the meantime, Urrutia was able to stay in the group of the front-runners and to gain one more position to finish a solid 5th only 2.3 seconds from the winner.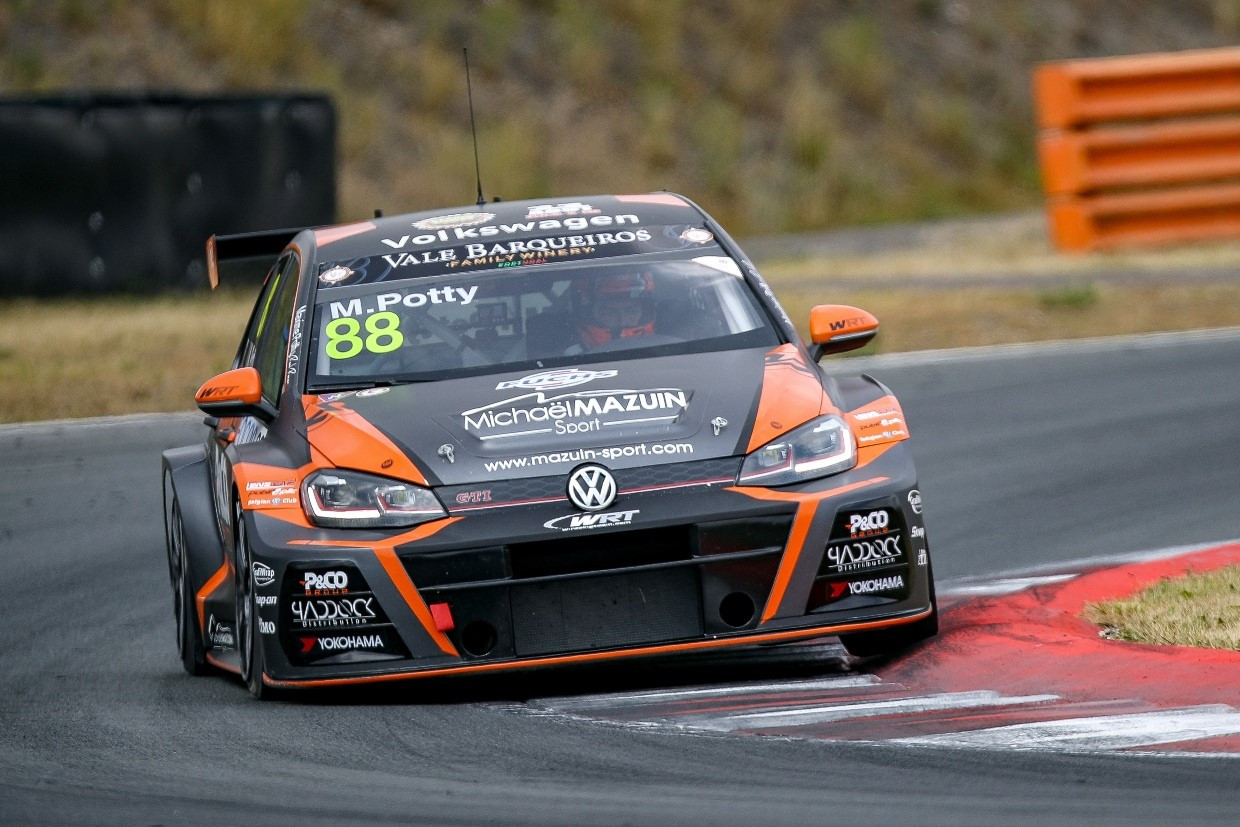 Max Potty: "Since free practice, letting aside the radiators issue, I had some trouble with the behavior of the car. In qualifying, for instance, we only could gain 2 tenths when mounting new tyres, which is difficult to understand, but I guess that the heavy compensation weight has played a role. In such conditions, Race 1, in the middle of the group, was a difficult exercise. There were a lot of contacts, but I could finish and could take some points. Race 2 was even worse, as I was thrown out of the track by Homola, losing quite some time. It was not clever, especially given the fact we were fighting for P14, not for victory, but that's touring car racing…"
Santi Urrutia: "We had a good start of the weekend, improving the car's behavior throughout the sessions. Despite not knowing this difficult track, I could put three good sectors together and qualify 3rd, but this great opportunity was lost even before the race started because of an almost unnoticeable crack in the radiator. Race 2 was much better, I took a good start and we proved we had the pace in the leading group, but unfortunately, this is a track where overtaking is very difficult. Still, finishing in the top-5 is a solid result, and I hope we will be less unlucky in the remaining rounds."
TCR Europe - Round 5
Oschersleben, Germany – 2-4 August 2019
Race 1 Result
1. Dan Lloyd (Honda Civic) 16 laps
2. Tom Coronel (Honda Civic) + 0s810
3. Josh Files (Hyundai i30N) +10s982
4. Dominik Baumann (Hyundai i30N) +11s354
5. Gianni Morbidelli (VW Golf GTI) +13s783
9. Maxime Potty (VW Golf GTI) +27s326
15. Santiago Urrutia (Audi RS 3 LMS) +30s827
Race 2 Result
1. Alex Morgan (Cupra) 16 laps
2. Tom Coronel (Honda Civic) + 0s346
3. Josh Files (Hyundai i30N) + 1s294
4. Dominik Baumann (Hyundai i30N) + 1s682
5. Santiago Urrutia (Audi RS 3 LMS) + 2s342
20. Maxime Potty (VW Golf GTi) + 34s297
Article by: Team WRT
Photos by: europe.tcr-series.com

2 days ago
RACE RECAP: GTWCE MAGNY-COURS 🇫🇷 One win and good points for Team WRT from the visit to Magny-Cours. Enjoy the ra… https://t.co/iuyUKzl7BW