CONTRASTED WEEKEND FOR THE TEAM WRT AT THE VILA REAL
CONTRASTED WEEKEND FOR THE TEAM WRT AT THE VILA REAL
07/07/2019
In Vila Real, another street track, in the sixth round of the FIA WTCR, although the Audi RS 3 LMS of Leopard Racing Team Audi Sport had a difficult time to find the right pace. Still, Jean-Karl Vernay was again able to bring home two top-5 finishes despite the circumstances.
Vincent Vosse (Team Principal): "For the FIA WTCR at Vila Real, anyone on site could see what the situation was and now we wait for some answers".
Since free practices, and as unfortunately expected, the Audi RS 3 LMS paid significant gap with respect to top competitors. Jean-Karl Vernay was 18th in free practice 1 and 13rd in free practice 2 while still the best-placed of the Audi drivers. In Qualifying for Race 1, he was again the fastest Audi driver, with P12 which later became P11 on the grid. Gordon Shedden qualified 25th after struggling even more than the Frenchman.

Race 1 was relatively uneventful, with Vernay managing to gain one position and finishing 10th. Shedden fought to climb up positions on a track where overtaking is notoriously difficult to take a P17 full of merits. On Sunday, Vernay managed to make the cut to Q2 by taking P12 in Q1, with Shedden qualifying 21st. In Q2, the Frenchman signed an excellent sixth-fastest time. In Race 2, JKV ran as high as 5th before taking 4th thanks to the "joker lap" and keeping that position until the end, while Shedden finished 21st. Finally, in Race 3, Vernay was again in the top-5, keeping 5th for most of a race that saw Shedden ousted from almost outright by a brake pedal issue.
Late in the evening after Saturday's race 1 and Sunday's race 3, several cars among which the one of Vernay were disqualified, as the tolerance of the maximum boost pressure had been exceeded. Leopard Racing Team Audi Sport notified to the FIA their intention to appeal the decisions to clarify the related matters in the additional period resulting from the appeal.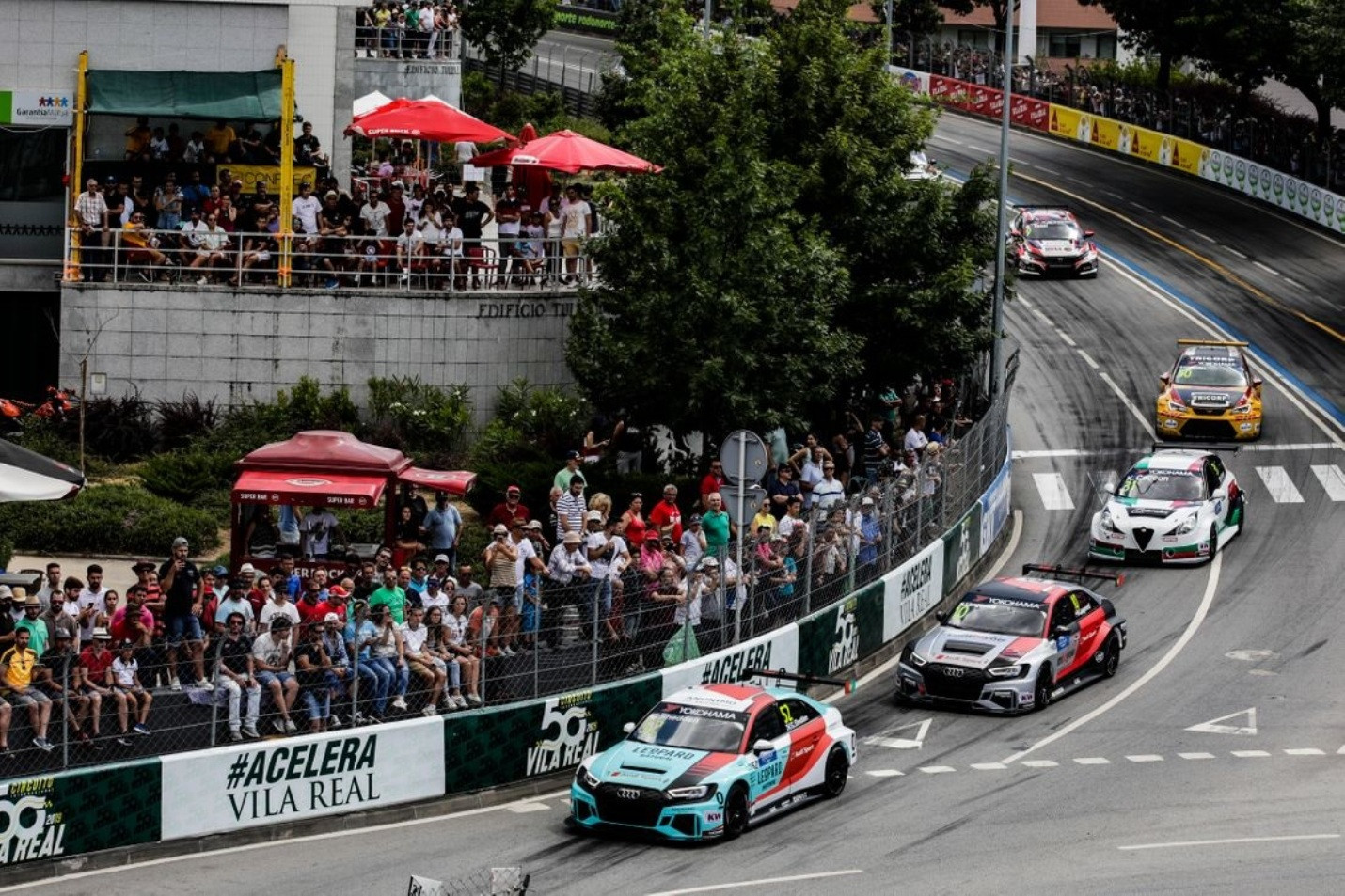 Jean-Karl Vernay: "Seeing how the weekend started, we came a long way and we can be very happy of our Sunday: good qualifying, good racing, good strategy with the 'joker lap' and two good results on the track."
Gordon Shedden: "We pushed hard all weekend with no success. We need to understand the problems in detail to have solutions before going to Asia."
FIA WTCR - Round 6
Vila Real, Portugal, 5-7 July 2019
Race 1 Result
1. Norbert Michelisz (Hyundai i30N) 11 laps
2. Yann Ehrlacher (Lynk&Co 03) + 2s291
3. Augusto Farfus (Hyundai i30N) + 3s009
4. Rob Huff (VW Golf GTi) + 3s538
5. Nicky Catsburg (Hyundai I30N) + 7s630
10. Jean-Karl Vernay (Audi RS 3 LMS) +17s248
17. Gordon Shedden (Audi RS 3 LMS) +29s525
Race 2 Result
1. Mikel Azcona (Cupra) 11 laps
2. Ma Qinghua (Alfa Romeo Giulietta) + 4s832
3. Esteban Guerrieri (Honda Civic) + 5s538
4. Jean-Karl Vernay(Audi RS 3 LMS) + 6s812
5. Nicky Catsburg (Hyundai i30N) + 7s482
21. Gordon Shedden (Audi RS 3 LMS) +34s815
Race 3 Result
1.Tiago Monteiro (Honda Civic) 14 laps
2. Yvan Muller (Lynk&Co 03) +2s295
3. Yann Ehrlacher (Lynk&Co 03) +2s647
4. Mikel Azcona (Cupra) +2s959
5. Jean-Karl Vernay (Audi RS 3 LMS) +6s816
DNF Gordon Shedden (Audi RS 3 LMS) 1 lap (mechanical)
PHOTO: Audi Sport

5 months ago
@Fhabsburg62 @GTWorldChEu @ValeYellow46 @augustofarfus @weerts_charles @SheldonvdLinde @vanthoordries1… https://t.co/Alo6nzivvx